Coaching Changes Daily: Army, Florida OC searches heat up
Florida is interviewing Duke OC Kurt Roper, and Georgia Southern coach Jeff Monken is likely Army's new hire.
• 3 min read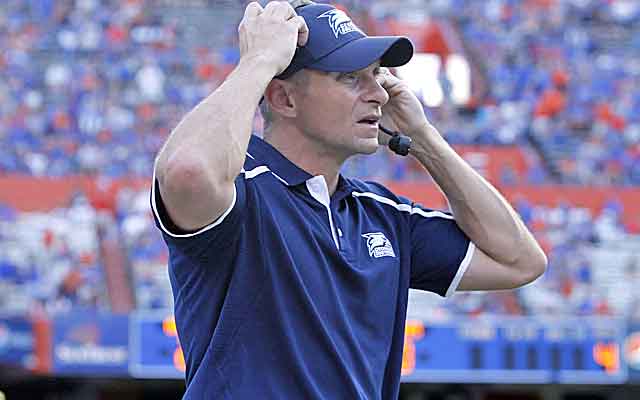 1. Is Georgia Southern's Jeff Monken the man to lead an Army resurgence?
Reports indicate Monken is the guy. A source close to Monken told me the coach was mulling the pros and cons of the Army job over the weekend and was working out details.
A key factor in the Army search will be money. Navy's Ken Niumatatolo makes a reported $1.65 million compared to former Army coach Rich Ellerson's $700,000. The new coach has an argument that you can't expect wins over Navy if you pay the Army coach half what the Navy coach makes.
Army is no easy job. Getting players can be a challenge. But Monken could work because he went 38-16 at a place that had a combined losing record in the four seasons before he took over. And he can win without passing the ball, as evidenced by Georgia Southern's brilliant performance in the Swamp late last month.
A person involved in the Army search said as of Monday morning interviews were not done, but all indications are that Monken is the front-runner.
2. If Monken is the guy, Urban Meyer likely won't have to replace two coordinators at <span data-shortcode= State" data-canon="Ohio Bobcats" data-type="SPORTS_OBJECT_TEAM" id="shortcode0">.
Ohio State already lost co-DC/safeties Everett Withers to James Madison, and though Withers is a well-respected coach, this isn't a devastating loss considering OSU's secondary play this season.
But co-OC Ed Warinner, whom CBSSports.com reported interviewed for the Army job late last week, would have been a big loss by the way OSU's offensive linemen played. Warinner is the running game coordinator for one of the country's best offensive lines. Keeping Warinner would provide offensive cohesion with Meyer and playcaller Tom Herman.
3. The Florida OC search is heating up – meet the latest candidate, Duke's Kurt Roper.
Colleague @BFeldmanCBS reports Roper, a Broyles Award finalist, was meeting with Florida this morning. Roper has worked closely with Dave Cutcliffe, known as a sharp offensive mind.
Nos. 1, 2, 3 on Florida's OC wish list -- enhancing quarterback play. Nos. 4-11 -- enhancing wide receiver play. Though Duke's offense wasn't prolific this year (consider the personnel wasn't elite), Roper seems to have enough experience to help in those area.
I've heard Nebraska OC Tim Beck's name a few times on the Florida OC trail, but as of Monday the Gators had not made any contact with Beck.
Many of Florida's potential candidates – such as Arizona State's Mike Norvell, Texas A&M's Jake Spavital and USC's Clay Helton -- seem to be staying where they are.
Wouldn't rule out UCLA's Noel Mazzone just yet, either.
4. There were late-season rumblings about June Jones' status at SMU – weeks later, he has a contract extension.
Talking with industry folks late in the season about potential jobs to open, SMU was almost always on the list.
But such speculation quelled after the season ended, and news broke Monday from the Dallas Morning News about Jones' contract extension.
Jones is 36-41 in six seasons, which is a unspectacular yet fair job all things considered. He took over a mess of a roster in 2008. The Mustangs finished 1-11.
Jones' extension amplifies a slow college football hiring season thus far. Army will be the 11th FBS hire, and likely the last until Texas gets moving.
This year won't sniff last season's 31 head-coaching changes at the FBS level.
5. Talked to someone who knows Mike Gundy well and predicts there would be 'no way' Gundy takes the Texas job if offered.
Stillwater guy all the way, the source said. Just built a huge house there.
Who knows with these searches when it all goes down, but just passing along.
The Crimson Tide basically have to be perfect these days ... or else

Guice is dealing with a 'minor injury' that has not been specified by coach Ed Orgeron

Professional college football bettors are loving Jim Harbaugh and Michigan against Purdue
Temple knocked off USF last year to claim the division title

These are the best bets to make in Week 4 including Florida-Kentucky and Oklahoma State-TC...

Two players died as a result of playing college football on Saturday