Coaching Changes Daily: Bama wants to keep Saban highest-paid
The University of Alabama wants head coach Nick Saban to remain the nation's highest-paid college football coach.
• 1 min read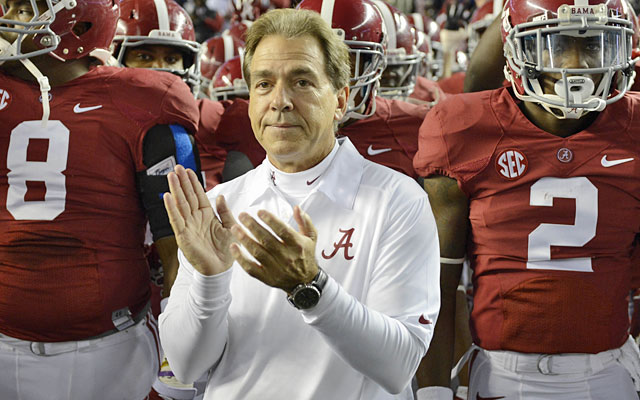 Alabama approached Nick Saban's camp before the Auburn game last month, interested in reworking his contract, a well-placed University of Alabama official with knowledge of the situation told CBSSports.com.
The approach was not in response to speculation about Saban's rumored interest in the Texas job, speculation that was re-ignited amid Tuesday's reports suggesting the end is near for Mack Brown in Austin. According to the source, Alabama is prepared to keep Saban as the country's highest-paid coach.
"He's been at the top of the market and we want to keep it that way," the source said.
That might require a raise from his reported salary of $5.62 million, if Texas pursues the coach with three national titles in five seasons.
In April, the Alabama board of trustees enhanced Saban's bonus structure to accommodate next year's college football playoff. Saban makes $200,000 for reaching the semifinal, $300,000 for reaching the championship game and $400,000 for winning the title game. Saban's base pay remained relatively intact, however, a move made to help bolster the pay of assistant coaches.
Saban to Texas is the story that won't die, persisting for the past month despite several denials from Saban himself. Saban's wife, Terry, told the Wall Street Journal the family is staying in Tuscaloosa.
Florida State and Alabama will face off in a highly touted game in Atlanta in Week 1

Five NC State freshman were punished team rules and code of conduct violations

Browne was benched in favor of Darnold early into last season
There are new names to learn every season, and here are 14 to keep an eye on from the SEC

Taking a close, detailed and opinionated look at the SEC a week before the start of the 2017...

Rosier will start for the Hurricanes in their opener against Bethune-Cookman