Coaching Changes Daily: Clemson, Bama among teams that lucked out
Alabama, Vanderbilt, Clemson and Ohio State could have lost coaches in the December coaching carousel but kept them. Penn State could lose Bill O'Brien though.
• 3 min read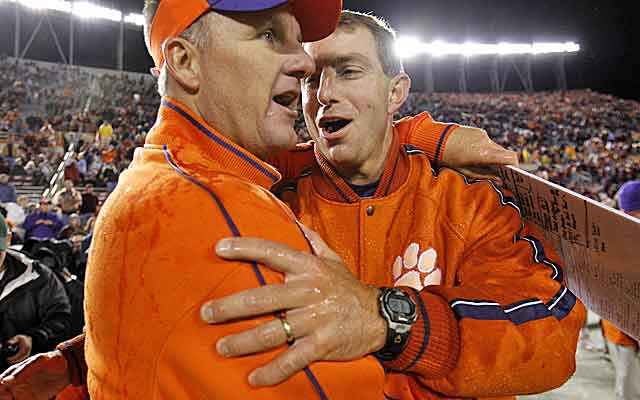 The first wave of coaching hires is officially over. The Texas opening and the implications of NFL's 'Black Monday' loom large in the college game. But, for now, there have been 11 head-coaching jobs filled -- seven of which went to a coordinator or a head coach outside of the FBS.
That means four FBS coaches got poached, a seemingly low number entering the holidays. Two straight years of mass hirings and big buyouts have officially forced a market correction.
Through the first wave of the coaching carousel, 'Coaching Changes Daily' will track the teams that lucked out by keeping prominent head coaches or key coordinators intact.
You'll notice Penn State isn't on this list. That's because Penn State doesn't feel like a winner. As speculation persists about Bill O'Brien and the NFL, O'Brien has done nothing to silence that talk. His buyout has been reduced from $19.33 to $6.48 million. Maybe it does him -- or his agent -- no good by talking right now. But the threat of PSU losing its coach will persist until O'Brien changes the narrative.
*Alabama: Alabama had to keep Nick Saban. Had to. AD Bill Battle couldn't lose Saban in his first year on the job. So Alabama raised Saban's pay about 30 percent to more than $7 million per year, or about 14 MAC coaches. And Saban's still probably a bargain.
*Vandy: The carousel has swirled and Vandy still has James Franklin, who likely won't be Texas' first choice. Does AD David Williams have a strategy if Penn State comes open and the Lions start sniffing around Nashville?
*Clemson: Looks like OC Chad Morris isn't going anywhere -- for now. This seemed like the perfect year for him to jump. Tajh Boyd and Sammy Watkins are gone. Morris' stock won't get much higher. But outside of Wake Forest or Arkansas State, the opportunities weren't there for Morris, who can ease the transition to a new quarterback next season.
*UCLA: Entering December, there was one job UCLA was worried about when it came to Jim Mora -- Washington. Once Steve Sarkisian left the Huskies, UCLA acted fast to extend Mora's contract and build on the momentum he's created in Westwood. The Bruins keep an ascending coach and everyone's happy.
*Michigan State: Pat Narduzzi talked with UConn, but he's staying with Michigan State and chasing a Big Ten title in the Rose Bowl. Narduzzi might as well wait out a Big Ten job if a few spots open in 2014.
*Fresno State: If a few more power-conference jobs opened this winter, Fresno would have had a hard time keeping DeRuyter, who got feelers from UConn and Army. Now the Bulldogs should be able to keep their coach and work out an extension.
*<span data-shortcode= State" data-canon="Ohio Bobcats" data-type="SPORTS_OBJECT_TEAM" id="shortcode0">: By losing co-DC/safeties coach Everett Withers to James Madison, Ohio State can get defensive backfield coaching help without firing anyone. No knock on Withers, who is well-respected, but Ohio State clearly needs better secondary play. The Buckeyes will keep co-OC/offensive line Ed Warinner, who interviewed for the Army job and whose offensive line played at a high level this year.
*Missouri: Gary Pinkel has the Tigers on solid SEC footing, so losing him now would have been difficult. Like Mora, Pinkel had sentimental ties to the Washington job. Like Mora, Pinkel is getting his contract reworked to stay where he is. Smart move by Mizzou.
*Arizona State: Promoting OC Mike Norvell, who got several job feelers this month, is big for ASU's continuity. Norvell is known as a skilled playcaller, which is a must to survive in the Pac-12. Todd Graham's staff can build on this year's 10-win campaign without replacing staffers.
*Ball State: Pete Lembo interviewed for the Wake and UConn jobs but remains at Ball State. That's good news for the folks in Muncie. With Dave Clawson and Jordan Lynch leaving the conference, the MAC will be wide open in 2014.
Kelly is presently deciding whether to start anew with the Gators or Bruins

There are a handful of conference championship games still to be determined

SportsLine's top college football expert, on a 30-18 run, locks in his top picks for a loaded...
Haynes was 14-45 in five years with the Golden Flashes

True romance isn't dead yet

The Egg bowl will be a Thanksgiving night treat for the college football world