Coaching Changes Daily: Fisher's new contract not the end of the story
FSU's Jimbo Fisher recently signed a contract extension with FSU but could be a Texas target. What now?
• 2 min read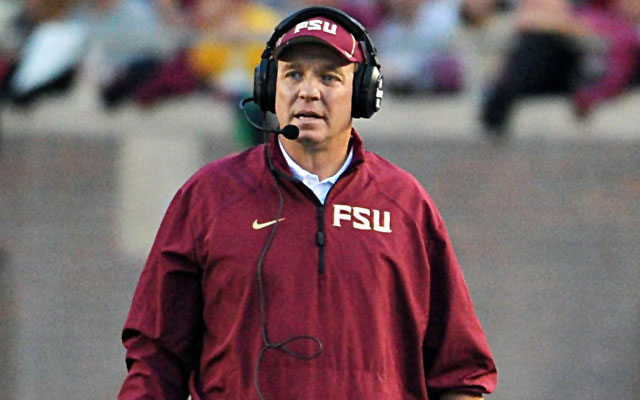 1. If Texas goes after Jimbo Fisher, what's the protocol for a coach who just agreed to a five-year extension a few weeks ago?
Once upon a time, you'd see news of Fisher's five-year extension with FSU worth a reported $4.2 million annually and assume he's locked up.
But a lot has changed since word surfaced of Fisher's deal on Dec. 7.
Texas opened. Alabama coach Nick Saban's deal hit the $7 million range. The salary of Texas A&M's Kevin Sumiln is now officially $5 million.
Would FSU be prepared to re-up on a re-up if that's what's necessary to keep Fisher? After asking around to some FSU folks, my guess is yes, FSU would put some frosting on that deal. It's unclear if the Seminoles would have to do that. But it's worth asking since Texas might be willing to throw Saban money to Mack Brown's replacement.
Texas would likely have to wait until after the national title game Jan. 6 to make a run at Fisher, but with the recruiting period dead until mid-February, perhaps the Longhorns could do just that while keeping the 2014 class together.
Fisher, 48, has a loaded roster and just improved his $2.75-million salary considerably. That might be enough.
2. Jon Gruden to Texas has started -- well, this will be fun.
On the predictability scale, Gruden's name surfacing in connection with a big job is on par with me eating dessert after dinner. Happens every time.
I'm told no contact has been made, but let's assume Texas will make the obligatory call. USC did. Apparently Gruden told USC he wants to coach in the pros.
3. Nick Saban hasn't had a buyout in previous Alabama deals, and don't expect that to change with his current extension.
Alabama's stance seems simple enough: A coach either wants to be in Tuscaloosa or he doesn't.
Saban's stance seems simple enough: A coach either wants to be in Tuscaloosa or he doesn't.
Well, considering Saban said he wants to end his career at Alabama, the $7-million salary speaks loudly enough.
4. Arizona State on Wednesday promoted offensive coordinator Mike Norvell -- who was linked to the Florida OC job and interviewed with Arkansas State -- to deputy head coach.
CBSSports.com reported Tuesday night that the school was reworking Norvell's contract to keep him in Tempe.
Norvell is a well-respected playcaller. The Sun Devils averaged 41 points per game.
After 10 wins this season, Arizona State will be a contender in a much-improved Pac 12 South in 2014.
5. Texas Tech now has a co-OC opening after Sonny Cumbie joined TCU's staff.
Perhaps Kliff Kingsbury will call Texas A&M wide receivers coach David Beaty, who was with Kingsbury in College Station in 2012.
This is precisely what you'd think would happen between Kiffin and Saban

Anybody can rank the best 25 teams, only the Bottom 25 ranks the worst

Former Tennessee State player Latrelle Lee has already been expelled from school for the i...
Whether Kelly picks Florida, UCLA ... or even Tennessee ... his decision will reverberate

The Canes have put themselves in a great spot in this college football rankings prediction

Mayfield will not start and will not be a captain in Oklahoma's regular-season finale