Coaching Changes Daily: Georgia expected to hire FSU's Jeremy Pruitt
Georgia is hiring FSU's Jeremy Pruitt as its defensive coordinator to replace Todd Grantham, who's headed to Louisville.
• 2 min read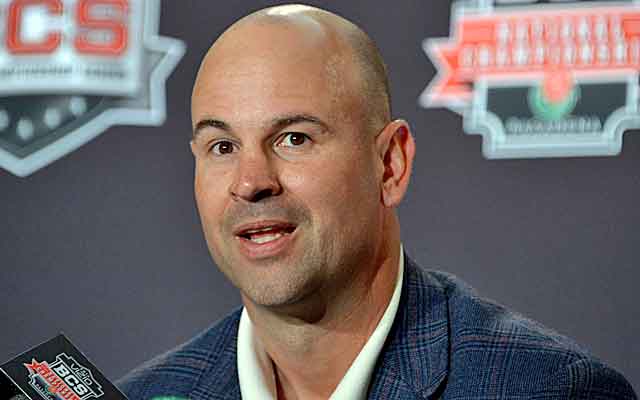 Georgia is aiming high and appears to be winning big in its replacement for Louisville-bound Todd Grantham. 
Georgia is expected to hire Florida State's defensive coordinator Jeremy Pruitt for the same position, according to two sources. Football staffers are being told Tuesday. The Atlanta Journal-Constitution first reported the news.
Two seasons ago, Pruitt was Alabama's defensive backs coach. Now he's a national title-winning coordinator who will likely be in the top half of SEC defensive coordinator pay.
Through the first 13 games of the season, FSU did not allow a rushing touchdown. FSU's defense started slow against Auburn in the title game but held a high-powered Tigers attack to 10 second-half points.
Pruitt already has impressed the Georgia staff with his knowledge of the Bulldogs' recruiting prospects. CBSSports.com reported Monday that Georgia was intrigued by Pruitt and might reach out to him. Pruitt was a Broyles Award finalist but is still considered attainable because most ACC schools don't pay as well as the SEC. This is essentially a lateral move in every way but money.
Chasing Alabama's Kirby Smart -- and the $1.5-million salary it would have taken to pry him from Tuscaloosa - wasn't Georgia AD Greg McGarity's style.
Grantham left Georgia after four seasons to coordinate defense at Louisville, where he'll make $1 million per year. Pruitt runs a 3-4 scheme.
Remember Manny Diaz?: Once a rising star at Texas by way of Mississippi State, Diaz was fired in September after the Longhorns gave up 550 rushing yards to BYU. He quickly disappeared into the UT administrative ethos.
But Diaz has emerged at the AFCA convention and is looking for a coordinator job. He was seen with Indiana coach Kevin Wilson, who's looking for a coordinator. Don't be shocked if those two hook up.
Indiana also could look to Memphis DC Barry Odom, whose defense gave up less than 25 points per game despite the Tigers' 3-9 finish. 
Notre Dame's offensive plans: Head coach Brian Kelly will continue to call plays but will hire a quarterbacks coach to develop Everett Golson and the younger signal-callers.
Numerous reports peg wide receivers/passing game coordinator Mike Denbrock as the new offensive coordinator.
UAB job: The Blazers are expected to interview Cincinnati OC Eddie Gran, who has Southeastern recruiting ties and is ready for a head coaching job.
Another name to keep in mind is Oregon defensive backs coach John Neal, who was UAB's coordinator a few years ago and sent four defensive backs to the NFL.
A concert is a nice way to break up preseason camp

Mills was arguably Georgia Tech's most important player coming into the season

Hugh Freeze's phone records reportedly show another troubling pattern for Ole Miss
They aren't necessarily great teams, but they're teams I'm really interested in following this...

The Irish will wear them on Nov. 18 against Navy

The fourth-year coach of the Nittany Lions led the program to the 2016 Big Ten Championshi...