Coaching Changes Daily: Good luck, UMass; assessing Florida's OC hire
UMass fired Charley Molnar after two seasons, but should it really expect immediate success? Florida's hiring of OC Kurt Roper screams plan b.
• 3 min read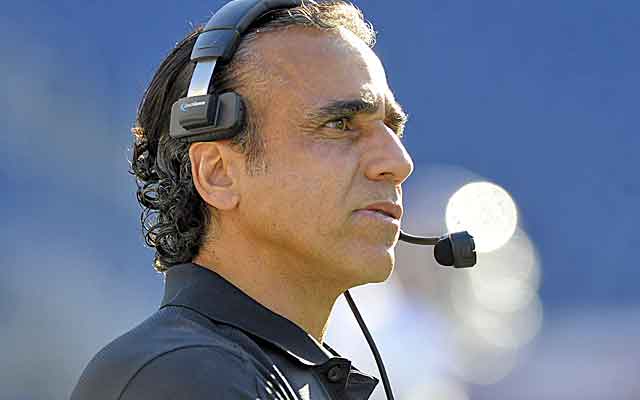 So UMass expects a winner so much that it fires its coach after two seasons the day after Christmas.
Good luck.
Not saying Charley Molnar's performance wasn't justified of a Johnny Cage sweep combo after a 2-22 record and his human resource problems. In fact, maybe this should have been done earlier. The day after Christmas? Can't gift-wrap that one.
But let's keep perspective here. What coach is ready to go to UMass, fight the new-to-the-FBS fight for two years only to possibly look for a coordinator job in two years?
(As an aside: I nominate Ed Orgeron for this job. He doesn't have the CEO polish most big schools want, but for a team that needs energy/players, Coach O could get that done).
UMass will probably hire a coach who's not ready and will lose a bunch of games like Molnar did. That's life in the FBS for most newbies.
They can't all be Larry Cokers. Texas-San Antonio's coach went 7-5 as a C-USA member this year and has performed admirably for a team transitioning to Division-I. But UTSA is a bit different in that San Antonio has recruiting talent to comb and Coker can sell the Alamodome. UMass is selling a bus ride to Gillette Stadium for Saturday games.
Talk to opposing coaches and they'll tell you Georgia State's Tim Miles did a fine job getting his team ready to compete against FBS teams this year. Georgia State went 0-12.
It's a process. Don't think Jeff Monken left Georgia Southern for Army without thinking, eh, are we really dedicated to this FBS thing?
For a new coach to have a chance, he needs resources. Can't pay a 10-person coaching staff a combined $800,000 and hope for the best.
UMass has its reasons to can Molnar, but you had the former Notre Dame OC and he couldn't last more than two years.
Better get creative if you expect immediate results early in an FBS transition. If UMass is back here again in two years, knock this out by, say, Dec. 23. 
Official head coaching track – 12. UMass will be the 12th FBS job filled thus far. Texas will likely be 13th, unless the NFL poaches. 
Florida says in Roper we trust: Kurt Roper is a solid hire, a good offensive mind, but can't help feeling Florida didn't get its top choice.
This screams Plan B, and maybe that was Florida's plan all along, knowing the game's hottest offensive names would be hesitant to embrace Will Muschamp's reclamation project. For Arizona State OC Mike Norvell and others, there was more job security at the current spot.
This can work, though. It's safe to say Jeff Driskel is more comfortable with spread concepts while utilizing his rushing ability. Duke quarterback Brandon Connette scored 13 touchdowns on the ground and he wasn't even the full-time starter. Roper can balance that out.
A good coordinator can blend concepts to maximize the talents. Muschamp knows this. That's why he emphasizes Roper's "diverse, up-tempo background on offense" and "adapting to what the players do best" in his statement about the Roper hire.
Considering Florida's bottom-dwelling offense, producing a bearable attack next year would make Roper look smart.
This isn't the proverbial home-run hire, but it's a base hit legged out for a double.
Barrett Sallee is cashing on 67 percent of his best bets and gives 3 strong picks for Week...

The No. 16 Bulldogs will travel to Arkansas Saturday afternoon on CBS

The Owls are 7-3 overall and 6-0 in the Conference USA East division
Wisconsin has another chance to impress the committee

With the College Football Playoff in its sights, can the Bulldogs get back on track?

The Fighting Irish need a bounce back game in the worst way after losing to Miami