Coaching Changes Daily: Moment of truth for Penn State's Bill O'Brien
Penn State's Bill O'Brien is the biggest name in coaching right now. Several NFL teams want to talk to him. He must decide whether he's a long-term college guy.
• 2 min read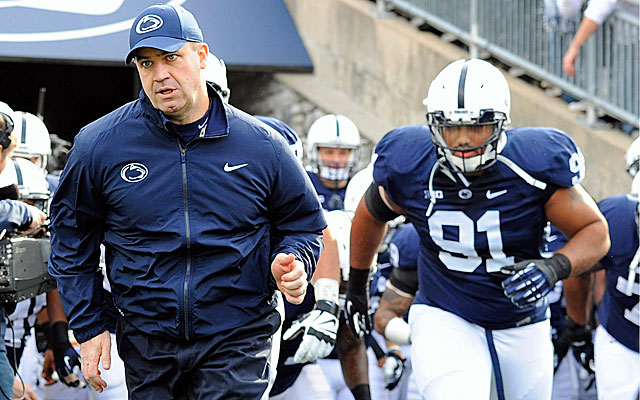 While the Texas search has been relatively quiet, the real action can be found with another storied program and a high-profile coach who must make a decision about his future.
Penn State's Bill O'Brien might or might not interview for half of the NFL – well, at least half the NFC North. He's been linked to several jobs in reports, including the Texans according to the NFL Network.
Most agree O'Brien will be a great college coach if he stays in State College, but boy, has he played a 15-9 record into high society. He's coveted like a coach coming off back-to-back titles.
The best jobs in America might be those strapped with NCAA sanctions. O'Brien and Miami's Al Golden are a combined 37-23 the last five years and are more heralded than many coaches with better winning percentages. Nebraska's Bo Pelini has one more loss than those two despite coaching 21 more games at a place where it's not easy to recruit five-star talent.
Not saying these coaches aren't impressive. They are, very much so. But there's a major sympathy card for coaches taking over broken programs. Penn State might be the best job in America because of the same crippling circumstances that make it a difficult job.
How long does the grace period last? Still hard to tell. That's what makes O'Brien's looming decision a crucial one.
When you have a good agent like O'Brien does with Neil Cornrich, this is how things work: Let the buzz build, no talking publicly, then either negotiate an extension with the school or leave.
But until O'Brien wins big, this routine will be hard to manage every year. Most fanbases understand the process but can only take so much. The NFL has pursued O'Brien in each of the last two seasons, and entertaining those options for a third stiraght year would risk alienating the fans.
O'Brien has Penn State in a better place than it was in two years ago. He held together recruiting classes, provided a promising quarterback in Christian Hackenberg and has a roster that can contend in the Big Ten.
For all the knocks on the Big Ten, O'Brien is part of an impressive coaching group that could help rebuild the conference's image.
No one would blame him for jumping to the NFL. This would be a new challenge for an ascending coach.
The only way O'Brien's stock will be higher is if he wins big – and soon.
Clearly Penn State would like to find out if he can.
There might not be a better time to leave.
There might not be a better time to stay, if he's a long-term Lion.
Gyree Durante of Albright College was dismissed after he kneeled during the national anthe...

Penn State's star rusher loves to argue, just not about whether he's the nation's best pla...

The Fornelli 50 ranks teams based on nothing but their performance in 2017
Find out which of your favorite team's players are among the nation's best midway through...

Anybody can rank the best college football teams, only we rank the worst each week

The Badgers never get talked about, but that might change if they keep up their hot streak