Coaching Changes Daily: Ten buzz-worthy items to start week
UConn is deep into its search with Michigan State's Pat Narduzzi, Wake Forest close, and Boise taking look at Dirk Koetter.
• 3 min read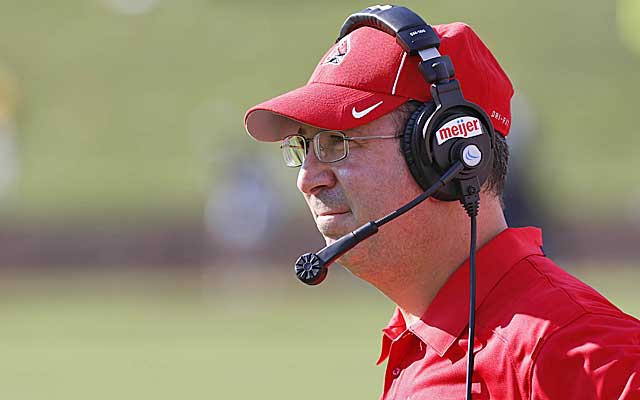 1. UConn is in the thick of its search. The Huskies interviewed interim coach T.J. Weist on Sunday and requested an interview with Michigan State defensive coordinator Pat Narduzzi. If Narduzzi bolts  -- he could stay with the Spartans and collect a hefty raise or wait for a Big Ten job in 2014  -- the Spartans' DC job will be coveted. Maybe Mark Dantonio would call Ron English, who was fired after five years at Eastern Illinois. Also with UConn, Virginia Tech coach Bud Foster was linked to the job but I'm told nothing is expected to materialize there.
2. Wake Forest is not planning a coaching announcement today. Midweek seems realistic. Wake interviewed Ball State's Pete Lembo during the week and Bowling Green's Dave Clawson on Sunday. Will a mystery candidate emerge? As for MAC replacements, Stanford defensive coordinator Derek Mason comes to mind for one of these two spots -- if he's willing to take a pay cut. Mason may want to hold out for something bigger, but the MAC is the ultimate springboard.
3. Brian Kelly needs to replace Chuck Martin at OC. Maybe he can pry Buffalo head coach Jeff Quinn away from the MAC and the two can reunite from their Central Michigan/Cincinnati days.
4. Will Boise return to the late-90s well and talk with Dirk Koetter? A report out of Idaho says Boise will do so Monday. Koetter coached Boise to a 26-10 record from 1998-2000, followed by six decent but not great years at Arizona State and a good run as an NFL offensive coordinator since then. There was no significant movement on the Koetter front as of Sunday night but perhaps something developed quickly. Colleague Bruce Feldman reports Arkansas State coach Bryan Harsin, a former Boise assistant, interviews today. If Arkansas State opens, expect ASU to follow the trend of up-and-coming offensive mind. It's worked with Gus Malzahn and Harsin. Think Baylor's Philip Montgomery or Auburn's Rhett Lashlee.
5. Washington's staff is one to watch. What will Justin Wilcox and Tosh Lupoi do? Apparently buyouts are an issue for both. The decisions of these two could have a rippling effect on the Pac-12 assistant coaching climate. My guess is Chris Petersen would want to keep both. Lupoi is an aggressive recruiter.
6. Kyle Flood appears safe at Rutgers, but defensive coordinator Dave Cohen had to go, as did two offensive assistants. Despite the Scarlet Knights giving up a school-record 3,737 passing yards, the Rutgers DC job is a good one.
7. Urban Meyer could have some work to do to either replace assistants or keep them. Co-defensive coordinator Everett Withers and running backs coach Stan Drayton are getting a look from FAU, per the Sun-Sentinel. Playcaller Tom Herman is an attractive name. Co-OC/offensive line coach Ed Warinner has long-standing ties to Army and could be in the mix if the Black Knights move on from Rich Ellerson. Meyer has had no problems combing the fields for good talent. Several former Meyer assistants are current head coaches -- Utah's Kyle Whittingham, Wisconsin's Gary Andersen, Louisville's Charlie Strong, Mississippi State's Dan Mullen, Boston College's Steve Addazio, North <span data-shortcode=" data-canon="Texas Longhorns" data-type="SPORTS_OBJECT_TEAM" id="shortcode0">' Dan McCarney -- and I'm sure we're forgetting some.
8. Been quiet on the SMU front. Perhaps June Jones will make it, but stay tuned.
9. Eastern Michigan was hopeful to make its hire early this week, so barring unforeseen developments, expect a new coach soon.
10. Still thinking FAU will go to Eddie Gran, but AD Pat Chun told me he's casting a wide net. Wanted to make a hire this week.
Cristobal's first game at Oregon ended the same way Chip Kelly's did

Conner Manning and the Panthers dominated the Hilltoppers in the Cure Bowl

You can only go to the well so often before it dries up
The Trojans beat LSU earlier in the year and now have their first 11-win season as a FBS t...

Saban has never been a fan of the early signing period and made it clear that hasn't chang...

Paul Tyson is a three-star quarterback prospect for the 2019 recruiting class