Coaching Changes Daily: Wait, did Washington just upstage USC?
Washington reportedly will hire Boise State's Chris Petersen, upgrading over Steve Sarkisian and beating Southern California in the process.
• 2 min read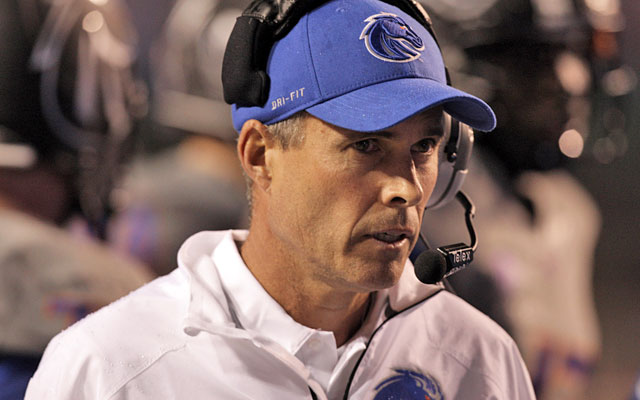 No knock on Sark, but Washington got the better of this deal.
Replacing Steve Sarkisian with Boise State's Chris Petersen, as first reported by ESPN and confirmed by Bruce Feldman, is a major upset for the Huskies. Petersen will sign a five-year deal that will make him one of the Pac-12's highest paid coaches, a source told me.
After turning down what felt like every other Pac-10/12 job over the years, Petersen finally jumped.
If you made a list of the nation's top 10 tactical coaches, Petersen would be on it. Recruiting at the highest level and handling boosters/media are still question marks -- questions Sark answered well in five seasons in Seattle -- but Washington can help Petersen with that. Get a killer staff, limit outside interferences, and let him do his thing.
Sark could flourish at Southern California, but it's hard to argue with Petersen's 92-12 record at Boise State.
Dub just went vertical. This is Brad Stevens to the Celtics, only the Huskies pulled this off without the allure of one of the NBA's top franchises. Impressive.
Coaching hires are highly subjective, and maybe USC AD Pat Haden just felt more comfortable with Sarkisian, who went 34-29 in five seasons after taking over a winless Washington program. But at least on paper, Scott Woodward won this round.
Washington might make the most sense for Petersen of all the Pac-12 schools. Great facilities/resources, good roster yet he goes to a civil, laid-back place like Seattle that seems to suit him. UW fans should be fired up about this. Twelve losses in eight seasons. TWELVE. That's 1.5 per year, absurd at any level of football.
With Boise coming off Petersen's worst year (8-4) and the College Football Playoff looming, the timing finally seemed right for a move. Petersen fought the good fight but the chances for Boise to affect the playoff like it did the BCS are slim.
From what I was told by someone close to Petersen in the fall, recruiting would play a role in his eventual departure -- as in, the Pac-12 is so deep that it's harder to find those sneaky-good recruits that made Boise great.
Now, Petersen's in a league that has added Mike Leach, RichRod, Todd Graham and Jim Mora in the past two years. This will be fun.
As for the Boise job ...
This is still a quality job that had success long before Petersen became head coach. Arkansas State's Bryan Harsin makes a lot of sense. The long-time Boise assistant won seven games in his first year at ASU.
Boise would acquit itself well by looking at the runner-up to Petersen at Washington, Alabama offensive coordinator Doug Nussmeier, who starred at the University of Idaho.
Don't put it past Boise to promote internally. Linebackers coach Bob Gregory is well-regarded, as is offensive line coach Chris Strausser.
Locksley joined Alabama's staff in 2016

Saban reportedly wants to hire Freeze, but there may be things keeping that from happening

Florida State-Miami will be on Oct. 6, and the Seminoles will play Clemson on Oct. 27
Weis Jr. was an offensive assistant for the Atlanta Falcons in 2017

Lott is joined by three current athletic directors and will serve a three-year term

These are the top guys every school is still chasing