Coaching Changes Daily: When is too late for older, established coaches?
Houston Nutt, Phil Fulmer and Butch Davis are a few winning coaches who can't get back in the college coaching game.
• 3 min read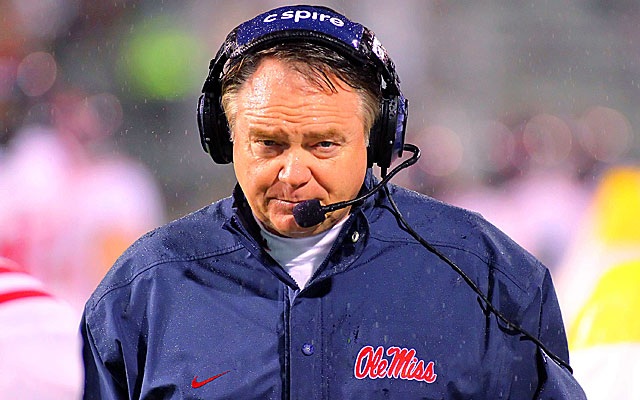 The average age of the 17 FBS coaches hired this offseason is 46, which seems like a reasonable number.
Most coaches working their way through the assistant ranks would expect that, by the mid-40s, they'd be settling comfortably into a Division-I head job.
But the flip side of that equation suggests it can be difficult to return to head coaching once out of the game for too long -- or for too many birthdays.
For every 40-or-under hire such as Boise's Bryan Harsin (37), USC's Steve Sarkisian (39), UConn's Bob Diaco (40) and FAU's Charlie Partridge (40), you can find an established former head coach over 55 and out of college coaching -- Houston Nutt (56), Ron Zook (59), Butch Davis (62), Phil Fulmer (63).
These coaches have a combined 61.3 winning percentage (371-234) when coaching at the BCS-conference level.
Yet some of these coaches aren't getting looks at non-BCS schools.
"There seems to be a youth movement," said Nutt, who would like to give head coaching another try.
Once out of coaching for a year or more, returning to the sideline can be difficult but isn't impossible. Ties to a school help. Bill Snyder returned to Kansas State in 2009, and last week UMass hired Mark Whipple for round two after Whipple was unemployed for a year.
Petrino is back at Louisville and sat out the 2012 season, though that had little to do with his on-field ability. But it's worth pointing out that while Petrino paid his mistress with state funds and lied about it while at Arkansas, Davis told colleague Bruce Feldman that he was cleared in the UNC/academic scandal and still can't get a job. A coach's stain from an academic scandal for a coach is "like you have leprosy."
Reasons vary for older, established coaches getting left out, but something is clear-cut: It's all about timing.
Of the five recently hired coaches ages 50 and up, each had a specific reason why age didn't matter. Texas' Charlie Strong (53) had Louisville rolling. Petrino (52) won big at Louisville and wasn't fired when he first left -- he went to the NFL. Louisville fans weren't sick of him yet. His reputation as a person was damaged, but not his coaching rep.
Whipple (56) coached UMass from 1998-2003 and returns at a time the Minutemen, 2-22 in the last two seasons, could use an old friend.
Wyoming's Craig Bohl (55) and Bowling Green's Dino Babers (52) came with the cachet of FCS trailblazing.
Sometimes getting fired -- which the 55-and-up coaches listed above were at their last stops – is difficult to overcome when young athletic directors want young, like-minded CEOs to run their programs. 
But their capabilities as coaches mean little here. They can coach. Put any of these coaches in a Sun Belt or MAC or C-USA job and they might flourish. Just look at how Larry Coker's doing at UTSA (7-5 last year with an FBS start-up program).
Maybe it's time to give age a chance.
*VANDY SEARCH: Vanderbilt is taking a broad approach, looking on the West coast and to the NFL with a pair of offensive coordinators -- St. Louis' Brian Schottenheimer and Indianapolis' Pep Hamilton -- for interviews today and Thursday, respectively.
Stanford defensive coordinator Derek Mason is likely to interview Thursday or Friday. The Commodores should have their man by the end of the week.
Clemson offensive coordinator Chad Morris is believed to be a candidate but I haven't been able to firm up whether he's interviewing. Stay tuned.
Louisiana-Lafayette's Mark Hudspeth, 27-12 in his last three years, hadn't been contacted as of Wednesday evening.
Vanderbilt has contacted Michigan State defensive coordinator Pat Narduzzi but it's unclear if the Commodores will request an interview.
*UAB SEARCH: Is this finally Eddie Gran's head-coaching moment? The long-time assistant and current Cincinnati OC has an interview with UAB on Thursday in Atlanta, according to a source.
Gran has been up for jobs in the past but hasn't gotten the nod. He is well respected in the South and has recruiting prowess in that region.
Oregon defensive backs coach John Neal has backed out of the job, but another name has emerged as a candidate -- Bethune-Cookman's Brian Jenkins, per @CoachingSearch. Jenkins majorly overachieves at B-C. This is a good look for the Blazers. Jacksonville State coach Bill Clark is also a UAB candidate.
College football bowl games were all announced on Sunday, and you can check out the entire...

SportsLine simulated every bowl game 10,000 times for pick'em leagues and confidence pools

Everything you need to know to watch and pick the Las Vegas Bowl on Saturday
Everything you need to know to watch and pick the Camellia Bowl on Dec. 16

Everything you need to know to watch and pick the New Mexico Bowl on Dec. 16

Everything you need to know to watch and pick the Cure Bowl on Saturday