Coaching Forecast: Clouds forming for Canes' Golden, Hogs' Bielema
Al Golden will be in trouble if Miami continues to falter. And in Arkansas, it's looking choppy for Bret Bielema as we forecast the prevailing winds in the coaching world.
• 3 min read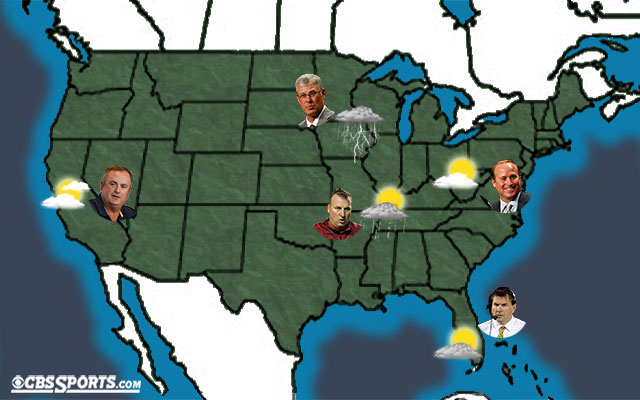 We love coaches. We love weather. Why not coalesce those two worlds and call it Coaching Forecast?
AccuBrilliant.
But really, this is not a hot seat index, though in some cases it could serve as that. The goal is simply to take a broad, national look at where coaches and their programs stand and where the breeze might be taking them in the next three months.
Let's get started.
Al Golden, Miami: Partly cloudy, periods of rain and sun
Let's be clear: Al Golden's seat is not hot, or even lukewarm. The season would have to fall apart for something like that. But since a coach's fourth year is about progress, the offensive struggles during Monday's 31-13 loss to Louisville must be at least slightly concerning. A conservative approach with freshman quarterback Brad Kaaya was understandable. The Canes struggling to run the ball was not. Duke Johnson had 58 yards on 18 carries through three quarters.
It has been almost a year since the NCAA released Miami's sanctions. No more caveats. Golden's tenure will be judged solely by on-field performance. Miami still has away games with Nebraska and Virginia Tech, and Florida State comes to Sun Life Stadium on Nov. 15.
Weather advice: Clouds should clear up but pack a windbreaker. Hurricane season is unpredictable like that.
Bret Bielema, Arkansas: Sunny with a chance of showers, thunder
Arkansas showed up in the first half against Auburn -- a natural reaction after players heard how bad they were for the past eight months -- but ultimately lost 45-21.
Winning two of the next three nonconference games (Nicholls State, at Texas Tech, Northern Illinois) is crucial for Bielema's future at Arkansas, which faces the Texas A&M-Alabama-Georgia gantlet after that.
For Bielema, it's all about how much positive momentum he can sell. The Razorbacks aren't expected to shake up the SEC in Year 2, but they must avoid outlier status, must contribute to SEC West depth and not hurt it.
Weather advice: Still T-shirt weather for now, but there's a storm coming, Mr. Wayne.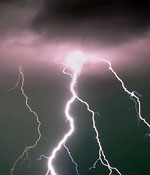 Paul Rhoads, Iowa State: Thunderstorms
Rhoads coaches at Iowa State, where 7-5 is considered impressive. But following a 3-9 season with a loss to North Dakota State in Week 1 is not a good look for Rhoads, who, by the way, just lost his best playmaker, Quenton Bundrage, to an ACL tear.
Rhoads had a good first four seasons on the job, which could buy him some time, but the Big 12 schedule isn't getting any easier.
Weather advice: No laying out by the pool.
Dana Holgorsen, West Virginia: Scattered clouds and sun
Could be dead wrong here but West Virginia looked like a 7-5 team or better in Saturday's 33-23 loss to Alabama. The defense is scrappy and an offensive system built around quarterback-receiver rhythm seemed to have just that with Clint Trickett.
A close loss against an elite team doesn't ensure future wins, but stay healthy and what were close losses a year ago turn the other way. Another 4-8 performance won't be enough for Holgorsen, who aims to change that with the urgency WVU showed in the Georgia Dome.
Weather advice: Drink as much Red Bull as Holgorsen and you'll be too fired up to care about the weather.
Sonny Dykes, Cal: Partly cloudy with surprise sun
Not sure anyone needed a season-opening win against a power-conference team more than Dykes, who came to Berkeley with Bear Raid cachet and a year later was winless in conference play.
Surprising Northwestern with a two-quarterback system on the road was a swift move by Dykes, whose Pac-12 schedule will be tough once again. Snag a few conference wins and at least one more in nonconference play and Dykes can create positive momentum at Cal.
Weather advice: Expect anything and everything.
Seven-Game Forecast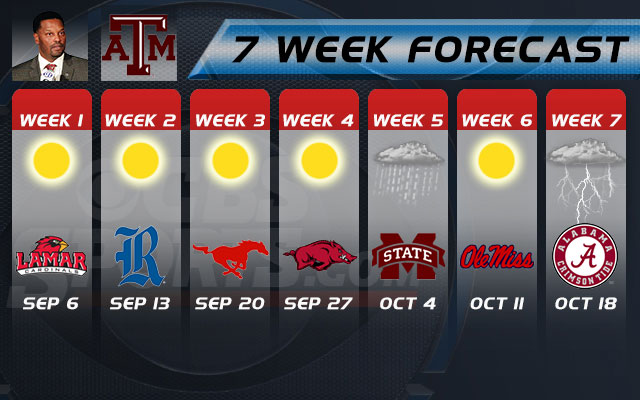 Kevin Sumlin, Texas A&M: Known as the Great Negotiator in the eyes of Steve Spurrier after snagging a deal at $5 million a year last offseason, Sumlin will bolster his NFL street cred with more performances like that 52-28 pounding in Columbia.
With the upcoming schedule, there's a strong chance the Aggies will end October at 6-2 or better.
The seven-game forecast above shows the Aggies should be 5-0 entering an Oct. 4 matchup at Mississippi State, which will bring scattered showers Sumlin's way. Doesn't mean he can't survive those showers, but that will be a tough game.
The Aggies head to Tuscaloosa two weeks later, a matchup that's sure to bring a storm or two.
>> More prognostication? Week 2 Expert Picks
The 21-year-old quarterback was expected to start for the Cougars in 2018

The Fighting Irish will be without some playmakers in 2018

It may have been impossible for Sumlin to meet the expectations set for him in College Sta...
Some players are more easily replaced than others

The 2017 season is in the books, and several big-name stars are jumping early to the NFL

Love was second in the nation in rushing with 2,118 yards in 2017