College Basketball Previews: Patriot League boasts NBA talent this season
Lehigh's C.J. McCollum is projected by some as a mid-first-round pick, while Bucknell's Mike Muscala has a chance due to his size and skill. Both are ranked among our top-100 players in the country.
• 4 min read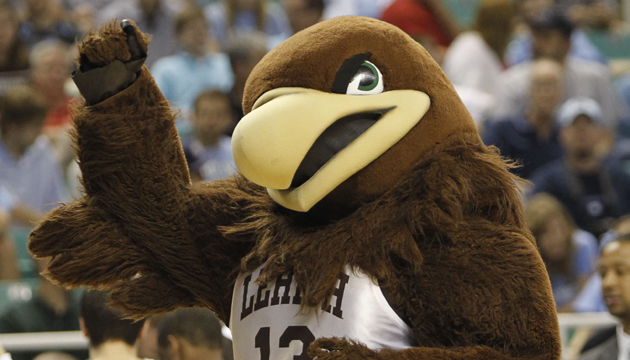 The Lehigh Mountainhawks hope to repeat their 2012 trip to the NCAA tournament. (US Presswire)
The last time the Patriot League had a player chosen in the NBA draft was 1997, when Colgate's Adonal Foyle was selected by Golden State. Before that? In 1987, when David Robinson went off the board first to San Antonio.
That's it. Two guys in the past 25 years. Simply put, the Patriot isn't a league that produces a plethora of NBA players. (Update: Navy was a member of the CAA when Robinson played for the Midshipmen. h/t @ScottStras)
That could change this season, though, as two potential NBA players will call the league home. Lehigh's C.J. McCollum is projected by some as a mid-first-round pick, while Bucknell's Mike Muscala has a chance due to his size and skill. Both are ranked among our top-100 players in the country.
Because of those two, the Patriot will see more headlines than normal this season. Many of those eyes will be on McCollum, who grabbed the nation's attention in March by scoring 30 points in the round-of-64 upset of No. 2 seed Duke. He is being touted by some as a Preseason All-American, which isn't far-fetched considering he averaged 21.9 points, 6.5 rebounds and 3.5 assists last season.
Led by the league's best player, Lehigh should be the favorite heading into the season -- despite finishing in second during the regular season last season. McCollum is the focal point, but forward Gabe Knutson is an all-conference candidate who is a very solid second option. The key could be guard Mackey McKnight, who sees a lot of open 3-point opportunities and is an effective distributor.
Though Lehigh is getting more attention because of its NCAA tournament win, Bucknell has won the regular-season championship in back-to-back seasons. The Bison lock down on defense and then turn to Muscala and a host of secondary options when they have the ball. Muscala is talented, can score in a variety of ways and demands a double-team nearly every time that he touches the ball.
He's not the only piece for Bucknell, though. Cameron Ayers and Joe Willman both scored in double figures, and the key could be Bryson Johnson. He's a knockdown shooter but was inconsistent last season. Bryan Cohen -- the best defender in the league the past three seasons -- will be missed.
Lehigh and Bucknell undoubtedly will battle for the title, but Holy Cross and American should be tough outs. Holy Cross finished the regular season on a six-game winning streak and also beat both Lehigh and Bucknell. The backcourt of Devin Brown and R.J. Evans is gone, so look for several role players to step up. Dave Dudzinski should take a leap forward, while Jordan Stevens will have an expanded role.
Another story in the Patriot is the return of Stephen Lumpkins, who took off last season to play baseball. He was a double-double threat every night out two years ago, and early word is that he's expected to pick up where he left off. Charles Hinkle is tough to replace, though.
From the bottom half of the league, Army could be a potential sleeper. The Black Knights love to get up and down the floor, and they have a legitimate go-to guy in forward Ella Ellis. If they can get consistent rebounding and post scoring, look out.
It might not be the most balanced league from top to bottom, but the Patriot is going to have plenty of attention this season.
Coach's take
"The story of this league is that we have two juggernauts in a league that hasn't had players of this caliber, and they came in at the same time. Both of these teams are really good. Lehigh's run was huge. The way Lehigh was playing down the stretch, they were the best team. They weren't great when [McCollum] was a sophomore. When he started trusting his teammates, that's when they became special. There are two pros -- and the better pro is on Lehigh. What Lehigh did to finish out the season, I'd have to give the nod to them."
The league's best
Numbers to know
40.9. The percent that C.J. McCollum shot from the floor during three games against Bucknell, being held to 15 or fewer points in two of them. How much of that was due to now-departed Bryan Cohen defending him, though?
1984-85. The last time that Army had a winning record. Could Zach Spiker end that streak this season?
22. Navy's current losing streak. It's the longest in the country.
Previously in previews:
No. 22 -- Ohio Valley
No. 23 -- Big West 
No. 24 -- SoCon
No. 25 -- NEC
No. 26 -- Big South
No. 27 -- Southland
No. 28 -- Big Sky
No. 29 -- America East
No. 30 -- MEAC
No. 31 -- Great West
No. 32 -- SWAC
For more college basketball news, commentary and discourse, follow @EyeonCBB and @jeffborzello on Twitter. And be sure to like us on Facebook.

The Nittany Lions came up huge when they needed to against Iowa

It just might have been the best game of the season so far

Projecting the new AP Top 25 poll college football rankings after Week 4
Stay with us all day Saturday for updates and highlights from Week 4 of the 2017 season

Georgia dismantles Mississippi State between the hedges Saturday night

The Horned Frogs looked a lot like their old selves on Saturday afternoon in Stillwater