College Football Hall of Fame releases 2013 ballot
There is a long list -- 82 players to be exact -- who are eligible for induction into the College Hall of Fame. LaDainian Tomlinson and Ron Dayne head up a list of new players on the ballot. Winners will be announced in May and the induction ceremony will be in December.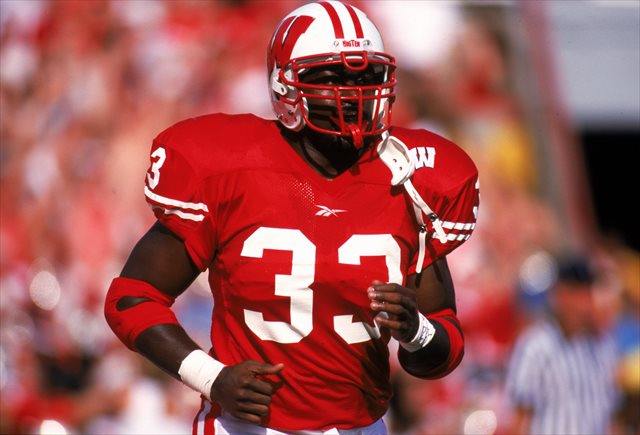 The College Football Hall of Fame has issued its 2013 ballot, and once again there's no shortage of deserving candidates.
The National Football Foundation released its list of 82 candidates for the 2013 Hall of Fame class Tuesday, a list headlined by such greats as Nebraska quarterback Tommie Frazier, Alabama linebacker Derrick Thomas and new additions TCU running back LaDainian Tomlinson and Wisconsin tailback Ron Dayne. 
To be eligible, "players must have been named a First Team All-American by a major/national selector as recognized and utilized by the NCAA for their consensus All-America teams; played their last year of intercollegiate football at least 10 years prior; played within the last 50 years and cannot be currently playing professional football."
Players are not elected directly to the Hall of Fame by the voting process. Instead, the votes are "tabulated and submitted to the NFF's Honors Court, which deliberates and selects the class."
Winners will be announced in May and the induction ceremony will be in December.
The Hall has come under increasing criticism in recent years for the exclusion of players such as Frazier, with the blame potentially falling on a reported policy not to elect players from the same school in consecutive years. The NFF makes no official mention of such a policy.
In any case, with no Husker player elected in 2012, this appears to be the year for Frazier -- and potentially the likes of Thomas, Ohio State tackle Orlando Pace, Miami quarterback Vinny Testaverde, and other 2012 snubs.
The complete list of candidates for the class of 2013: 
Trev Alberts, Nebraska-Linebacker
Erick Anderson, Michigan-Linebacker
Bob Berry, Oregon-Quarterback
Eric Bieniemy, Colorado-Running Back
Tony Boselli, Southern California-Offensive Tackle
Brian Bosworth, Oklahoma-Linebacker
Jerome Brown, Miami (Fla.)-Defensive Tackle
Ted Brown, North Carolina State-Tailback
Bob Breunig, Arizona State-Linebacker
Tedy Bruschi, Arizona-Defensive End
Brandon Burlsworth, Arkansas-Offensive Guard
Larry Burton, Purdue-Split End
Dave Butz, Purdue-Defensive Tackle
Mark Carrier, Southern California-Safety
Marco Coleman, Georgia Tech-Linebacker
Tom Cousineau, Ohio State-Linebacker
Bob Crable, Notre Dame-Linebacker
Eric Crouch, Nebraska-Quarterback
Randall Cunningham, UNLV-Punter
Ron Dayne, Wisconsin-Running Back
Eric Dickerson, SMU-Running Back
John Didion, Oregon State-Center
D.J. Dozier, Penn State-Running Back
Jumbo Elliott, Michigan-Offensive Tackle
Tony Franklin, Texas A&M-Plackekicker
Tommie Frazier, Nebraska-Quarterback
William Fuller, North Carolina-Defensive Tackle
Kirk Gibson, Michigan State-Wide Receiver
Charlie Gogolak, Princeton-Placekicker
Jerry Gray, Texas-Defensive Back
Al Harris, Arizona State-Defensive End
Leotis Harris, Arkansas-Offensive Guard
Randy Hughes, Oklahoma-Defensive Back
Raghib Ismail, Notre Dame-Wide Receiver
Dick Jauron, Yale-Running Back
Ernie Jennings, Air Force-Wide Receiver
Greg Lewis, Washington-Running Back
Jess Lewis, Oregon State-Defensive Tackle
Rob Lytle, Michigan-Running Back
Bobby Majors, Tennessee-Defensive Back
Buddy McClinton, Auburn-Defensive Back
Duncan McColl, Stanford-Defensive End
Cade McNown, UCLA-Quarterback
Paul Naumoff, Tennessee-Linebacker
Darrin Nelson, Stanford-All-Purpose
Ken Norton, Jr., UCLA-Linebacker
Tom Nowatzke, Indiana-Fullback
Philip Olsen, Utah State-Defensive End
Jim Otis, Ohio State-Fullback
Orlando Pace, Ohio State-Offensive Tackle
Paul Palmer, Temple-Running Back
Anthony Poindexter, Virginia-Defensive Back
Antwaan Randle El, Indiana-Quarterback
Ron Rivera, California-Linebacker
Willie Roaf, Louisiana Tech-Offensive Lineman
Mike Ruth, Boston College-Nose Guard
Lucius Sanford, Georgia Tech-Linebacker
Sterling Sharpe, South Carolina-Wide Receiver
Rod Shoate, Oklahoma-Linebacker
Percy Snow, Michigan State-Linebacker
Bob Stein, Minnesota-Defensive End
Art Still, Kentucky-Defensive End
Matt Stinchcomb, Georgia-Offensive Tackle
Aaron Taylor, Notre Dame-Offensive Tackle
Vinny Testaverde, Miami (Fla.)-Quarterback
Derrick Thomas, Alabama-Linebacker
Zach Thomas, Texas Tech-Linebacker
Andre Tippett, Iowa-Defensive End
LaDainian Tomlinson, TCU-Tailback
Don Trull, Baylor-Quarterback
Jackie Walker, Tennessee-Linebacker
Wesley Walls, Mississippi-Tight End
Lorenzo White, Michigan State-Running Back
Clarence Williams, Washington State-Running Back
Steve Wisniewski, Penn State-Offensive Guard
Scott Woerner, Georgia-Defensive Back
Danny Wuerffel, Florida-Quarterback

COACHES

Jim Carlen-West Virginia (1966-69), Texas Tech (1970-74), South Carolina (1975-1981)
Wayne Hardin-Navy (1959-64), Temple (1970-82)
Bill McCartney-Colorado (1982-94)
Billy Jack Murphy-Memphis (1958-71)
Darryl Rogers-Cal State-Hayward (1965), Fresno State (1966-72), San Jose State (1973-75), Michigan State (1976-79), Arizona State (1980-84)
For full candidate bios, visit the official NFF ballot.
The former Rebels coach was suing the school for harming his reputation

Florida and Georgia's rivalry game is the SEC on CBS Game of the Week

Everything you need to know from the week in college football to stave off your case of the...
Our full set of 130-team FBS college football rankings start with Alabama back at No. 1

The Hurricanes have showed out in a major way over the first half of the 2017 season

An early look at the gambling odds for Week 8 of the college football season