College football midseason: Baylor offensive guru Briles is coach of year
Baylor's Art Briles is hiding something up his omnipresent sleeves, but his red-hot offense is no secret. Nor is this: Briles is our coach of the year at the season's midway point.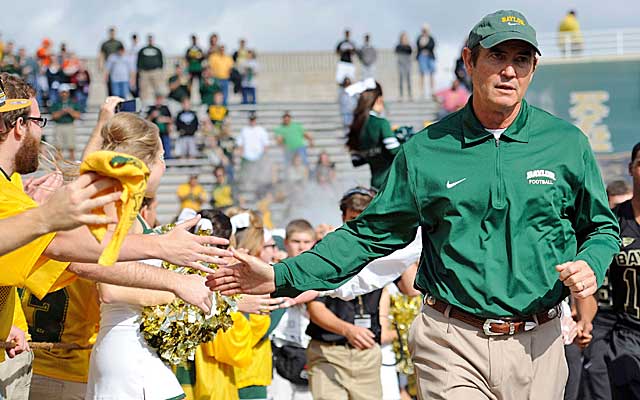 It's about the sleeves for Art Briles. Why does he always wear them?
That remains one of the great mysteries of Baylor football -- along with how does a sleepy program on the banks of the Brazos River threaten to win the Big 12? The 57-year-old Bears coach hits the practice field each day -- sun, drought, blazing heat in central Texas -- wearing long sleeves. Briles never has explained why.
Speculation has spread all over message boards -- skin cancer, hiding an unsightly tattoo. The reasoning might as well be the same for Briles when he is questioned about his version of the up-tempo, zone-read offense.
"There's a lot of different ways to skin a cat," Briles said. "You use the knife you feel best about."
Halfway through the season, the head Bear is CBSSports.com's coach of the year. It's all happening for Baylor right now. Briles, in his sixth season, has the Bears undefeated, 1 of 13 such teams remaining in the nation. His offense is the most potent in the land.
A new $260 million on-campus stadium going up within sight of the practice field reasonably could be called, "The House That Art Built." It's doubtful ground is even broken if Briles doesn't oversee three straight bowl games, a Heisman Trophy-winner (Robert Griffin III), the school's single-season passing leader (Nick Florence) and the school's highest ranking in 22 years (No. 12 in AP).
"There's probably some validity in that," the coach said.
For the most part, Briles is doing it without five-star recruits and only a few four stars. Quarterback Bryce Petty was a three-star recruit who dropped his Tennessee commitment when the school fired Phil Fulmer. Leading rusher Lache Seastrunk was big-time but left the state for Oregon before transferring to Baylor.
"Every recruit, we're going head-to-head with Texas A&M and Texas," Briles said. "They're hard to beat, but we're getting hard to beat, too. We're an attractive product."
Baylor's coach is humble, not dumb. His offense is at the cutting edge of a national revolution. Even the defensive-minded SEC has been affected. At the halfway point, the Bears are leading the country is scoring, total offense and pass efficiency. The Bears are one of two undefeated teams in the Big 12 heading into this week's game against Iowa State.
At the center of it is an up-tempo spread option offense that -- like its master -- was born, raised and has thrived in Texas. Briles developed his offense coming up the hard way, coaching Texas high schools. He has patiently, steadily nurtured the Bears since arriving in 2008. Since 2011, Briles has produced 23 wins, that Heisman winner and the nation's third-longest winning streak (nine games).
"It's a great game if you win," with his offense, Briles said. "That's all we're really concerned with. Three-to-two is a great game, 50-49 is a great game. From a realistic standpoint [the game] has changed. It's starting to filter over to the SEC just by the nature of what's happening over there."
Skinned cats, you might say, are popping up everywhere.
The midseason All-American team and Awards are a prelude to the CBSSports.com postseason All-America team, which will be unveiled on Tuesday, Dec. 17.
McElwain will coach receivers and help coordinate the offense for the Wolverines

Nathaniel Watson Jr. was involved in a car accident that injured a passenger in early Febr...

The honorable Tom Fornelli presides over the ASU vs. UM case
Arkansas State is seeking $650,000 for a canceled home game last September due to Hurricane...

Friday Five is tackling the big questions this week

Two unnamed players are being investigated for an incident at an off-campus apartment