College football midseason: Heisman race all QBs, and maybe a repeat
Manziel and Mariota may lead, but don't dismiss Mannion, McCarron, Boyd or Winston in this all-QB Heisman race that may be the best ever.
The Heisman race is perfectly, deliciously, impossibly tangled halfway through the season.
Oregon's Marcus Mariota is this year's Johnny Manziel, who is still last year's Johnny Football. That's discarding Oregon State's Sean Mannion, who has thrown 25 touchdown passes -- six more than anyone else in the country. That's dismissing AJ McCarron, Tajh Boyd and Jameis Winston, which obviously can't be done halfway through this season.
The midseason All-America team and Awards are a prelude to the CBSSports.com postseason All-America team, which will be unveiled on Tuesday, Dec. 17.
CBSSports.com Heisman Straw Poll
Player, School (FPV)
Pts
Marcus Mariota, Oregon (4)
32
Johnny Manziel, Texas A&M (3)
30
Jameis Winston, Florida State
20
Tajh Boyd, Clemson
7
Teddy Bridgewater, Louisville
6
Sean Mannion, Oregon State
5
Melvin Gordon, Wisconsin
3
Kyle Van Noy, BYU
2
It is the best race, maybe ever. Remember when a freshman could never win again? Hello, Famous Jameis. Remember when Johnny Football couldn't win again? Somebody get Archie Griffin on the phone. Well, actually, we did.
"I do," think Manziel can win again, said Griffin, the only two-time Heisman winner. "I think he's a terrific football player, absolutely terrific ... It's one of those years when you've got a lot of outstanding quarterbacks which seems to be what the race is all about."
You wanted a favorite halfway through? Sorry, no can do. If you put a gun to my keyboard, it's the M&M boys -- Mariota and Manziel. But the race is sure to twist, turn and veer a half dozen more times in the final seven weeks. Just think: The claims of politicking, bias and Lee Corso have yet to surface.
Supposedly, either Clemson's Tajh Boyd or Florida State's Jameis Winston could be eliminated after they play Saturday. Or maybe not. The old formula still applies: The winner usually does something dramatic against a top-10 team in November. That gives hope to the likes of McCarron and LSU's Zach Mettenberger, who face off in the SEC's latest game of the century on Nov. 9 in Tuscaloosa.
Mariota still has to play Stanford on Nov. 7. Don't dismiss Mannion. The same quarterback whose team began the season by losing to Eastern Washington, closes it by playing Oregon. Not a bad potential final statement. The Beavers' junior has 56 touchdown passes in 27 career games. At his current pace, Mannion would become the fifth player in history to throw 50 touchdown passes in a season.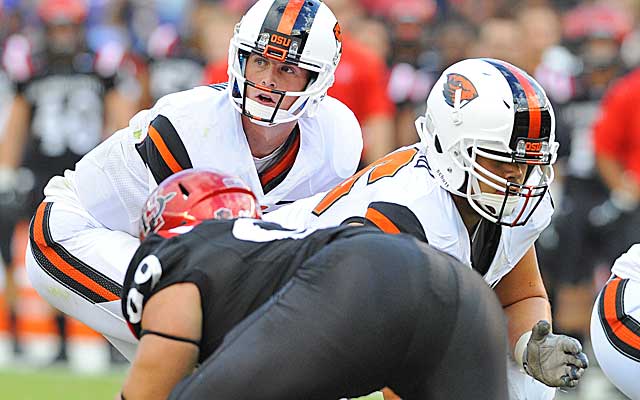 You may notice a pattern. It's about quarterbacks, as usual, in the Heisman race. Except this year it's all about quarterbacks. Everywhere. If you've got a triggerman, you've got a chance. Halfway through the season we're on track to set a national scoring record for the second consecutive season. Handing off almost seems to be an appetizer for the beefsteak guys calling plays under center.
There are three rushers among the top nine nationally playing for ranked teams. The top runner playing for an undefeated team is Alabama's T.J. Yeldon. He is 29th. The game is changing before our eyes. The top 11 highest-scoring seasons of all-time have come since 2001. At the halfway point, we're on pace for new national records in scoring, passing, total offense and yards per play. Average rushing yardage per game would be the highest in 33 years. That's a function of up-tempo offenses that are running more plays but also becoming more balanced.
Baylor defensive coordinator Phil Bennett -- who faces the nation's best offense each day in practice -- said it best.
"The new 17 [points], might be 28," for a good defense.
The definition of what's good defensively has been redefined because of the rise in quarterback play. In Texas schoolboy football -- and in other states -- they've turned an informal game of touch into a for-profit industry. You may have heard of 7-on-7.
While some of the sketchy folks around 7-on-7 threaten to drag the recruiting nature of the sport down to the oily depths of AAU basketball, what's happening is clear. Those sketchy folks have gathered around the college game's profit center. Get yourself a quarterback and a couple of receivers and you can win a conference title.
And titles mean BCS bowls and BCS bowls mean raises for coaches. And coaches don't tend to stay in one place for long these days. The game's circle of life isn't going to be broken until defenses catch up.
It's a team game? Not lately. It hasn't been for a while. Did you see Manziel on Saturday night in Oxford? Johnny Football's fourth career 300-yard passing/100-yard rushing game is an FBS record. The numbers were posted in only his 19th career game.
"Anything is possible," said the Seminoles' Winston, marveling at A&M's quarterback. "People give Johnny Manziel so much heat. That man is living the life. He's playing football. He doesn't care about all the other stuff."
Mariota, Oregon's redshirt sophomore, has played in the same amount of games. He has thrown at least one touchdown in each. If it's possible, Mariota is a bigger, faster and more dynamic package than Johnny Franchise.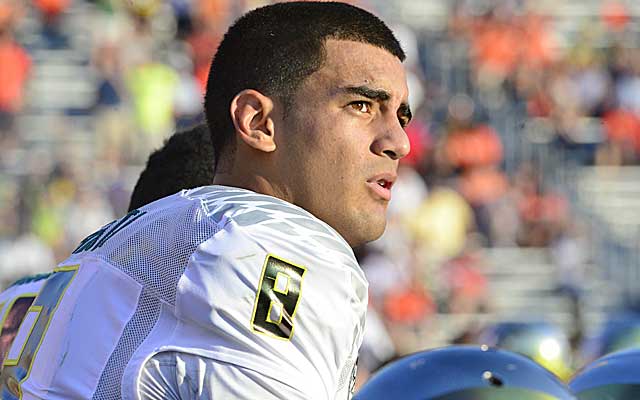 "I don't have a Heisman vote but I'd be hard-pressed to say we'll see a better quarterback this year," said Washington coach Steve Sarkisian, after watching Mariota throw for 366 yards and three TDs in Saturday's 45-24 loss to the Ducks. "I don't know when he is planning on going to the NFL, but when he does, I think he'll be a top-five draft pick."
Mariota won't be leaving for the pros for at least another eight games if Oregon plays in the Pac-12 title game and a bowl. In Chip Kelly's four seasons as the Ducks' coach he had a runner go for at least 1,536 yards. That doesn't look like it's going to happen this year. But Mariota is happening this year, able to carry the program on his back.
"I've never seen anything rattle him," Oregon offensive coordinator Scott Frost told reporters on Saturday. "Every week people try to point out something wrong with him. This week, it was that he hadn't played in the fourth quarter. We'll see what it is next week."
A Hawaii native, Mariota is the moment's it player. He is everything Manziel isn't -- tall, humble and a Duck. Manziel may have him in the quote department. Otherwise, the two quarterbacks may stage a season-long game of "Whatever you can do, I can do better."
How wonderful that the game repopulates itself each year with these new storylines. At this time a year ago, Manziel had yet to rub two fingers together. Winston was redshirting. McCarron was in the process of disposing of his image as Alabama's top GM (game manager). Along with becoming the nation's most efficient passer, he landed championship ring No. 3.
At the halfway point, six quarterbacks are on track to shatter Russell Wilson's seemingly unsurpassable pass efficiency record (191.78) set a couple of years ago. The leader at midseason, Baylor's Bryce Petty at 230.59, would pretty much have to sleep from now until the bowl not to break Wilson's record. Petty leads the nation in yards per attempt (14.8) as well as in passing plays of 30-plus, 40-plus and 60-plus yards. All while throwing fewer than 23 times per game.
Nine quarterbacks are completing more than 70 percent of their passes. Four are on track to rush for 1,000 yards. Louisville's Teddy Bridgewater could be the first pick in the draft. At the NFL level, he will face a tougher schedule than the Cardinals this season. But that's no excuse for what he has accomplished to date. That is, being No. 4 in touchdown-to-interception ratio. Only Mannion and Fresno State's Derek Carr have thrown for more touchdowns.
For those of you who criticized a Heisman mention of Manziel after Saturday (no touchdown passes vs. Ole Miss), did you even watch the game? The Aggies don't win that game without Johnny Football. He constantly kept plays -- and A&M's SEC West chances -- alive. His "blemish," a loss to Alabama, was arguably the best game of his career.
At this point a year ago, we didn't know what we had in Johnny Manziel. Now we know what can happen with him -- history. Back-to-back Heismans. Consider that Manziel is either even or ahead of his Heisman pace of a year ago in touchdown passes (14 each season after six games), passing yards (1,835 compared 1,680) and accuracy (73.2 percent -- 66.6).
The difference this year is, we're paying attention -- to him, to a new game, to history.
"I would kind of love it," Griffin said when asked about playing in these modern offenses. "It gives you a chance to get out in space. We didn't do a lot of that when I played. It was running off tackle and they knew you were coming."
Now, defenses don't know from which direction the next play is coming from. Settle in, the national championship and Heisman races aren't over until this elite cross-section of quarterbacks say they are.  
Expert picks for the top games during Week 8 of the 2017 NCAA football season

Leach wants a rally outside Texas Tech's stadium for $2.5 million he believes he is owed

It's the beginning of the end for a number of teams with College Football Playoff hopes
Every season has early surprises, but which ones are most capable of finishing the job?

Our computer model simulated every Week 8 college football game 10,000 times with surprising...

The bye weeks means there's more time for Smart to hit the recruiting trail