College Football Playoff: A closer look at what it really means
Even before the first college football season with a playoff begins, the overarching question is how soon will the playoffs expand?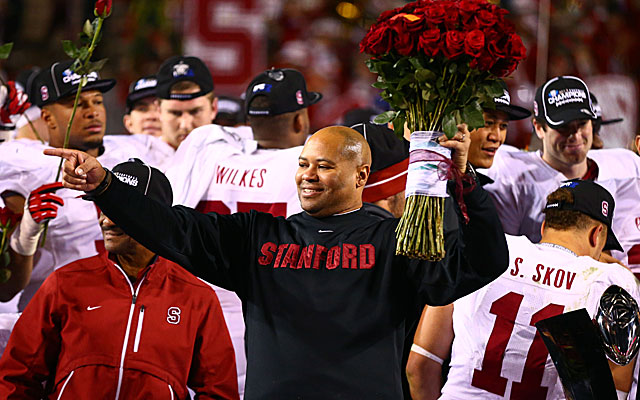 More college football: Jon Solomon | Dennis Dodd | Jeremy Fowler | Latest news
Tom Osborne understands the awesome responsibility of being a member of the first College Football Playoff selection committee.
Someone blew up his mailbox.
"Blown apart after an Oklahoma game," Nebraska's legendary coach said. "Probably would have been the late 70s."
Osborne certainly had his issues with Barry Switzer -- a 5-12 head-to-head record -- none of them were personal.
"No, Barry wouldn't do that," Osborne added. "You just viewed it [fan reaction] as part of the territory. Most fans don't blow your mailbox up [but] you'd leave the phone off the hook at night or pull the shades."
Pulled shades have become home security alarms. Land lines are now smart phones. If a Hall of Fame coach at the top of his game is concerned about harassment 35 years ago, what does the playoff era have in store?
We're less than four weeks from kicking off the most interesting season in history. In a sense, there's more certainty to a Wallenda tight-roping without a net.
At the center of it is fan interest that helped make college football the nation's second-most popular sport in the BCS era. In fact, it's why we have a playoff in the first place. The 10 FBS commissioners finally caved to public pressure and the inadequacies of the BCS.
The fans have spoken. Now, how do you keep them in check? It's a modest but powerful four-team playoff. You can read the parameters here. But none of the bullet points answer an overarching question before the season kicks off: How long before we get to eight?
That's another way of saying we don't know what we don't know in this new era. For the first time that 13-member committee will select and seed the four playoff teams as well as place the schools in the other four New Year's Six bowls.
Simple math tells you at least one Power 5 conference will be left out each season. What will be the ramifications if, say, the Big 12 goes three straight seasons out of the playoff? What will be the pressures on the only Power 5 conference without a championship game?
Using the final 2013 BCS standings, the SEC would have had two teams in (Auburn, Alabama) to go along with the Big Ten (Michigan State) and ACC (Florida State). Pac-12 champ (Stanford) and Big 12 champ (Baylor) would have been left out.
"You have a steady diet of that over time," one Big 12 AD said, "there will definitely be some conversations."
In an era of reform, the financial and competitive pressures of a playoff are even greater. The conferences of the four semifinal participants will receive $6 million each. That's a fraction of the $50 million each of the Power 5 conferences will receive in 2014 for being the backbone of the system.
Coaching bonuses that used to include BCS language have been altered for the playoff. In that sense, just making the four-team bracket has become a new -- and lucrative -- standard.
Steve Spurrier makes $4 million a year. If he wins the first playoff, there are bonuses worth an extra $550,000 -- 14 percent of his salary.
"The playoff wasn't done for the money," CFP executive director Bill Hancock said. "The playoff was done because we heard the fans who wanted more football."
That statement may be half right. ESPN is paying $7.2 billion for the rights to the 12 years of the playoff. The cable giant wants to earn its money back. That might be why we have to wait three days to get the committee's weekly top 25 (beginning Tuesday, Oct. 27). It's called programming.
In that sense parent company Disney hasn't come too far from those earliest Mickey Mouse cartoons -- simplification, exaggeration and manipulation.
Don't forget anticipation. That top 25 is going to overshadow everything in the sport, including other top 25s. The coaches' poll is a curio. At least the AP poll has the objectivity of the media. But neither will have its previous impact. Tuesday night is about to become appointment television, seeing where your team is in that playoff race. Jerry Palm's Saturday night bowl projections just took on a whole new significance. We're talking a seven-week melodrama that will make basketball's Selection Sunday look like a pick-up game.
At the center of it is The 13. Their lives are about to change. Osborne has had a taste. Condoleezza Rice too. We're talking about a world leader who has fought terrorists and checked a Stanford score while running through a Dubai airport.
Archie Manning raised two sons through the wars of the SEC and NFL. Wisconsin's Barry Alvarez is a forceful leader. Committee chairman Jeff Long is the AD who fired Bobby Petrino at Arkansas. Tom Jernstedt was the No. 2 man at the NCAA for 30 years.
"The committee will select the best four teams, no strings attached," Hancock said.
Someone better alert the mailboxes.
Digging down on the playoff
(Or trying to know what we don't know at the moment ...)
Who benefits most? The undefeated. A four-team playoff basically will include any undefeated Power 5 team. You go 12-0 (or 13-0) you're in. That is, unless the Pac-12, Big 12, ACC, SEC and Big Ten each produce an undefeated champion. In the BCS era, that never happened. There were never more than three undefeated Power 5 teams.
So in that sense the same rules from the BCS apply ...
"As soon as you lose a game you've lost the right to be the lead speaker," Oregon coach Mark Helfrich said.
Who benefits most Part II? On the conference level, it's clearly the Pac-12.
Seventeen times in 16 seasons, the Pac-12 (previously the Pac-10) had a team ranked third through six in the BCS. That's a sensible cutoff considering we already know the SEC dominated the top two. But what about teams below the top two that would have been under consideration for a four-team playoff?
Seven of those 17 Pac-12 teams finished third or fourth. The SEC and Big 12 were tied for second, landing teams in spots four through six 13 times. The Big Ten was fourth with 10.
On the surface, four teams is better than two. More access, one more game. More fairness? In one sense, the same old arguments will rage. The debate now goes from who's No. 3 to who's No. 5, No. 6, even No. 7.
When do we go to eight? CFP and ESPN officials maintain 12 years is 12 years, meaning the four-team bracket would not change until at least the 2026 season.
But experts/fans/journalists in some degree agree that an eight-team playoff is inevitable. And soon. An eight-teamer could conceivably accommodate the champions of the Power 5 conferences (Big 12, Pac-12, SEC, ACC, Big Ten) as well as two at-larges and an automatic qualifier from the Group of Five (Conference USA, Mountain West, MAC, Sun Belt).
The problem would be wedging all that in between Christmas and the second week of January. Wait, isn't that what we're doing now?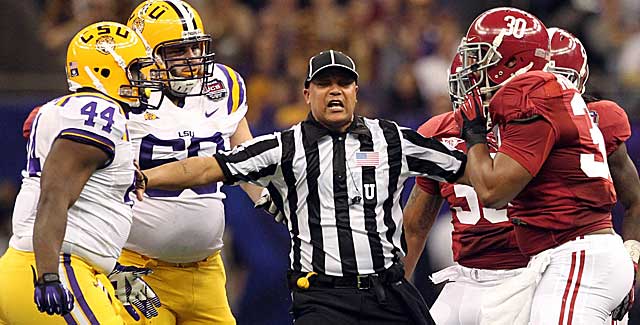 The rich get much richer: There is no limit to how many teams from a conference can get in. Conceivably, the SEC could get two (or more) in the top four as well as four (or more) sprinkled throughout the New Year's Six.
The committee will stay away from rematches but can't guarantee it. We can celebrate/dread the SEC's dominance, but let's see the national reaction the first time there's an Alabama-LSU rematch in the national championship game. Many consider a 2011 rematch of those teams the final straw in BCS outrage.
Realignment problems: Size matters in that conferences have become too big. It used to be that league champions were easy to determine. Everyone played everyone, round-robin. There was always a head-to-head game to decide a tie. To paraphrase the Big 12: There was always one true champion.
In this age of divisional play, the committee's biggest headache may be dealing with these super conferences. In any given season a deserving playoff team may not so much as win its division. Fair? (Talking to you Alabama in 2011 and 2013.)
Recusal: It's becoming clear why the CFP decided on minimal recusal policy for the committee. Using the bare-bones policy in existence, at least five current members would be ineligible to consider their teams. The policy recuses any member who is getting money from any school under consideration.
Teams of four schools directly related to committee members (USC, Nebraska, Clemson and USC) are currently ranked. If Arkansas somehow gets ranked, those five schools would account for one-fifth of the current coaches' poll.
ESPN.com reported Osborne already has been recused from voting on Nebraska. More recusals are expected next week.
Schedule strength: Seems to be a study in gum-flapping futility. The committee has said it will value conference champions (see above) and schedule strength. But what is schedule strength? After all these years we still don't know how the committee will consider the five different scheduling philosophies of the Power 5.
The Pac-12 and Big 12 play nine conference games. The Big Ten (for now), SEC and ACC play eight. The Big 12 doesn't have a championship game. The SEC and ACC have mandated a nonconference game against a Power 5 opponent. A national debate rages over the scheduling worthiness of BYU.
Things are better in our favored sport, you may have noticed, but they're not fixed.
Isn't it great?
Some players are more easily replaced than others

The 2017 season is in the books, and several big-name stars are jumping early to the NFL

Love was second in the nation in rushing with 2,118 yards in 2017
It looks like Jennings is slowly making his way back to the Vols after being dismissed last...

Offensive coordinator Brian Daboll's departure to the NFL has left a void at Alabama

Wilkins was considered a potential first-round pick in the NFL Draft