College Football Playoff admins discussing Army-Navy timing
Sun Belt commissioner Karl Benson and Mountain West commissioner Craig Thompson believe any team that plays after the release of the final College Football Playoff rankings should not play in a New Year's Six bowl game.
• 2 min read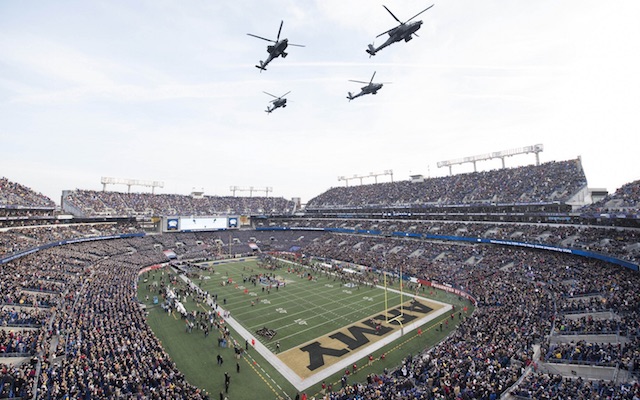 In 2015, Navy will officially become a member of the American Athletic Conference and therefore be eligible for a spot in the New Year's Six bowl games if the Midshipmen win the league's title.
The bid, awarded to Boise State in 2014, is given to the highest-ranked conference champion from the Group of Five (AAC, Conference USA, MAC, MW and Sun Belt) when the College Football Playoff Selection Committee releases its final rankings in December. 
What happens, then, if Navy wins the American title only to lose to Army on the second Saturday in December? The committee has no plans to adjust its schedule for releasing rankings, so another conference champion could be left out of the New Year's Six while Navy's spot is unaffected by the loss. 
According to ESPN's Brett McMurphy, that hypothetical situation has been brought up by Sun Belt commissioner Karl Benson and Mountain West commissioner Craig Thompson. Benson and Thompson don't want to focus exclusively on Army-Navy, but they do think any school playing after the release of the final rankings should be ineligible for a College Football Playoff bowl game.
McMurphy reached out to all 10 conference commissioners -- plus Notre Dame athletic director Jack Swarbrick -- to gauge opinions on this potential headache for the CFP administrators. Some declined to comment, but Big 12 commissioner Bob Bowlsby let his voice be heard.
Bowlsby acknowledged the importance of Army-Navy but indicated that discussions will be necessary to address the potential issues with the Group of Five spot in the CFP bowls.  
"Given the rich history of the Army-Navy game, its patriotic significance, and pageantry, I can appreciate the desire of the academies to play on a stand-alone date with the eyes of the nation able to watch," Bowlsby said. "However at this juncture, I'm not sure how best to address the impact of the game's outcome on the CFP given Navy's move into the American Athletic Conference, and the potential for it to secure a spot in the structure as a conference champion, or highly ranked non-champion.

"I will want to discuss this possibility and viable options with my FBS commissioner colleagues before formulating a recommended course."
American Athletic Conference commissioner Mike Aresco told ESPN that the league is "perfectly aware of the issues" and he has some "creative solutions" to the problem, though he declined to share any further details.
Navy's addition to the American Athletic Conference gives the league 12 teams for football and opens the door for the first conference title game, which is set for December 2015. 
The team at TheMichiganInsider.com have an exclusive look at Michigan's spring practice

The 'Conference of Champions' won't be in the Round of 32 for the time since 1986

Everything you need to know about Colorado's spring game
Gundy spoke at a Stillwater Public Schools Board of Education meeting

Diaco is the former DC at Notre Dame and Nebraska, and also coached UConn for three season...

Russell passed up on the NFL to return to Auburn to play his senior season in 2018