College Football Playoff Rankings: TCU is your new No. 3
TCU moved into the all-important College Football Playoff Rankings' top-four after blasting Texas, edging Ohio State and Baylor.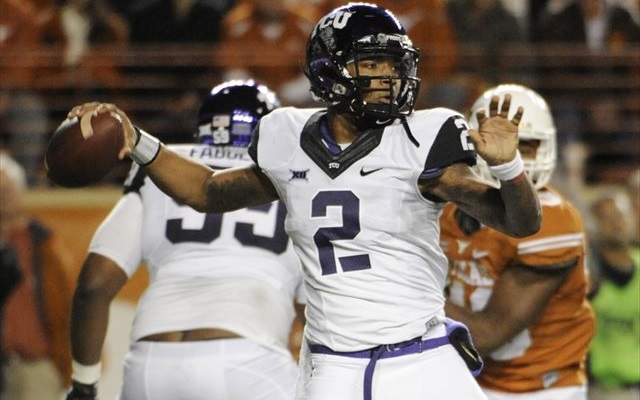 The great College Football Playoff Rankings debate between one-loss contenders TCU, Baylor and Ohio State has ended emphatically in the Horned Frogs' favor ... this week.
The top two teams in the CFP Rankings announced Tuesday night remained the same, with Alabama at No. 1 and Oregon No. 2. But after blasting Texas on Thanksgiving night and watching previous No. 4 Mississippi State fall at Ole Miss, TCU was elevated all the way to the No. 3 slot, bumping Florida State to No. 4.
The undefeated Seminoles now sit behind three different teams with a loss.
"I think they're very close to being No. 3," committee chair Jeff Long said during the announcement program. "That's where we've spent a lot of time in debate -- with Florida State and TCU, for that matter. Florida State continues to be that undefeated team, but in many of the committee members' eyes, they've struggled in some of those games. The last three weeks, they've had unranked opponents that they struggled with. So I think that's what had an impact on Florida State's position at four."
Baylor fans have been adamant their team's head-to-head win over TCU has made them the most deserving selection among the Frogs, Bears and Buckeyes, but the committee continued to disagree, as it has throughout the second half of the season. Ohio State moved to No. 5, leaving the Bears in sixth. 
"We just believe they're an improving football team," Long said of TCU. "We evaluate these teams. We watch these games. We watch the film. We have coaches in the room. We believe TCU is a better football team at this point in time ...
"We look at their losses. Baylor's loss is against a West Virginia team that's outside the top 25, and TCU's is against Baylor, who is No. 6 ... We look at many, many different things. Overall, the evaluation -- the human evaluation -- of this is what this committee is designed to do. And I think they've done that in this case with TCU and Baylor."
Long added that the season-ending injury to quarterback J.T. Barrett had no effect on the commitee's evaluation of Ohio State as of yet.
Arizona appears to have an outside shot at a playoff berth after moving up to No. 7, ahead of fellow two-loss teams Michigan State (No. 8), Kansas State (No. 9) and Mississippi State (No. 10). The Wildcats face Oregon in the Pac-12 Championship Game on Saturday.
Following losses by Marshall and Colorado State, Boise State now appears to be the heavy favorite to claim the allotted Group of 5 automatic bid to one of the playoff rotation bowls. The Broncos are ranked No. 22, now the only Group of 5 team in the rankings.
The full College Football Playoff Rankings for Dec. 2:
1. Alabama (11-1)
2. Oregon (11-1)
3. TCU (10-1)
4. Florida State (12-0)
5. Ohio State (11-1)
6. Baylor (10-1)
7. Arizona (10-2)
8. Michigan State (10-2)
9. Kansas State (9-2)
10. Mississippi State (10-2)
11. Georgia Tech (10-2)
12. Ole Miss (9-3)
13. Wisconsin (10-2)
14. Georgia (9-3)
15. UCLA (9-3)
16. Missouri (10-2)
17. Arizona State (9-3)
18. Clemson (9-3)
19. Auburn (8-4)
20. Oklahoma (8-3)
21. Louisville (9-3)
22. Boise State (10-2)
23. Utah (8-4)
24. LSU (8-4)
25. USC (8-4)
The CFP rankings will be issued weekly on Tuesdays through the end of the season. The four teams ultimately selected by the committee to take part in the inaugural College Football Playoff will be seeded 1-4 and play semifinals in the Rose Bowl and Sugar Bowl this coming New Year's Day. The first College Football Playoff Championship Game will be held at AT&T Stadium on Jan. 12.

Freeman will not play in the New Mexico Bowl on Saturday

SportsLine simulated every bowl game 10,000 times for pick'em leagues and confidence pools

Grier will return to West Virginia for the 2018 season instead of entering the NFL Draft
The Chick-fil-A Peach Bowl just got spicy

Anderson had been under investigation for an incident at a bar in Cleveland County, Oklaho...

Between Arizona State and Tennessee, no one would have guessed how this coaching cycle turned...