College Football Playoff recusal policy: If school pays you, you're out
Playoff selection committee members with a conference affiliation must leave the discussion about that team and would not have a vote.
• 1 min read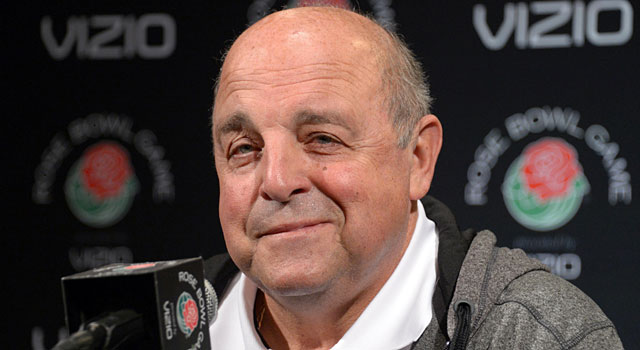 LAS COLINAS, Texas (UPDATE 6:33 p.m.): The College Football Playoff's recusal policy gives the 13 selection committee members a substantial amount of trust.
As it stands, money is about the only thing that will force a committee member to leave a room and relinquish voting power.
A committee member must be recused if compensated by a school involved in the selection committee process, or if the member's immediate family gets money from the school, according to a Playoff release. Other recusal triggers include any paid consulting arrangements, deferred compensation or roles on a school's coaching or administrative staff.
The committee will have the option to add other recusals "if special circumstances arise," according to the release.
This policy is "virtually identical" to the NCAA Tournament committee, the Playoff release states, only that group rates 68 teams instead of four. Football's Four deals with a bigger beast -- and bigger angst.
Apparently Tom Osborne, a long-time Nebraska coach, can vote on the Cornhuskers unless he's still getting money from the school, which is possible since he was Nebraska's athletic director as early as 2013.
The 13 committee members have degrees from at least a combined 20 institutions, colleague Dennis Dodd reported, and several members have worked for multiple university employers.
"We just boiled it down to where we felt this group was fit to its high integity and would differentiate from those past relationships," committee chair Jeff Long said. 
CBSSports.com reported Wednesday afternoon that the commissioners were set to approve a recusal policy mandating members must lose voting privilges for a team where they have a direct allegiance or a current financial commitment.
This applies to sitting athletic directors in the group -- Arkansas' Jeff Long (committee chair), Wisconsin's Barry Alvarez, USC's Pat Haden, West Virginia's Oliver Luck and Clemson's Dan Radakovich. 
The plan applies to teams and not entire conferences.
As Oklahoma athletic director Joe Castiglione points out, the Playoff emphasized integrity with the committee and has trustworthy members, so if a former coach worked somewhere 25 years ago, should that really count as an allegiance?
The College Football Playoff, under a 12-year deal with ESPN, kicks off this season.
We have now reached "peak #GRUMORS"

As an imperfect person, Mayfield is the perfect candidate for a now-imperfect award

Add these to the list of things Mayfield has apologized for this year
The Bulldogs leaned on a strong running game to dispatch of the Wildcats on Saturday

NCAA football scoreboard, highlights and updates from the biggest Week 12 games

Miami got punched in the face but reacted like any undefeated team would