College football's next great money race -- food -- is here
The NCAA's "unlimited" meals plan was a big topic at this week's conference meetings in Phoenix, including big costs and a lack of guidance on the rules.
• 3 min read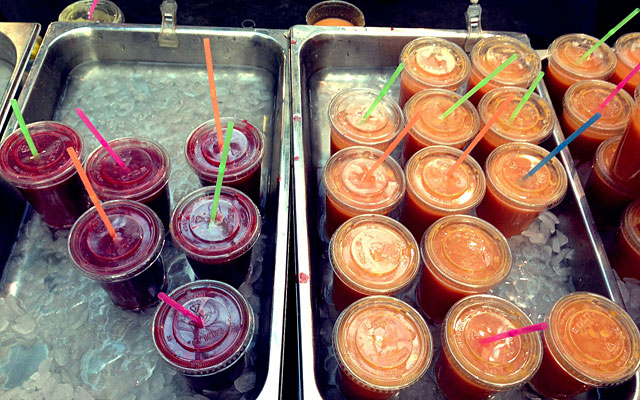 PHOENIX – Three hours of the Big 12's spring meetings in Phoenix this week were spent talking about food.
Yes, food.
Since everything else with the NCAA is cumbersome, you didn't think the "unlimited" meals plan passed last month would be easy, right? Athletic directors are supportive of the reform, but some wonder if the plan needs guidance.
"If not better defined this is far bigger than bagels, nutrition bars or smoothies," Oklahoma athletic director Joe Castiglione said. "It leaves the interpretation open to all kinds of abuse."
Translation: It's not really defined at all, other than, starting Aug. 1, schools can provide meals and snacks based around team-related activities, which is also broadly defined. What is a team activity? Players meet with coaches or student-advisors or with each other all the time.
The safe bet is dining halls won't be open at 2 a.m.
Another safe bet: Costs will be significant, which means another inherent arms race could be on the way.
Kansas State's John Currie outlined his enhanced meal plan that will likely cost between $600,000 and $1 million annually.
And it doesn't even sound that extreme – snacks in the training room, post-workout shakes, 3-to-4-hour dining availability six days a week, access to food service after workouts, in addition to meal stipends or nightly dining hall already available.
There's no fixed cost with this, so in theory Texas or Alabama or Oregon can spend $5 million if they choose.
Big 12 schools spent so much time on this because other issues – such as cost of attendance, NCAA governance – aren't approved. But the food rule got passed a month ago. So the Big 12 decided to "drill down" on logistics: Dining hall hours of operation and dealing with food vendors, for example.
"There's certainly flexibility in those rules, but we circle back to how this is not about who can provide the most lobster, this is about responsibly taking the opportunity to provide nutrition for our students," said Currie, who helped organize the Big 12's discussions on the subject. "What we're committed to as a league is we'll be transparent to each other the opportunities we'll provide."
There are whispers from Phoenix – where the Pac-12, Big 12, Mountain West and MAC all had meetings – that unlimited meals should include a cap for equity purposes, though public acknowledgement of such a plan could promote collusion, which might become an antitrust issue.
Coaches are dealing with this, too. Oregon's Mark Helfrich said initial run-the-numbers talks with his department placed the Ducks at around $1.4 million in food costs if the school went "full bore." Helfrich isn't sure how Oregon will approach this other than aiming for a cost-effective strategy that still services the player. Oregon also has a barber shop in its football facility, so no way the Ducks are serving Hamburger Helper.
East Carolina athletic director Jeff Compher said he hopes for a collective decision among conferences that "at least gives people a baseline" for how to approach the costs and logistics.
"It's certainly a lot to think about from a budgetary perspective," Compher said. "It's like adding scholarship dollars."
The meal rule was not passed because of former UConn guard Shabazz Napier's comments before the national title game that he sometimes went to bed hungry. The plan was moving well before then, even if the announcement came less than a week after Napier's comments.
But Ball State coach Pete Lembo is still a bit surprised a meal plan is here before a clear-cut stance on cost of attendance coverage for athletes, which won't come until NCAA governance is done.
"That's the real issue," Lembo said.
Of course, that won't be easy either.
Our computer model simulated every Week 8 college football game 10,000 times with surprising...

Frost was a former star option quarterback at Nebraska

Clemson's upset loss knocked the Tigers down a peg, but they're well within striking dista...
The former Rebels coach was suing the school for harming his reputation

Florida and Georgia's rivalry game is the SEC on CBS Game of the Week

Everything you need to know from the week in college football to stave off your case of the...