Colorado tabs Kansas transfer Jordan Webb as its new starting quarterback
Dismal as his record has been to date, Webb's experience as the captain of a hopelessly outmanned outfit may have been the decisive factor in his promotion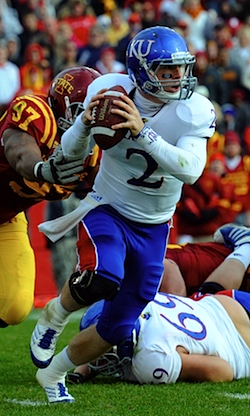 By the end of the spring, Colorado had already accepted that its offense would be in the hands of a former Big 12 refugee this fall. It just didn't have the right one: Rather than Texas transfer Connor Wood, who took every rep as the first-team quarterback in spring practice and entered preseason drills as the undisputed frontrunner, the job has fallen instead to junior Jordan Webb, a newly arrived transfer from Kansas. Coach Jon Embree anointed Webb the starter on Wednesday, after the Buffs' tenth preseason practice.
Besides being unexpected – even Webb conceded he was "surprised" by the timing – the decision may also come as a blow for CU fans who had permitted themselves some initial optimism toward Wood, a former four-star recruit whose 6-foot-3, 225-pound frame would look right at home in the NFL. If nothing else, he still carried the glow of potential. Webb, on the other hand, is an undersized "gym rat" (to borrow Embree's description) who has already assembled a resumé as a starting quarterback, and it is not an inspiring one.
In 19 starts at Kansas, Webb was on the winning side just four times, and never against a Big 12 opponent. (The Jayhawks' lone conference win over the last two years, a wild, 52-45 comeback over Colorado in 2010, came with Webb on the bench due to an injury. According to his official Colorado bio, it also came "with the aid of terrible Big 12 officiating," which somehow did not keep then-CU coach Dan Hawkins from getting the axe two days later.) Last year, with Webb starting every game, Kansas finished dead last in the Big 12 in both total and scoring offense for the second consecutive season, and ended on a ten-game losing streak. The losses in that skid came by an average margin of 26.8 points per game.
Understandably, incoming KU coach Charlie Weis hardly bothered to look at the existing depth chart last winter before he started cleaning house in favor of a pair of more touted transfers, Dayne Crist (a former Weis recruit at Notre Dame) and Jake Heaps from BYU. The new staff informed Webb right up front that he did not stand a chance.
Still, dismal as his record has been to date, Webb's experience as the captain of a hopelessly outmanned outfit may have been the decisive factor in his promotion over Wood, who has never taken a college snap. (The only other quarterback on the roster who has, sophomore Nick Hirschman, is coming off multiple foot injuries and will likely be relegated to third string.) Frankly, Colorado doesn't offer much more hope on paper than Kansas: Last year, with senior Tyler Hansen at the reins, the Buffs turned in the lowest-scoring offense in the Pac-12, and graduated its leading rusher (Rodney Stewart) and receiver (Toney Clemons); the leading returning receiver, Paul Richardson, is out for the season with a torn ACL. There are no proven playmakers anywhere on the offense.
Jordan Webb has been through all of that before. He has run for his life, taken a beating and survived. Whatever other qualifications he possesses, realistically, the most important job requirement in this offense may be to keep getting back up.
These Jayhawks got a tremendous surprise they weren't expecting

Jovon Durante announced on Twitter he's headed to FAU

From Week 1 through the title game, everything runs through Atlanta this season
A concert is a nice way to break up preseason camp

Mills was arguably Georgia Tech's most important player coming into the season

Hugh Freeze's phone records reportedly show another troubling pattern for Ole Miss