Colorado taps SJSU's Mike MacIntyre for ongoing rebuilding job in Boulder
Mike MacIntyre revived San Jose State, one of the most hopeless programs on the West Coast, but the climb from the bottom of the Pac-12 will be every bit as steep for him at Colorado.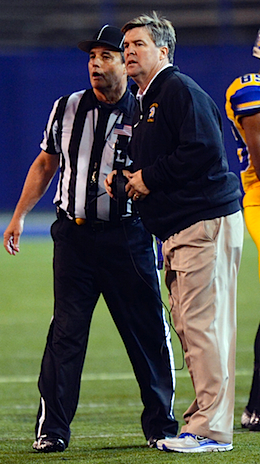 Inevitably, after he accepted the head coaching job at San Jose State in 2010, someone told Mike MacIntyre, "If you can win here, you can win anywhere." Against all odds, MacIntyre did win there, raising the historically hapless Spartans from the bottom of the WAC standings into the Top 25 in just three years. Now, he's agreed to put the second half of the prediction to the test by taking over another rock-bottom rebuilding job, this time at Colorado.
According to the Boulder Daily Camera, Sports Illustrated and other published reports, MacIntyre is expected to be named CU's new head coach this week, possibly as early as Monday. Last week, the university was reportedly targeting Cincinnati head coach Butch Jones for the vacancy, until Jones thought better of the move, backed out and landed the Tennessee job instead.
MacIntyre's name rocketed to the top of coaching wish lists this year on the strength of San Jose State's transformation from a 1-12 laughingstock in his first season to a 10-game winner in this third, which ended with SJSU residing in the national polls for only the second time in school history. The Spartans are also bound for a bowl game in Washington, DC, the Military Bowl, where they're scheduled to face Bowling Green on Dec. 27, though it's uncertain whether MacIntyre will coach the team there or make tracks for his new job immediately. Before taking over in San Jose, MacIntyre -- son of former Vanderbilt head coach George MacIntyre -- had experience as an assistant in both the SEC and the NFL, where he spent five years (2003-07) as a defensive backs coach with the Dallas Cowboys and New York Jets.
At Colorado, he'll inherit one of the steepest rebuilding jobs in the nation, taking the reins of a program coming off seven consecutive losing seasons under predecessors Dan Hawkins and Jon Embree. In two seasons under Embree -- their first two as members of the Pac-12 -- the Buffaloes lost 20 games by an average margin of 28.2 points per game.
The 2012 team was arguably the worst in school history, setting a school record for futility with 11 losses. In Pac-12 play, the Buffs dropped their last eight by nearly 36 points per game, managing to come within four touchdowns only once, in a 42-35 loss to Utah to close the season. They finished last or next-to-last in the conference in every major statistical category -- including rushing offense, rushing defense, passing offense, pass efficiency, pass efficiency defense, total offense, total defense, scoring offense, scoring defense and turnover margin, among others -- and ultimately yielded more points than any other team in the nation. At one point, they were outscored by USC, Oregon and Stanford by a combined 168 points to 20 in consecutive weeks, even after the Trojans, Ducks and Cardinal called off the dogs in the second half. They failed to win a home game for the first time in more than 80 years.
Wretched as his team was, Embree was visibly surprised and upset by the ax, telling reporters he had been assured a third year by athletic director Mike Bohn to get the program out of the crater left by five years under Hawkins. Embree's former coach at Colorado, program patriarch Bill McCartney, also criticized the university for the quick hook and accused officials of racism for dumping Embree with so much more haste than they had his equally underachieving predecessor.
"It was bankrupt," McCartney said. "If [Embree] had quality players who were older guys, he would've played them. The younger guys were better and had more potential but weren't ready."
If that's true, and younger players do have more potential than the veterans, MacIntyre will be the one to reap the benefits of Embree's investment in their development. If it's not true -- and there was little evidence on the field that it is -- he may be looking at an even steeper climb than he found at his last stop.
Nick Saban reportedly wants to hire Freeze, but there may be things keeping that from happ...

Florida State-Miami will be on Oct. 6, and the Seminoles will play Clemson on Oct. 27

Weis Jr. was an offensive assistant for the Atlanta Falcons in 2017
Lott is joined by three current athletic directors and will serve a three-year term

These are the top guys every school is still chasing

College football lost a ton of star power, but these players are studs going into next fal...