Columbus pizza chain fires student for criticizing Ohio State's defense to the wrong customer
"It was a joke. It was like, let's do better, guys. I was like, you know, we really should improve on our tackling because it's just, it's really bad right now, and she laughed."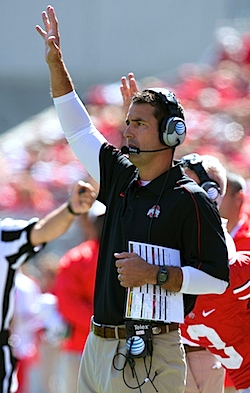 In this election year, the fate of the nation's future could hinge on unemployment in Ohio. According to a local pizza delivery driver, the wife of Ohio State defensive coordinator Luke Fickell is contributing to the problem, possibly without even realizing it.
The driver, a student at Columbus State Community College and lifelong Buckeye fan, told a local television station on Wednesday that he was fired from his job last month for making an innocuous comment about the Buckeyes' defense while taking a phone order from Fickell's wife, Amy. The next day, he said, he was informed by his boss that Amy Fickell had called the restaurant to complain about feeling "belittled" by the remark, and was fired on the spot. (For the record, the Buckeye defense delivered the following weekend in a 17-16 win over Michigan State, and again last week against Nebraska to move to 6-0 for the year.)
"It was a joke. It was like, 'Let's do better, guys,' " said the driver, who appeared on camera but wouldn't disclose his name. "I was like, 'You know, we really should improve on our tackling because it's just, it's really bad right now,' and she laughed. … If you can't take criticism, in a joking manner, too, from someone who's a fan? That's really ridiculous. "
Thursday, Ohio State felt compelled to release a statement refuting the driver's account, insisting that the restaurant called the Fickells about the incident, not the other way around.
"A slight (or a flippant remark or an inappropriate comment) was made by an employee of a retail establishment to Mrs. Fickell. The Fickells DID NOT call the manager to complain," the statement said. "The manager found out about the incident (presumably from someone at the restaurant). The manager called the Fickells … to ask what was said by his employee. They told him.
"And just like they did not place a call to complain, they also did not ask that anyone be fired. In fact, they feel terrible that this person lost his job. All they did was order pizza."
Cue ominous music. A deep, gravelly voice intones: The Fickells SAID they only wanted to order a pizza. But when it comes to their own record, they only want to hide their heads in the sand -- and allow innocent Ohioans to lose their jobs in the process. Plus, they actually ordered anchovies, for real, and don't waste your time hanging around in hopes of a decent tip. For what that guy makes? Chilling.
Luke Fickell: Bad tipper. Can't take a joke. Eats anchovies, apparently. Looks like he's probably way into Nickelback. Wrong for Ohio State's defense. Wrong for America.
Kelly led Oregon to a national championship appearance and is an innovator in the game

This week's AP Top 25 college football rankings remained largely unchanged

Mora went 46-30 since joining UCLA in 2012, taking the Bruins to four bowl games
There should not be too many changes to this week's college football rankings

Elsewhere, the top 12 remains the same in this week's college football rankings

Lane Kiffin turned around FAU remarkably fast and has the Owls in the C-USA title game