Comeback coaches: Lane Kiffin lets Alabama offense do the talking
Jon Solomon looks in on Lane Kiffin, the former USC and Tennessee head coach who is back in the SEC and attempting to revitalize his career as Alabama's offensive coordinator.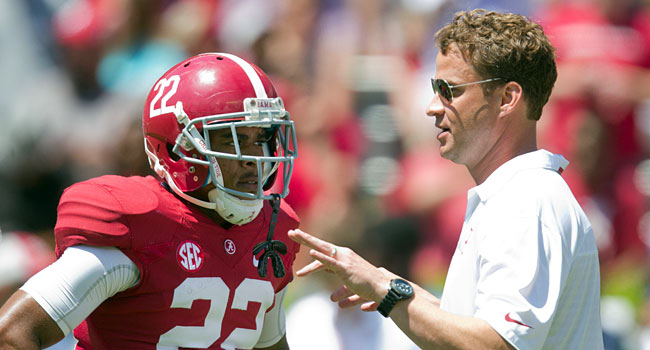 More college football: Conference Predictions | Dennis Dodd | Jeremy Fowler
TUSCALOOSA, Ala. -- This is how "The Process" works at Alabama. Every August, Nick Saban allows his offensive and defensive coordinators to speak for 15 minutes with the media before they disappear from the public until the bowl season.
"We already met this morning," Lane Kiffin said with a wry smile in early August about his new boss, "to make sure I didn't say anything that would be on the ticker today."
There may be no more fascinating comeback story in college football than Kiffin returning to the SEC under Saban. The coach who "fails up" even turned his firing at USC in 2013 into getting handed the keys to Alabama's dynamic offense, depending on how Florida State transfer Jacob Coker develops at quarterback.
The flaws Kiffin's been branded with through the years -- an aloof attitude, upsetting people with remarks, disregarding some NCAA rules -- tend to be less damaging as an assistant coach who's not a spokesman.
In this latest Kiffin rehabilitation story, the script is he is back to just coaching ball. No more headaches as a head coach, no more opportunities to publicly stub his toe. Just coaching and recruiting.
Kiffin: Behind the numbers
Here is how Lane Kiffin's offenses have fared as a college/NFL head coach and an offensive coordinator. (National rankings are parentheses. There were between 117 to 124 FBS teams in Kiffin's college seasons and 32 teams in his NFL seasons.)
Year
Team
Yds per play
Pts per game
Quarterback
2005
USC
7.5 (1st)
49.1 (2nd)
Matt Leinart
2006
USC
5.9 (29th)
30.5 (18th)
John David Booty
2007
Raiders
4.7 (24th)
17.7 (23rd)
Josh McCown/Daunte Culpepper
JaMarcus Russell
2008
Raiders
4.7 (29th)
16.4 (29th)
JaMarcus Russell/Andrew Walter
2009
Tennessee
5.7 (53rd)
29.3 (43rd)
Jonathan Crompton
2010
USC
6.0 (30th)
31.0 (37th)
Matt Barkley/Mitch Mustain
2011
USC
6.5 (9th)
35.8 (16th)
Matt Barkley
2012
USC
6.6 (10th)
32.1 (40th)
Matt Barkley/Max Wittek
2013
USC
6.1 (38th)
29.7 (60th)
Cody Kessler/Max Wittek
Note: Kiffin was fired after four games in 2008 and after five games in 2013
"This is easy here because you go from being a head coach, and the last thing you're going to do with Coach Saban's success he's had here and the way he's run his program is say, 'Well, I don't know why he does this,'" Kiffin said. "So you just come in really to learn it and be a part of it. That part has been easy."
Saban believes it's a big transition for Kiffin, who spent the past seven years as the head coach of the Oakland Raiders, Tennessee and USC, to be an assistant again. Saban made the transition backward once, going from head coach at Toledo to defensive coordinator with the Cleveland Browns.
"As soon as you get used to being the boss and you're not the boss anymore, it's a transition," Saban said. "All the sudden you can't say when everybody gets to go home. It's just different. He's done a really good job for us, the players respond to him well, he's smart, he's a good coach. So far, so good."
Alabama wide receiver Christion Jones said Kiffin's attention to detail and leadership should pay off for the offense.
"He's a great person to the players," Kiffin said. "He didn't wait to get in for a certain amount of time to start interacting with players. He did it as soon as he got here. That shows a lot and gives guys a lot of respect for him."
Still, this is Lane Kiffin. He had become a villain in the eyes of many in college football.
This is the coach who in one year at Tennessee frustrated SEC commissioner Mike Slive so much that Slive publicly zinged Kiffin the next year at media days. This is the coach whose reputation was so negative that Alabama athletic director Bill Battle acknowledged to the Anniston Star about Kiffin's hiring, "My first reaction, because I didn't know Lane, wasn't very positive." Battle said that changed as he checked into Kiffin and met with him.
"I think as you make mistakes, the No. 1 thing you've got to do is learn from them and not just make excuses for them," Kiffin said. "I've made more than anybody, probably. Like I said, to be able to go through what I've gone through and still be fortunate before the age of 40 to still be here to be offensive coordinator with Coach Saban at Alabama, you take some time to reflect on that."
Kiffin said he had the chance to become Saban's first offensive coordinator at Alabama in 2007 but stayed at USC. For eight days last December leading up to the Sugar Bowl, Kiffin visited Tuscaloosa during bowl preparations. He was hired after the bowl game.
"It wasn't as big a shock to us as it could have been," said Alabama tight end Brian Vogler, who was recruited by Kiffin at Tennessee. "If he hadn't been there at the bowl practice, it might have caught a bunch of us off guard."
It's not as if Alabama's offense was broken under former offensive coordinator Doug Nussmeier, who left for Michigan. Last season, the Crimson Tide averaged 7.2 yards per play (tied for fifth in the country) and 38.2 points per game (17th). If there was a criticism of Alabama's offense, it was its red-zone offense that ranked 85th.
USC scored a touchdown or field goal on 93 percent of its red-zone opportunities last year, compared to 80 percent for Alabama. (Kiffin was fired after five games.) In the previous three seasons, Alabama fared better in the red zone than Kiffin's teams at USC.
Kiffin inherits preseason All-American wide receiver Amari Cooper along with a deep receiving corps. Kiffin has at least two potential star running backs in T.J. Yeldon and Derrick Henry. And Kiffin gets to utilize a freakish pass-catching tight end in O.J. Howard.
Needless to say, Kiffin said he is only looking at some "very small changes" to the offense. Vogler notices how hands-on Kiffin is with every position on offense, especially with technique.
"He gives you the constructive criticism you want to hear," Vogler said. "Guys can't always take criticism. He's always like, 'Brace yourself. I'm going to tell you something you don't want to hear, but at the end of the day you're going to be happy I told you it because it will benefit you in the long run.'"
No one knows how long Kiffin's rehabilitation tour in Tuscaloosa will last. He acknowledged that being a head coach is "always in your blood when you're competitive." But he quickly added, "This is not about Lane Kiffin or anything before or what he's doing. This is about Alabama and getting started."
Soon after that, Kiffin exited stage right. He won't be heard from for the next four months.
Alabama's offense will have to speak for Kiffin.
These Jayhawks got a tremendous surprise they weren't expecting

Jovon Durante announced on Twitter he's headed to FAU

From Week 1 through the title game, everything runs through Atlanta this season
A concert is a nice way to break up preseason camp

Mills was arguably Georgia Tech's most important player coming into the season

Hugh Freeze's phone records reportedly show another troubling pattern for Ole Miss