Comeback coaches: Youngstown helps Mark Mangino back into big time
Youngstown helped shape Mark Mangino into a winner. And after a respite in his adopted hometown, he's back on the Big 12 sidelines at Iowa State.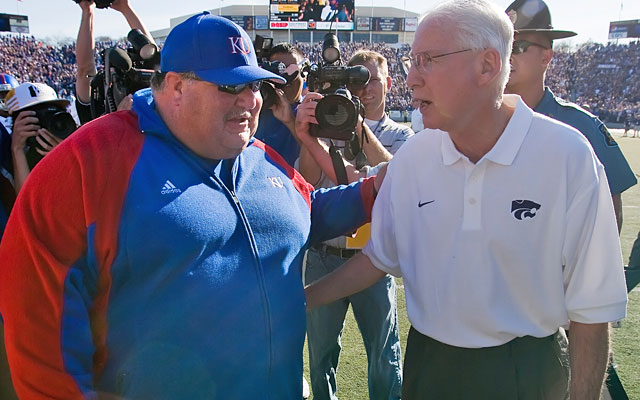 Comeback Coaches: Friedgen rebounds at Rutgers | Kiffin running Bama offense
AMES, Iowa -- With apologies to Sinatra and New York, Youngstown, Ohio, is the place. Make it there, you can make it anywhere. Ask Ray "Boom-Boom" Mancini, ask Carmen Policy, ask the Stoops brothers. Champions in some form or another -- all of them.
Youngstown is a gritty place with a boom/bust history. Above all, it is completely without airs. There's this dive-bar place -- The Royal Oaks -- that celebrates the city's unpretentiousness.
"Nobody bothers you in there ... nobody bugs you," Iowa State offensive coordinator Mark Mangino recalled. "They say even if Bob [Stoops] goes in there, they say hello to him and don't bother him."
And Oklahoma's coach is a big deal in Youngstown. Native son of Cardinal Mooney High School. Stoops' dad coached there for almost 30 years. Twenty-six years ago this fall Ron Stoops Sr. suffered a heart attack coaching a game and died on the way to the hospital.
That is but one slice of Youngstown that welcomed Mangino back to its bosom last year. The former Kansas coach had been out of the game for four years. He had been shunned after his resignation in 2009 during an internal investigation into alleged verbal abuse of players.
"Sure, I'd be a fool to ignore that aspect," Mangino said when asked if he thought those allegations had followed him.
The veteran coach they call "Bear" is a Youngstown native, too. Sort of. He's from just across the border, 18 miles away in New Castle, Pa. Mangino attended Youngstown State, coached there for three years. For 13 years -- to make ends meet at one point -- he patrolled the nearby Pennsylvania Turnpike as an emergency first responder. Mangino picked up everything from road kill to accident victims.
"I'm not an intellectual guy," Mangino said. "I don't have a lot of talent. I'm kind of a grind-and-work guy."
You can begin to understand, then, what steeled the coach for that too-long absence from football.
"Your idea of [getting back] 'soon' and my idea of 'soon' are not the same thing," Mangino told CBSSports.com this week.
For all the bad things said about Mangino in 2009, scores of former and current players jumped to his defense. What exactly happened remains a mystery. This is not: Mangino remains Kansas' only above-.500 coach in the past 61 years.
He summed up the departure again for media this week: "I could go out and try to put on this public defense of myself and everybody say, 'He's a crybaby,' or take the path that, 'Hey, bad things happen to people every day.'"
Mostly, Mangino slipped into the background for a while, bought a place in Naples, Fla. From those humble beginnings, Mangino had time to contemplate his career -- part of an epic turnaround at Kansas State, a national championship with Oklahoma (2000), national coach of the year at Kansas (2007).
The sabbatical was a blessing, of sorts. Mangino was there when his wife Mary Jane fought through breast cancer. Periodically, he would venture out to visit pro, college, even high school programs. He dropped in on Urban Meyer at Ohio State, Stoops at Oklahoma. Former Tampa Bay coach Raheem Morris called out of the blue in 2010. The Bucs put Mangino up in a hotel for a week, let him have the run of the place.
It wasn't until last season that Youngstown State coach Eric Wolford offered "Bear" a perfect entry back into the game. Wolford had played under Mangino at K-State in the 1990s. Mangino gladly accepted, coaching Penguins tight ends. He saw all his old Youngstown friends, felt the old vibe, went back to the old places.
"One of the things I was really excited to do was I wanted to call and tell Carmine," Mangino said.
For 85 years, the Mahoning Valley Restaurant has been a Youngstown landmark. You may have avoided certain parts of the hardscrabble city, but no one missed the MVR. Carmine Cassese's grandfather started the place in 1927.
They were roommates on the road with Youngstown in the 1980s -- Mangino as the coach and Carmine as the equipment manager. Then the same month (February) Mangino got back into college football, his old friend was diagnosed with pancreatic cancer.
"Don't worry about it," Mangino told his friend, "You're going to beat it."
They made a promise. Carmine would get well and be Bear's roommate for Youngstown's roadie last fall at Michigan State. Life would go on as it had. Carmine knew everyone who had come through Youngstown State -- from Michigan State coach Mark Dantonio (Penguins assistant 1986-90) to the last Penguin drafted (Harry Deligianis, 1998).
"One day, about two weeks before he died, Carmine said, 'I don't think I'm going to be able to make that road trip,'" Mangino said.
Nonsense, Bear said. But four months after being diagnosed, Carmine Cassese died in June 2013. Thousands attended a funeral for a Youngstown civic leader, father and friend.
"That was the only real bummer going back to Youngstown and not being with Carmine," Mangino said. "I miss the guy."
Youngstown State got Mangino back in the game. Paul Rhoads got him back in the big time. Iowa State is Mangino's fourth Big 12 stop. After ascending to Bill Snyder's Kansas State staff in 1991, he moved to Oklahoma in 1998 and winning that national championship with Stoops. That got him the Kansas job in 2002.
Six years in, the lifetime grinder had it all come together in Lawrence. Kansas went 12-1 in 2007, won the Orange Bowl and was ranked as high as No. 2. It was around that time Bear got another nickname -- "Mangenius."
"Obviously, everyone knows Mangino," Cyclones center Tom Farniok said, "especially everyone from my generation who grew up watching him turn KU into a powerhouse."
Wait, Farniok was only 16 back then. If he remembers '07, he certainly remembers Mangino's controversial final season in '09.
"You're always [apprehensive] when you hear the guy was a little bit of a jerk," Farniok said, "and then you meet him and he's not a jerk at all. I've been around him enough to know he genuinely cares."
Lord knows, Iowa State can use some offensive help. The Cyclones were 97th nationally in offense last year. They've averaged 85th over the past five. Rhoads hired Mangino, 57, despite never meeting him, aside from at midfield at the end of a 41-36 loss to KU in 2009.
"He did not have an abundance of great players," Rhoads said. "What he had done with that job and the effectiveness of that offense was important to me."
Mangino looked rejuvenated, reborn this week zipping around the floor of Jack Trice Stadium. Told he looks svelte, the famously rotund coach bragged about a workout routine. Son Tommy, 30, is along for the ride as the Cyclones receivers coach. Bear/Mangenius has the respect of a new team, the advantage of a new outlook.
"I've been blessed," he said, "with this kind of resilient-type of bounce-back attitude."
It just feels right. Years have passed. In that sense Ames seems a lot like Youngstown.
Nobody bugs you.
Our bowls expert looks at the toughest -- and weakest -- nonconference schedules in the na...

The new uniforms will be worn on Oct. 28 at Kyle Field vs. the Bulldogs

Kiffin's Owls have added myriad troubled players since he took over in Boca Raton
The Crimson Tide and Hurricanes have not met since the 1993 Sugar Bowl

Kelly is running out of people to blame at Notre Dame, and you know what that means

What's a bigger problem in college football -- referees or the rules themselves?