Coming Attractions: Danny O'Brien, Wisconsin's most valuable import
Assessing 2012's most intriguing players, in no particular order. Today: Junior Wisconsin quarterback Danny O'Brien.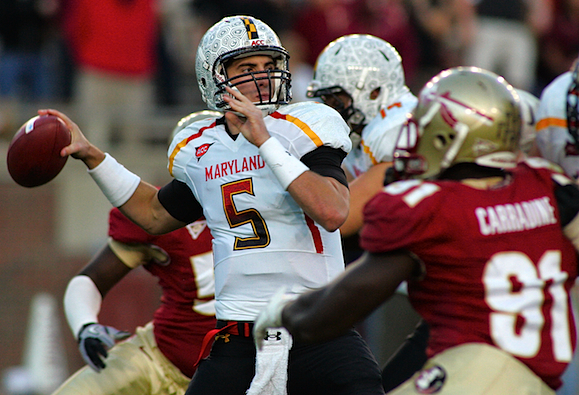 Assessing 2012's most intriguing players, in no particular order. Today: Junior Wisconsin quarterback Danny O'Brien.
• Typecasting. To look at him, Danny O'Brien is just another in a long line of unassuming, within-the-offense Wisconsin quarterbacks who inexplicably win big despite possessing scant discernible talent. Before last year, the Badgers started essentially the same guy at quarterback – Darrell Bevell, Mike Samuel, Brooks Bollinger, Jim Sorgi, John Stocco, Tyler Donovan, Scott Tolzien – for the better part of two decades. And why not? Beginning in 1993, Wiscy played in four Rose Bowls, finished in the final polls eleven times and suffered through a single losing season over the next 18 years without changing a page in its old-school, run-first playbook. Only Bollinger and Sorgi wound up in the NFL, and only Bollinger actually started a game there.
Even if the scheme is the same, though, the template was recast in 2011 by Russell Wilson, an athletic transfer from N.C. State who took to Madison like a cow to a dairy: His only season resulted in an outright Big Ten championship, the best pass efficiency rating in NCAA history and a third-round nod from the Seattle Seahawks. O'Brien isn't as mobile as Wilson and isn't expected to smash any records. But he is a veteran transfer from an ACC school (Maryland) who arrives with a shelf full of awards from his old conference and an opportunity to hit the ground running. Winning at Wisconsin has never required more than that.
• At His Best. O'Brien doesn't possess the proverbial cannon for an arm, he does have pretty good touch on deep balls and can fit the ball into some tight windows. And he's proven quick on the uptake: Over the second half of his redshirt freshman season at Maryland, O'Brien had multiple touchdown passes in each of the Terps' wins over Boston College, Wake Forest, Virginia and N.C. State, with zero interceptions in any of them.
The last game in that run, a 38-31 decision over N.C. State, was one of the most prolific passing efforts in Maryland history – thanks in no small part to All-ACC receiver Torrey Smith, whom O'Brien targeted for more than half of his 417 yards through the air and all four touchdown passes:
O'Brien finished that season as a Freshman All-American and the ACC Rookie of the Year after winning the league's "Rookie of the Week" title on five separate occasions. He'll never pop off the film, especially in an offense as conservative as Wisconsin's. But when he has time to throw and knows where he wants to throw it, he can get the ball where it needs to be.
• Curb Your Enthusiasm. Consistency against competent defenses was an issue in 2010, particularly in a three-interception flop at Clemson and a pair of sobering November losses to Miami and Florida State. But that hardly accounts for the extreme plunge from 2010 to 2011: Before a season-ending arm injury in the tenth game, O'Brien was averaging a full yard less per attempt than he had as a freshman, and his pass efficiency and touchdown rates plummeted to the bottom of the conference. (The only regular ACC quarterback with a lower efficiency rating for the year was O'Brien's teammate, C.J. Brown.) After bombing a suspension-ravaged Miami secondary for 348 yards on opening night, O'Brien's only respectable-looking outings the rest of the season came a) Against Towson, and b)Off the bench against Florida State, with the Terps already deep in comeback mode in the second half. The team as a whole dropped its last ten against FBS competition, finishing in the Atlantic Division cellar.
The most convenient explanation for that turn is O'Brien's failure to mesh with the new coaching staff, a running theme for a program that lost 24 transfers during Randy Edsall's first 14 months as head coach. He certainly wouldn't be the first quarterback to founder under the watch of Gary Crowton, either, who was promptly demoted from offensive coordinator to a "non-coaching role" at the end of the season. Then there was the injury that cost him the final two games. To some extent, it was a case of the quarterback going down with the ship.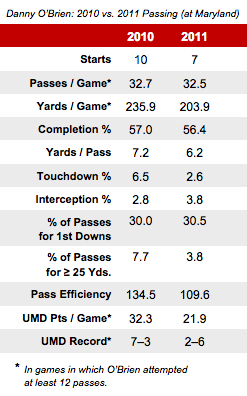 Still, even inept coaches don't bench a preseason all-conference pick five weeks into the season on a whim. O'Brien visibly struggled in the new offense. Without Torrey Smith to stretch the field vertically, secondaries had no reason to fear his arm, and were able to force him into far more mistakes – his touchdown-to-interception ratio fell from 22:8 as a freshman to 7:10 – in far fewer opportunities. When the rest of the offense is going under, he hasn't shown any capacity for hoisting it on his shoulders.
• You should probably know… Most transfers are required to sit out a season before they take the field for their new school, but O'Brien (like Wilson) is immediately eligible because he just earned a bachelor's degree from his old school, in business administration. Though he was picking up a Maryland diploma, he still made sure the proceedings had a little Wisconsin flavor:
After graduation, O'Brien texted a picture of himself in his cap and gown, with family members, to Badgers coach Bret Bielema. They all were making "Ws" with their fingers.

"I didn't put it anywhere else but I did send him one" picture, O'Brien said.
Next step: Finding a graduate program at UW that's not offered at UMD. Dairy Science, perhaps?
• What to expect in the fall. By all accounts, the job is O'Brien's to lose; in fact, his decision to enroll at Wisconsin, and Wisconsin's decision to pursue him, was a direct result of the pockmarked depth chart. Two other Badger quarterbacks, Jon Budmayr and Bart Houson, have already been ruled out for the season as victims of assorted injuries, and a third, Curt Phillips, missed the spring with a lingering injurythat's kept him on the sidelines two years in a row. As for his own injury, O'Brien had fully recovered by spring and arrived at Wisconsin earlier this month – a full month ahead of Russell Wilson last year – to begin working out with the team and learning the playbook.
The job description is what it always is: Hand off, avoid mistakes and take advantage of opportunities to hurt the defense when it becomes too preoccupied with stopping the run. As usual, Wisconsin's was the best ground attack in the Big Ten last year, paced by celebrated workhorse Montee Ball; along with junior James White, that pair alone has racked up 4,684 yards rushing over the last two years on just over 30 carries per game. The offensive line is the usual cast of recently unthawed mastodons. (This year's projected starting fivecoming out of the spring all weight at least 320 pounds, and average 327 per man.) With the exception of a handful of games – at Nebraska, Michigan State, <span data-shortcode= State" data-canon="Ohio Bobcats" data-type="SPORTS_OBJECT_TEAM" id="shortcode0">, at Penn State – the quarterback's job should be practically done by halftime, if not by the coin flip.
Assuming that's true, the difference between a third consecutive Rose Bowl campaign and a perfectly nice but disappointing also-ran trip to Tampa or Orlando will hinge largely on O'Brien's ability to give the offense an extra dimension in those games. Wilson did so last year with alarming consistency (the offense managed at least 29 points in all three losses, all three of which came down to the final seconds), including a dramatic, come-from-behind rally to put away Michigan State in the Big Ten Championship Game. But so did Tolzien, who was not as gifted as Wilson but still earned a first-team all-conference nod at the head of the league's highest-scoring offense in 2010; Tolzien also led a crucial fourth quarter comeback that cleared the path to Pasadena, in a dramatic rally at Iowa. If the Badgers only need one or two clutch moments of that variety from O'Brien, the sky is the limit. If it's a regular request, go ahead and book the early flight to Florida.
- - -
Previously on Coming Attractions: Ray-Ray Armstrong, Miami. … Christine Michael, Texas A&M.
Donovan Peoples-Jones may have had a touchdown catch, but it was ruled an incompletion

NCAA football scoreboard, highlights and updates from the biggest Week 12 games

Wisconsin has a chance to impress the College Football Playoff Selection Committee
SportsLine's computer model simulated every Week 12 game 10,000 times with surprising resu...

Though a marriage between the Vols and Gruden has been rumored for a while, it seems unlik...

Barrett Sallee is cashing on 67 percent of his best bets and gives 3 strong picks for Week...