Concussions and college football: Ex-QB Klatt puts onus on NCAA
Joel Klatt knows concussions all too well -- he's had 10. The ex-Colorado QB says the NCAA should extend the 20-hour work and educate players about head trauma.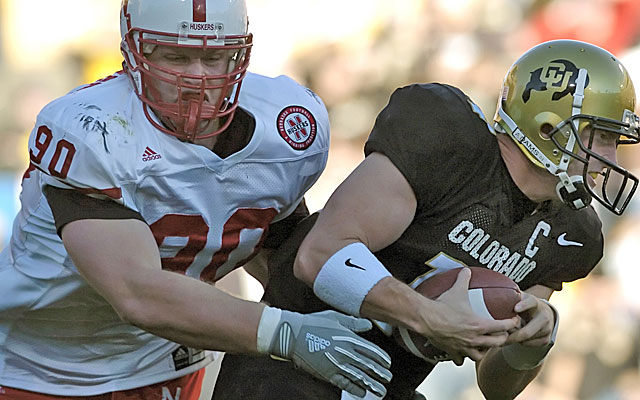 CBSSports.com Senior College Football Columnist Dennis Dodd spent the offseason investigating the issue of concussions in college football -- the background on the issue, the competing interests at play in the current debate, and the way forward for the sport. The details of Dodd's reporting will be revealed in a multi-part series throughout the week, with previous installments of the series indexed HERE.
LOS ANGELES -- You never forget your first concussion. Joel Klatt hasn't, which is important, compelling and a bit scary. The former Colorado quarterback endured 10 during his college career.
"The first one is obviously eerie because you've never felt anything like it before," said Klatt, now a Fox Sports 1 college football analyst. "You don't hear anything. You don't see anything. Your equilibrium is completely screwed up. It's hard to walk. Once everything comes back into focus, everything just feels really detached like you're watching a movie."
No one has asked Klatt -- basically until now -- about his history of head trauma. Some of it was obvious. In the case of No. 10, he was helped off the field, taken to the hospital in 2005 following a hit in the Big 12 championship game. But the cumulative effect is still a mystery for the 31-year old married father of one.
"What if I need a neck fusion because of the whiplash I suffered on my 10th concussion?" Klatt said.
Some form of that question is being asked by thousands of plaintiffs in the lawsuit brought by former NFL players against the league. Klatt isn't Patient Zero in the college concussion discussion but he could Patient One-Zero. Ten concussions?
If there was a board of directors to study the subject, Klatt should be on it.
"What's scarier for me is the more my career went on, less and less of an impact caused more and more symptoms," he said.
Dr. Robert Cantu is one of the leading proponents of the existence of what Klatt is referring to -- Second Impact Syndrome. Cantu believes tackle football should not be played by those under 14.
"There's no question in my mind I was more susceptible [with every concussion]. Less of an impact would create the same or more of the symptoms of concussions, dizziness and headaches and such," Klatt added.
The NCAA may one day have to consider the issue of after-care treatment of its players. For now, Klatt has his own medical insurance -- and a new reminder of his violent past.
"There was a headache I had never gotten before," he said. "It felt like someone had taken my head and cut it at the eyeballs, took the top of my head off, put a metal plate there and put the top of my head back on. It felt like something was slicing through my head."
Klatt is not complaining. The son of a coach, he knows the culture.
"I would always prepare myself before games for the physical beatdown, 'Boy this is going to hurt today,'" he said.
The result is a unique perspective. From 2003-2005, Klatt put his body on the line helping the Buffs to two Big 12 championship games playing for Gary Barnett. As a former player and insightful analyst, he is in tune with the head trauma issue.
For now, Klatt is one of the lucky ones. Beyond those headaches, he shows no long-term symptoms. But experts tell us we may be years away from being to evaluate those long-term effects. In essence, there is no 'long-term' to study. The approach to concussions, until recently, has largely been disjointed and piecemeal.
"To be honest I think this was always a problem. We just diagnosed it different," Klatt said. "You heard the word 'stinger.' You heard the words 'bell rung.' To me those are prototype words for a concussion."
Now if everyone would just agree on a treatment/prevention/analysis plan. In general, teams are hitting less in practice. (The Pac-12 and Ivy League have instituted weekly full contact limits.) But the actual game has definitely become more violent.
"I rarely see full contact [in practice]," Klatt said. "What's eerie now when you do see it, you immediately think, 'I hope somebody doesn't get hurt.'"
"I'm really torn over it. It's a double-edged sword," he added. "We want to minimize contact but we want to change the way players contact each other. How do you change that without hours of practice at doing it?
"At some point if you're not practicing how to contact, you might put yourself in some precarious situations."
"Quite frankly," Klatt continued. "I feel like the powers that be are covering their butts instead of fixing the problem from within."
So how much of this issue has to do with liability concerns for those alleged butt coverers?
"I won't say 100 [percent] but it's close," Klatt said.
The adjustment of the targeting rule has become a controversial topic entering the season. The rule -- a personal foul called for targeting the head -- has been around since 2009. Now the penalty means an automatic ejection. The replay official can overturn the ejection, but not the flag.
The idea of the rule change, explained by national coordinator of officials Rogers Redding, is to change behavior. A couple of years ago, a rule was added to take points off the board if a player taunted an opponent on the way to the end zone. It's hard to remember the last time a team had a touchdown taken away for showboating. Last year, players were forced to sit out a play if their helmet came off. In similar fashion to the showboating rule, helmets stayed on to the extent that players missed significantly fewer plays in the second half.
In 2011, there was one touchback for every six kickoffs. Last season, the rules were changed to make returns less likely. The number dropped to one touchdown for every 2 1/2 kickoffs. Concussions on kickoffs dropped 50 percent.
"The thing that's changed over time, players don't tackle anymore", Redding said. "They just throw their bodies at each other. We put this hard shell on their heads now. It turns them into a guided missile."
But how? Why?
"I don't think they knew any better," Klatt said. "I don't think they were consciously saying, 'I'm going to lead with my head.' This is a generation that grew up from the time they played with a full facemask."
That doesn't explain the guided missiles such as NFL Hall of Famer Larry Wilson, who once played with as many casts on his hands as bars on his facemask (two). It does explain that football safety is still a work in progress. The head slap used to be legal. So was rag-dolling the quarterback.
"One time in fall camp [teaching] isn't going to change the culture of college football," Klatt said. "Fifteen minutes with a college official up there saying, 'We're going to eject you if you lead with your head,' isn't going to change the way the game is played. But two hours a week may help change that culture."
Klatt favors extending the NCAA-mandated 20-hour work limit to 22 hours. The extra two hours would be spent, each week, on head trauma education. Not a bad idea considering each freshman class is playing at this speed for the first time.
"Show instructional videos," Klatt said. "How do we learn the game? Through routes and concepts. Those types of emphases are what will eventually change the game ... SportsCenter showing these hits and Fox Sports Live showing these hits and all these people showing these glorified hits. All the sudden you're ejected. I think that's an incredibly short-sighted view by the rules committee."
A strange view, it seems, for a guy who can recall his concussions like he was naming off former girlfriends. Klatt's first concussion came against UCLA in 2003. Most of them came after he released the ball and was hit. Klatt became an expert at avoiding the trainer on the sideline after such hits. Evaluation could mean loss of playing time.
"Even when you're not pressuring these payers, they feel pressure," said attorney Bill Conaty who has defended subjects in catastrophic injury cases. Conaty played at Virginia Tech and in the NFL for nine years.
"There is still that concept of coaches pushing players. It's human nature."
If there was ever a player who should believe in the targeting rule, it's Andrew Hudson. The former Oklahoma State defensive lineman was brutally targeted by Nebraska's Eric Martin during a kickoff in 2010.
Martin got a one-game suspension. Hudson never played again.
"I understand how they want to protect the players," said Hudson, now a track athlete at Abilene Christian. "As far as the rule goes, I don't see how you can accurately call that [targeting] play when it happens ... I think it will be difficult for players to adapt to that mindset. It will be hard for officials. It will make their job a lot harder."
This comes from a guy who is not quite in the Klatt Concussion Club, but had five concussions "that I know of."
The violence of the game still lures these men post-participation, it would seem. Hudson would have been a senior this year. He is not the only one who misses the game tremendously. Patient One-Zero was asked to recall what it was like to be knocked out by Concussion No. 10.
"I don't remember," Klatt said.
Concussions and college football
Part I: Ex-player's case takes aim at NCAA
Q&A: NCAA's chief doctor answers questions
Part II: Ex-QB Klatt puts onus on NCAA
Part III: Stiles' death may unravel mystery
Part IV: Will college football change? Yes
Quotable: Notable thoughts on concussions
Florida State and Alabama will face off in a highly touted game in Atlanta in Week 1

Five NC State freshman were punished team rules and code of conduct violations

Browne was benched in favor of Darnold early into last season
There are new names to learn every season, and here are 14 to keep an eye on from the SEC

Taking a close, detailed and opinionated look at the SEC a week before the start of the 2017...

Rosier will start for the Hurricanes in their opener against Bethune-Cookman