Conference Realignment Guide: Where we'll stand in 2013 and 2014
Breaking down where college football's conference alignments are headed for the 2013 and 2014 seasons.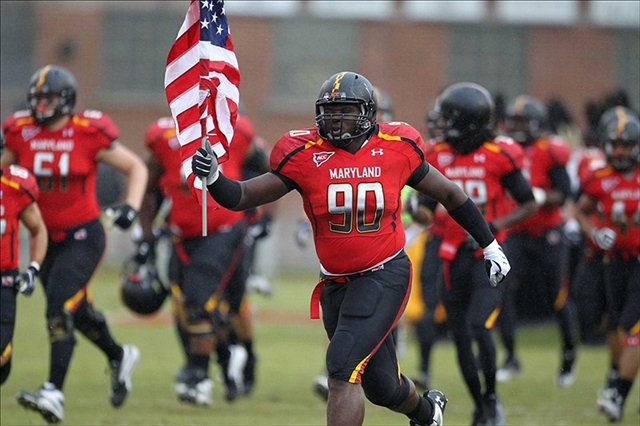 Maryland's move to the Big Ten has set off a realignment storm for 2014. (US Presswire)
With Maryland and Rutgers on their way to the Big Ten and Louisville now headed for the ACC, the college football landscape has been altered once again. And fans who have just finished riding out the wave of the changes for 2012 have to gear up for brand new ones for 2013 and 2014.
So here's a guide to the next two years of realignment in college football, year-by-year and conference-by-conference -- and a hope that the carousel has finally stopped spinning:
2013
ACC
Welcome: Pittsburgh and Syracuse, who to the surprise of no one moved their timetable for leaving the Big East up a year to 2013 after initially scheduling it for 2014. The arrival of the Panthers and Orange will make the ACC a 14-team league.
Farewell: No one this season. (Scroll down.)
Big East American Athletic Conference
Welcome: A brand-new name, first of all. But where the on-field product is concerned, the upheaval is even more dramatic, as Houston, UCF, SMU and Memphis join Old Big East holdovers Louisville (for now), Rutgers (for now), UConn, Cincinnati and USF to form a 10-team league -- one that despite its trials and tribulations will still award its final BCS berth in 2013 before another makeover in 2014. 
Farewell: Pitt and Syracuse depart, and leave the door open for the next two on the way through. And though they exited the future AAC without having ever played a league contest in any sport, in 2013 the American also says a good-bye of sorts to Boise State and San Diego State, which as recently as last November had been scheduled to become the anchors of the new Big East West division. 
Conference USA
Welcome: A whopping six new members, two of which are culled from the remnants of the late, lamented WAC: Louisiana Tech and UT-San Antonio. The other four arrive fresh from the Sun Belt: FIU, North Texas, FAU, and Middle Tennessee State . Add those six to the remaining eight, and -- for one season only -- you get a 14-team league split into two seven-team divisions. 
Farewell: The aforementioned UCF-Houston-Memphis-SMU quartet, all off to the American. 
Mountain West
Welcome: The last train leaving the WAC station pulled up at the Mountain West, depositing San Jose State and Utah State. After the Spartans' and Aggies' impressive 2012 seasons, this looks like a major boost -- provided their new coaches can keep the momentum going after the departures of Mike MacIntrye and Gary Andersen, respectively.
Farewell: Thanks to Boise's and San Diego State's about-face from the American, no one is set to leave the Mountain West. That boon plus the new additions -- boosting the league to 12 members -- gives the MW the chance to split into two six-team divisions and hold a championship game in 2013 for the first time. 
Sun Belt
Welcome: Hello, Georgia State -- fresh from the FCS ranks -- and Texas State, arriving from the rubble of the WAC. The Panthers might take a little bit to get up to speed (they just finished 1-11 in their final FCS season), but Dennis Franchione's Bobcats were feisty (if only 4-8) in 2012, their first FBS season.
Farewell: As mentioned above, FIU, North Texas, MTSU and FAU leave en masse for C-USA. Subtract four teams from the Sun Belt's 2012 10-school roster and add in the two new arrivals, and you're left with an eight-team league -- once again, for 2013 only.
WAC
Welcome: No one.
Farewell: Everyone.
Independents
Welcome: It's not by choice, but for a single season, Idaho and New Mexico State will join Notre Dame, BYU, Army and Navy as football teams without a conference affiliation.
Farewell: Despite chatter its timetable might be moved up (or eliminated), Navy remains steadfast to its plan to only join the American in 2015 -- meaning no school will give up independence in football in 2013.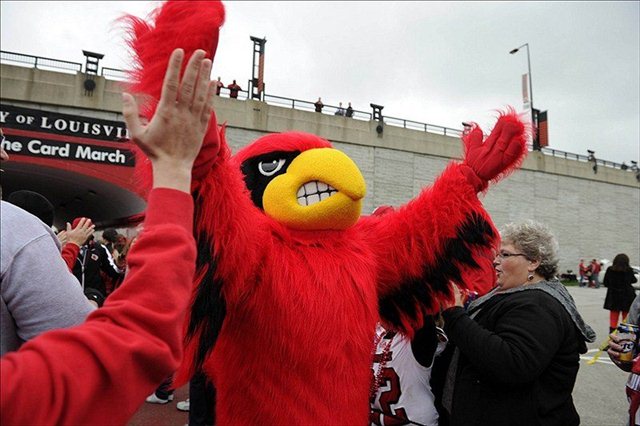 The Cards will march into the ACC in 2014. (US Presswire)
2014
ACC
Welcome: Louisville will finally escape the smoldering wreckage of the American, overcoming its, well, not-Duke academic reputation to land the coveted ACC invitation over rivals like UConn and Cincinnati. The move will keep the ACC at 14 teams and two seven-team divisions despite ...
Farewell: ... charter member Maryland ending its 59-year relationship with the ACC and heading to the Big Ten. 
Big Ten
Welcome: Months after the announcement, it still qualifies as the single most stunning decision of the entire current era of conference realignment -- Jim Delany and Co. really have added Maryland and Rutgers. Despite some early speculation the pair might be able to bid their current conferences goodbye as soon as this fall, the Scarlet Knights and Terps will reportedly join the Big Ten's East division starting in 2014.  
Farewell: Right, like anyone's angling to leave one of the nation's two or three richest conferences in an era when -- as Maryland's and the Big Ten's decision proves -- it's clear money matters above all.
Big East American Athletic Conference
Welcome: Three more C-USA ladder-climbers in Tulsa, Tulane and East Carolina. Along with 2013's set of four, at this point the American will have absorbed 7 out of 12 teams from the 2012 C-USA in a span of just two years.
Farewell: Rutgers, for one, the last of the Old Big East's eight charter football members to leave the conference. (Temple returned to the fold in 2012 after a few years in imposed exile. But with the Scarlet Knights' exit, there will be no team in 2014 that will have played in every Big East/AAC football season.) They'll be joined by Louisville, arguably the last team separating the league from simply being a better-compensated ...
Conference USA
Welcome: Say hello to Western Kentucky, another Sun Belt refugee, and FCS-to-FBS transitioner Old Dominion. Like South Alabama in the 2012 Sun Belt, the Monarchs will play a full C-USA schedule and be eligible for the league title, but will not be allowed to play in a bowl game.
Farewell: Tulane, Tulsa and East Carolina, all off to the American. In addition to robbing C-USA of not one but two chromatic forces of nature, those losses -- three down from 14, plus two up -- will leave the league at an awkward 13 schools for 2014. Charlotte's start-up program is slated to join the FBS and C-USA in 2015, but assuming it's not feasible to shoot for 2014 instead, could the league look to poach another Sun Belt school for 2014, then a second (or FCS school) for 16 the following season?
Sun Belt
Welcome: Four new members, or -- more accurately -- two new ones and two reacquainted old friends. The SBC will bring New Mexico State and Idaho in from the independent cold, returning them to the league each belonged to in the early 2000s before leaving for the WAC. The Sun Belt will also adopt current FCS powers Georgia Southern and Appalachian State.
Farewell: To the aforementioned WKU Hilltoppers, though the league may be wary of another raid from C-USA between now and then.
Independents
Welcome: No one.
Farewell: As noted immediately above, New Mexico State and Idaho both get a Sun Belt reprieve. Notre Dame's ACC scheduling arrangement (and all-other-sports ACC membership) also kicks off in 2014, though of course the Irish remain officially independent.
2015 AND BEYOND
As of now, Charlotte's addition to C-USA and Navy's to the Big East are the only two scheduled changes for 2015 or future seasons. The chances of that actually happening, even after the ACC's grant of rights, which seems poised to lock in the major conferences at their current membership? Zero-point-zero percent.
CBS Sports HQ Daily Newsletter
Get the best highlights and stories - yeah, just the good stuff handpicked by our team to start your day.
Please check the opt-in box to acknowledge that you would like to subscribe.
Thanks for signing up!
Keep an eye on your inbox for the latest sports news.
Sorry!
There was an error processing your subscription.
The lawsuit claimed Colorado officials failed to properly address domestic violence claims...

The cupboard isn't bare in Tuscaloosa

Media members are now on the record for their picks for the 2018 season
Bubba Cunningham believes his coach's remarks were 'poorly communicated'

Ball is still life for Malzahn, but he now has some space to be himself as he leads the Ti...

Swinney is happy to have his current quarterback situation