Confusion surrounds Saturday's Navy, Air Force, Army games
The three FBS service academies are reportedly poised to play their Saturday games as scheduled.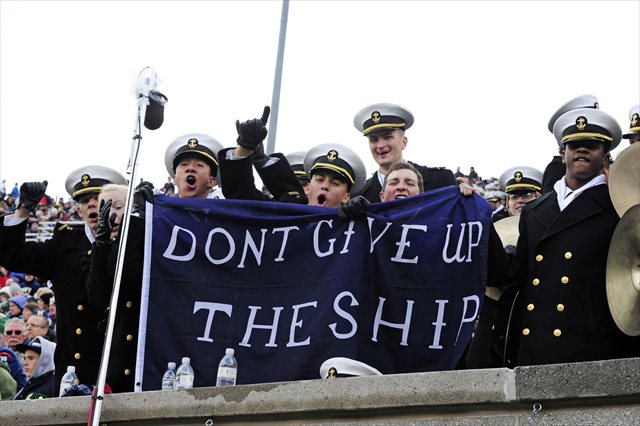 Navy , Air Force and Army are still waiting to learn the fate of their scheduled Saturday games -- but there might be some reason for optimism. 
The Department of Defense suspended intercollegiate athletics across all three service academies Tuesday in the wake of the government shutdown, putting the Falcons' and Midshipmen's Commander in Chief's Trophy game and Army's trip to Boston College in jeopardy. ESPN reported Wednesday, however, that academy officials had agreed on a plan to hold both games and that all that was needed was approval from the Secretary of Defense.
The official Naval Academy Twitter feed issued two tweets Wednesday claiming the game would be played as scheduled, but they were quickly deleted and labeled "erroneous" by a later tweet. The official Navy Athletics account said the following:
There has been NO ANNOUNCEMENT about the game. Ignore any tweets you've seen to the contrary. Status of the game is still unknown.

— Navy Athletics (@NavyAthletics) October 2, 2013
If the games are approved, Navy-Air Force will kick off at 11:30 a.m. ET and be aired on CBS. A CBS Spokesperson told CBSSports.com Tuesday that the network was exploring "alternate programming" in the event the game was not played.
Navy's athletic director said Wednesday that cancellation would be a major financial blow to the Midshipmen athletic department.
"The emotional toll it would take would be incalculable," Navy A.D. Chet Gladchuk told the Capital-Gazette. "The financial toll it would take would be incalculable."
Gladchuk nonetheless took a shot at calculating it, saying the Naval Academy Athletic Association would stand to lose more than $4 million in revenue from television fees, ticket sales, and parking and concession revenue. The game is a sellout and expected to draw a record crowd to Navy-Marine Corps Memorial Stadium in Annapolis.
Though travel costs -- funded by the Department of Defense -- have been seen as a major issue, Gladchuk said that both Navy and Air Force had enough private funds to get the Falcons and Midshipmen to the game.
"It's a perception thing," he said, when asked why the game could be cancelled with the necessary funds available. "Apparently it doesn't resonate with all the other government agencies that have been shut down."
That point was echoed by Boston College athletic director Brad Bates in a series of Wednesday tweets on the situation:
We have been considering and engaging all possibilities in order to play the game including offering financial assistance to Army for travel

— Brad Bates (@BCBradBates) October 2, 2013
We have been told by officials at the US Military Academy, however, that this is not solely a financial decision.

— Brad Bates (@BCBradBates) October 2, 2013
Bates said that a decision was still expected by noon Thursday, the deadline set by the academies Tuesday.
Bookmaker.eu has odds on quarterback battles, and we have thoughts on the best bets

Michigan has few returning starters and even fewer wins over its rivals under Harbaugh entering...

Michigan coach Jim Harbaugh always makes things interesting at media days
The Sooners and Longhorns have top-10 classes with Texas landing four top in-state players

These three Big Ten teams could surprise in 2017

It's tough to forget 31-0, but the Buckeyes are trying -- and it starts with a revamped of...