LAS VEGAS, Nev. -- Tony Sanchez is connected. We're talking Sinatra-level hooked up. In this boom-and-bust town, there are not many better things to be.
The man is a celebrity in a town that defines the term. Just a different type. Think whistles over tuxes. The real thing in a world of Elvis impersonators, Sanchez would rather circle the wagons than Cirque de Soleil.
Gambling is always available, including in sports books, but because of him, folks here attended football games. In six years as head coach at Bishop Gorman High School, Sanchez assembled arguably the biggest see-and-be-seen sports franchise in Vegas since the heyday of Jerry Tarkanian.
That his stage show was assembled, rehearsed and perfected up the road at a glitzy, upscale powerhouse is just so Vegas. Under Sanchez, Gorman became a national power, a (mythical) national champion. The Gaels lost five games in six years. Much of it was accomplished with the spawn of the rich, famous and monied.
Snoop Dogg entrusted his son to him. So did Randall Cunningham. Muhammad Ali's grandson was a Gael. Connected? Actor Ving Rhames was commissioned to do the team's pregame hype video. How many high schools have pregame hype videos?
Approximately 50 coaches came to visit Sanchez last year. Gorman has that much juice in recruiting. In Sanchez' six seasons, the school produced about 30 Division I prospects. Sanchez also knows that in becoming the fourth coach of the modern era to go directly from high school to major-college football, he's taking a step down.
UNLV's new coach is not going to say that, not out loud at least. But all you have to do is look around. In terms of branding, Gorman is a Nike school the same way Oregon is a Nike school. Gorman had as many helmets available last season as UNLV has had wins the last two seasons (nine).
It was actually suggested that some of the high school's stylish chrome helmets might make their way up from high school to the Rebels.
"I don't know if it's an [NCAA] compliance issue, but we'll check," said athletic director Tina Kunzer-Murphy.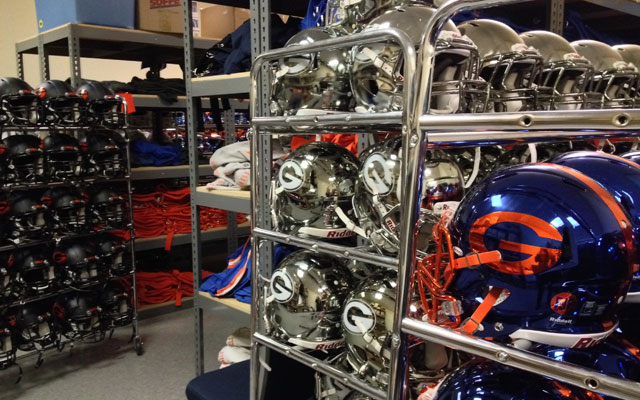 Seven years ago, a $93 million fundraising campaign allowed Gorman to build a new campus in the tony Vegas suburbs. UNLV struggles to make ends meet with a $31 million athletic budget.
Tarkanian, who passed away last month, last coached the Rebels basketball team in 1992. UNLV football never came close to filling the void his absence created. In rationalizing the hiring of a high school coach, the administration essentially said: We've tried everything else.
John Robinson (1999-2004) was the legend in the winter of his years. Mike Sanford (2005-09) was the hot offensive coordinator hired from Utah. Bobby Hauck (2010-14) was the successful FCS coach.
Prior high school coaches who attempted this transition have failed -- sometimes miserably. Sanchez knows that, too, but if you're going to roll the dice, this is the place to do it.
"I've always been willing to take risks," said the 41-year old father of two. "If you're going to be great, you've always got to be able to risk something."
This time, it's his career. History -- hell, reality -- has not been kind to Sanchez' prep predecessors.
The only three high school coaches to move up in the modern era have a combined 54-100-1 record. They would be Bob Commings (Iowa, 1974-78), the infamous Gerry Faust (Notre Dame, 1981-85) and Todd Dodge (North Texas, 2007-10).
None of them were perceived to have moved down in taking a college job.
Taking a look around the state-of-the-art facilities at Gorman, the Gaels' new coach surmised, "Probably better than UNLV, better than a lot of colleges."
Kenny Sanchez took over for his brother in December, turning down a chance to join him at UNLV because of the attraction of Gorman.
"I don't want to stop growing," Kenny explained. "I think I can be a position coach in college anytime I want. I don't think you can pass up a chance to be head coach at Bishop Gorman."
Connections run deep
A made man in the community, Tony Sanchez is a rising star in the profession.
Connected? He took his first recruits to The High Roller Ferris Wheel, to see Las Vegas beyond the casinos and understand the enormity of possibilities that come with playing in Nevada.
"If you choose to live here after graduation," he told them, "it's about a job. Not just The Strip, but all the companies that support it."
Connected? How many coaches anywhere can boast of being a civilian Air Force commander and featured in the National Catholic Register?
Sanchez doesn't have the authority to scramble jets, but he does admire the military commitment. His dad was Air Force, and he was born at Travis Air Force Base in California.
"Some people want to sit at home on Friday with the family," Sanchez said. "I like to watch war movies."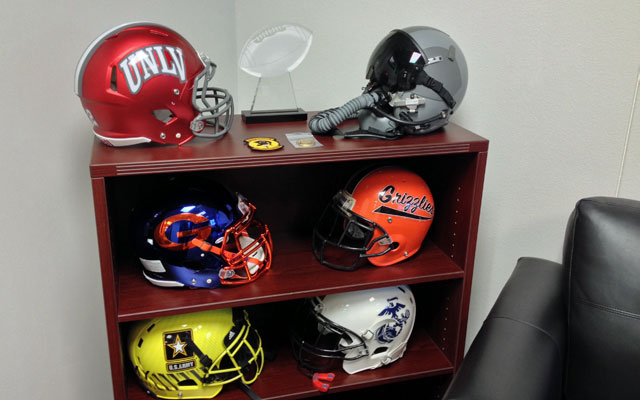 Connected? Sanchez shares an agent (Gary Uberstine) with Pete Carroll. How many high school coaches have a direct line to USC's current head coach (Steve Sarkisian) and a Super Bowl-winning assistant?
"I told him several times, 'You have all the traits to be a successful college coach,' said Pat Ruel, Carroll's offensive line coach with the Seattle Seahawks. "Don't deny yourself the opportunity."
Before making his final decision, Sanchez tapped into a Rolodex full of football friends and advisors. They included former Fresno State coach Pat Hill and Stanford's director of player personnel, Ron Lynn, who spent 22 years in the NFL.
Connected? Consider Lorenzo Fertitta and his brother Frank. They created the Ultimate Fighting Championship in Las Vegas 15 years ago. The Fertittas also own the billion-dollar Station Casino franchise. They're also Gorman alums who helped rustle up that $93 million start-up fund in 2007.
"I don't know if anything is tougher than trying to make the UFC work," Lorenzo Fertitta said. "Fifteen years ago, people though we were completely out of our minds, and I'm sure there are people who think Tony is out of his mind."
The assumption in this town is the Fertittas are going bring some of their largesse to UNLV. It's a touchy subject with the brothers, but the below-average state of the Rebels' facilities is obvious. The entrance to the practice field is labeled "Rebel Ark" ... because the missing "P" was never replaced.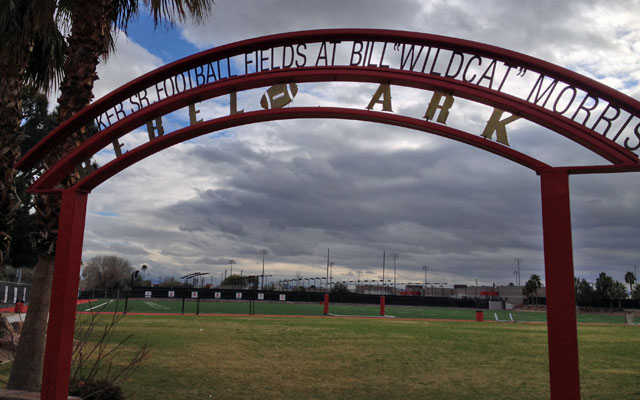 Building an identity for UNLV
Detached Sam Boyd Stadium is seven miles east of campus. It seats 36,800. The Rebels drew less than 16,000 per game last season.
"Las Vegas is kind of a transient community; it's kind of hard to change them," said Rebels fullback Marc Phillipi, a Gorman product. "If you're not winning or not putting on a show, it's kind of hard to get their attention."
When asked how Vegas perceives UNLV football, Lorenzo Feritta fired away: "There's not really much of anything. It's not really something that's at the top of people's minds. I don't think about UNLV as it exists today previous to Tony getting involved.
"It lacked an identity."
Turning around aircraft carriers is easier than stamping a positive identity on UNLV football. Sanchez' first recruiting class finished 109th nationally (per 247Sports), eighth in the 12-team Mountain West. That's up from 116th and 11th, respectively, in 2014.
Sanchez knows he has to entertain. That was half the genius of Tark. His Runnin' Rebels didn't just win, they pushed it, they scored, they preened. Man, they were Vegas.
It was a show," Lorenzo Feritta said. "Tark broke barriers, did things that had never been done in a sport that was a buttoned-up conservative sport.
"It was about creating the brand, that identity in the entertainment capital of the world."
No one is saying a Mountain West bottom feeder is suddenly going to become Oregon. But Sanchez also knows he has to win over the doubters before he wins the conference. Within in the state, Nevada is better. Within the league, Boise State is champion.
"It wasn't an absolute no-brainer to take this job," he said. "Gorman was a place I could have been for 20 years."
Everyone knows Sanchez is tight with the Fertittas. The brothers have a legacy of Gaels in the family going back years. Lorenzo's son, Nicco, is headed to Notre Dame. The assumption that Gorman's first family and their money are coming to UNLV in a package deal is just that -- an assumption, according to Lorenzo.
"It was frustrating to be honest," he explained. "I got aggravated. I thought it was a disrespectful to Tony. The local press here jumped the gun … They were intimating that Tony got the job because of that. He got the job because he's a damn good coach and earned it."
The old Bishop Gorman in the city was hard to get to. Building the new campus up near the master-planned Summerlin community gave the school both a physical and metaphysical air of superiority. It was new. It was clean. It was shiny. It was theirs -- with Fertitta Stadium as the centerpiece.
The Gaels went 85-5 in Sanchez' six seasons, winning a state championship each year including a (mythical) national championship in 2014. The accomplishments were not just documented, they became the subject of documentaries.
"You completely forget that the cameras are rolling," Kenny Sanchez recalled.
From the ground up
Connected? One of Sanchez's first recruiting trips with UNLV included a two-day whirlwind tour of Texas, Arkansas, Seattle, Los Angeles and Oakland. All the best programs have private jets for just such occasions. UNLV's coach -- nine months from his first-ever college game -- picked up a phone and personally lined up his luxury jet ... off the grid.
"Tony got that," Kunzer-Murphy confirmed. "Took five coaches with him."
Connected? Walk into UNLV's Lied Athletic Center. The first thing you see is the ground-floor bathrooms. His first day in his new digs, Sanchez got splinters from his desk. There were carpet stains.
Sanchez got that (fixed), too.
"Second day, I said, 'Get rid of it all. Throw it all away. I don't care if we have to sit on our butts in the office. If you don't want to help me, I'll go find my own help,'" he recalled.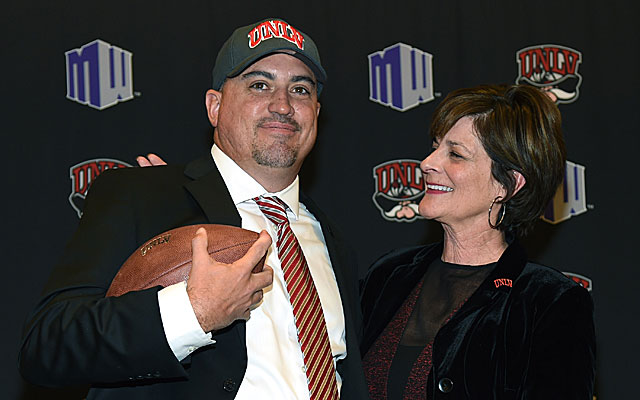 For all the promise and privilege that his success at Gorman suggests, Sanchez's life itself could be a subject of much different a documentary. Raised in the Oakland area by a single mother, the Sanchez brothers both attended Laney College, a JUCO in the East Bay.
"You'd have to fight kids just to get your reps [in practice]," Kenny Sanchez recalled. "Somebody cuts in line, you can either punch them in the nose or miss your reps. We used to say in the lockerroom, 'Fight for reps today, dog.'
"It was East Oakland. It was not a nice place."
After one year as a student assistant at New Mexico State, Tony sold copiers. His pitch was not usual for a high-energy salesman: These things are goingto break down.
"But," he said, "we'll be there to repair it."
Tony had the gift even then. Some call it the BBD -- Bigger and Better Deal. Charisma. Passion. The kind of guy who could talk a cop out of a traffic ticket. He did talk a New Mexico prison executive into the biggest sale of his short sales career.
Shortly thereafter, Sanchez was coaching at California High in San Ramon, Calif. when he began making those college connections.
"He had a pretty good eye for recognizing football players versus guys who are just talented," Ruel said. "Football players have a certain amount of grit to them."
Where others have failed ...
Faust (30-26-1) actually had a winning record, but his fatal flaw was bringing a lot of his Cincinnati Moeller staff and expecting they could master the roiling day-to-day pressure at Notre Dame.
"Here's why that happens, they don't understand the intensity of recruiting," said Ruel.
In his 36-year career, Ruel certainly does. The man has both national championship (USC) and Super Bowl rings.
"You've got to recruit every day," Ruel snarled through the phone this week. "If you're not, somebody else is going to rip their ass."
Dodge, that North Texas coach, says he made the mistake of taking three coaches from Southlake Carroll High School. He won six of 43 games in the big time.
Sanchez has assembled a staff of veteran college assistants. Only one coach from Hauck's staff remains. However, the company car did not.
The new head coach quickly decided on a Chevy pickup instead of a Mercedes.
"Just kind of a statement to our kids," he said. "We're tough, we're rugged. We're going to do things the hard way."
From the beginning, Sanchez has measured himself against the best. Cali High lost a playoff game 37-0 to California powerhouse De La Salle. Sanchez immediately set out to break down how to beat the program that was the subject of the film, "When The Game Stands Tall."
He made phones calls, asked coaches, watched film. Cali High made it back, losing this time, 21-14 to De La Salle. It wasn't a Hollywood ending but progress had been made. Soon after, Gorman called.
"I knew," Sanchez said, "it was something different."
They flew him in for an interview. He saw the resources and the possibilities. Sanchez began scheduling nationally. By nationally, that meant chartering a plane to road games.
"The best ride to go on is the one with the most twists and turns and go upside down," Kenny Sanchez said. "At the end of it, I'm not sure if you care if you won or lost. Why not go play the best teams?"
That sort of thing builds on itself. Gorman faced the usual accusations of recruiting that seem to follow private prep powerhouses. They couldn't possibly be this good doing things the right way.
It wasn't just Las Vegas parents who noticed the chance of a quality education. Out-of-towners wanted to "send" their kids to Gorman like it was a college with dorms. That's not the way it works.
Gorman provides a faith-based education for both the well-heeled and financially-challenged.
"We have Catholics, Jews, Gentiles, Christians, Protestants, Mormons. It doesn't matter," Kenny said.
Gorman has a 100 percent graduation rate. The vast majority of its graduates go on to four-year schools. Across town, UNLV faced a bowl ban in 2014 (later rescinded) over deficient Academic Progress Rate scores.
Gorman expects to win. UNLV's had five winning seasons since 1985. No coach has lasted more than six years with the Rebels. Only one Rebels' football coach has ever held a Division I head coaching job after leaving Las Vegas (Ron Meyer to SMU in 1975).
This is either a glimpse at Tony Sanchez' future or history being made. Either way, he'll be all right. Remember, in Las Vegas, Sanchez has the ultimate status. He's connected.
"When you look back and you're 70 [you ask], 'Are you OK with it?' he said. "If I didn't take my shot that I always wanted, I wouldn't be me."
And if Vegas, Frank, Sammy, all of them, have taught us anything, well …