Cooper Bateman sees huge jump in 2013 Top 100 to No. 39 overall
The news continues to get better for quarterback Cooper Bateman, who moved from No. 85 overall in the MaxPreps Top 100 for 2013 to No. 39 in the updated rankings this week. The jump, the biggest among the players who were on the initial list, comes on the heels of being named a finalist to the prestigious Elite 11 competition.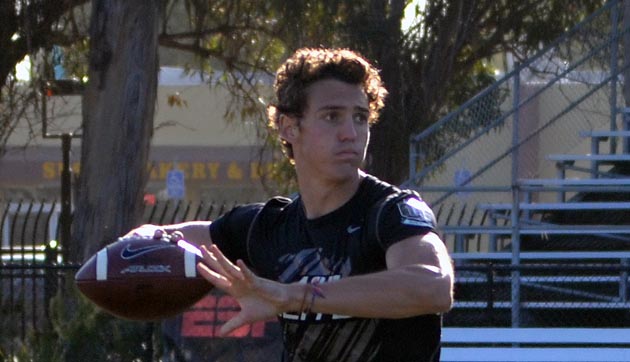 SAN PABLO, Calif. --
Cooper Bateman
didn't have to throw the ball over 200 times on a Friday nor did he even have to think about playing in wind gusts of over 20 mph. He certainly didn't need to be out shivering and battling a cold on a cool Bay Area afternoon at the recent Elite 11 regional stop last week but there the Salt Lake City (Utah) quarterback was, walking around with a smile on his face like he'd just won the lottery.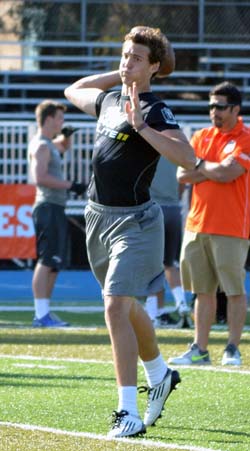 Part of the reason he was so happy is simple, the affable signal-caller loves to compete and he had just gone toe-to-toe with some of the top quarterbacks in the country for over two hours. Another reason is easily explained by the fact that, having just committed to
Alabama
earlier in the week, Bateman was excited about capping off a momentous few days in his life off with something he loves to do -- throw the football and throw it well.
"It was fun with the guys that were here," Bateman told CBSSports.com. "I had been to the Dallas regional but the guys here were a lot better competition, some big names.
"I thought I was a lot better. Walking out of Dallas, I knew the things I had to work on and I had been getting reps at home and came and showed (improvement)."
The news continues to get better for Bateman, who moved from No. 85 overall in the
MaxPreps Top 100 for 2013
to No. 39 in the updated rankings this week. The jump, the biggest among the players who were on the initial list, comes on the heels of being named a finalist to the prestigious Elite 11 competition and an evaluation from recruiting analyst Tom Lemming earlier this spring.
Bateman wasn't joking when talking about the competition he faced last week and had a chance to show his soaring stock was no joke by throwing next to the top quarterback in the class and the country's second overall recruit, Sammamish (Wash.) quarterback
Max Browne
. While it was the
USC
-bound Browne who took home MVP honors, Bateman's footwork, passing and poise made it clear that the two would resume things in July for the finals.
"He's got the number one spot and he showed it," Bateman said of his friendly rival. "I don't think he missed a guy and was hitting guys perfectly all day. It was great to go against him in the same group, rep-for-rep. I really felt like I hung in there fine."
The 6-foot-3, 195-pounder has been Cottonwood High's starting quarterback since he was a sophomore and threw for 2,484 yards and 26 touchdowns last season against just five interceptions. With close to 50 scholarship offers by the time he committed, many in Utah called Bateman the most heavily recruited high school player ever to play in the state. It was a heated battled between Alabama,
Auburn
,
LSU
,
Washington
and
Florida
among others for his commitment but he pulled the trigger in favor of the Crimson Tide and isn't looking back after finding the perfect fit for him.
"Going to 'Bama, I couldn't be more happy or more excited," he said. "It's great to be able to play for somebody like coach (Nick) Saban and Coach (Doug) Nussmeier, I really can't wait.
"The moment we drove on to campus I just had a gut feeling that, aside from football, I could see myself living here. I could see Tuscaloosa be in my everyday life. The campus was amazing and Alabama as a whole is just a gorgeous state."
More on the Class of 2013
Related links
More Recruiting coverage
After taking visits to his finalists the past two months and receiving pitch after pitch from coaches that stopped by during the Evaluation Period, Bateman ended up being sold on Alabama not by the BCS championships but by the upfront nature and offensive style of his future quarterbacks coach.
"I can honestly say that Coach Nussmeier was the selling point for me," Bateman said. "That's a person you're going to be with the majority of the time. He was really comforting.
"Being on the phone with him, being with him in person, I could see a great relationship starting there."
Bateman has one of the strongest arms in the country and picks up coaching very well, two attributes that should serve him well once he arrives on campus next year. Although the quarterback will have to pick up the offense just like every other incoming freshman, many analysts think he'll smoothly fit right into the Crimson Tide's offense despite running a different system in high school.
"I'm not in a pro-style offense, I'm in the gun primarily," he said. "They said they weren't worried about it and think I can transition just fine into that pro-style offense under center. They're not worried at all and I'm not. Honestly I can say I'm more comfortable under center anyway, which is great to go play in that kind of offense."
While Bateman always dreamed of playing on the national stage, he's aware that heading to play in the
Southeastern Conference
offers that chance and more. Though he looked at Utah and considered other
Pac-12
options closer to home like
Washington
and
UCLA
, it really never came down to playing in the SEC as much as it did playing at Alabama.
"The conference I'll play in didn't really play a whole lot into my decision," he said. "The fact that I did choose a school in the SEC, and playing for someone like Coach Saban and the honor that that is, I believe that the SEC is the strongest conference out there and has the best competition day-in and day-out. As my dreams are to go to the next level and play in the
NFL
, I think I'll be best prepared there."
Thanks to a whirlwind recruiting process coming to a close Bateman is hoping to flip the script and find a few other national targets to join the Tide's class of 2013 and do what
each of Saban's recruiting classes has done since 2000
: win a national championship. To that end he won't be doing much this summer but will be headed back for Alabama's summer camp and another visit to his future home.
"That will really be treated as kind of a recruiting tool too," he said. "It's going to get me involved and start knowing the players and recruits coming in."
For now however, the No. 39 overall player in the country can just relax and -- of course -- smile.
Nick Saban reportedly wants to hire Freeze, but there may be things keeping that from happ...

Florida State-Miami will be on Oct. 6, and the Seminoles will play Clemson on Oct. 27

Weis Jr. was an offensive assistant for the Atlanta Falcons in 2017
Lott is joined by three current athletic directors and will serve a three-year term

These are the top guys every school is still chasing

College football lost a ton of star power, but these players are studs going into next fal...