Coping with suspension, WR Daniels seeking return to Notre Dame
Jeremy Fowler talked to suspended Notre Dame receiver DaVaris Daniels about his effort to get back to the field with the Fighting Irish.
• 7 min read
HIGHLAND PARK, Ill. – DaVaris Daniels wasn't exactly shocked to see those D grades in his statistics and social problems classes.
The Notre Dame receiver -- currently an ex-Notre Dame receiver -- was missing 2-3 fall classes per week on average. Daniels already lacked urgency with non-football aspects of his life, he admits, and an injury concoction of plantar fasciitis, turf toe and hip flexor made getting out of bed unbearable.
Combine that with his academic probation from the previous semester, plus hours of daily football meetings and practices, and Daniels was sinking.
That's why he's here, inside a cramped office at EFT Sports Performance in a Chicago suburb on a Monday, talking with CBSSports.com instead of walking past The Grotto with teammates on his way to class.
Daniels, the Irish's second-leading receiver last season with 745 yards and seven touchdowns, is suspended for the spring semester after he said he failed to keep a 2.0 GPA.
He's dedicated to working his way back, the same way quarterback and Daniels' close friend Everett Golson did in the fall after Golson cheated on a test and was kicked out of school.
Daniels makes clear he didn't cheat. He failed to meet grade requirements.
In a calendar year, Daniels went from a 115-yard receiving standout in the 2013 BCS title game to his name plate being pulled from Notre Dame's locker room.
Acknowledging this instantly makes Daniels' voice lower. Remorse is palpable
"I let those guys down, and put pressure on them instead of myself," Daniels, 21, said in his first interview since the suspension. "It's my fault. I didn't put in the time and effort necessary ... I'm going to carry that pain with me into next season."
Here's the deal: Daniels is on temporary leave and can return to the team if Notre Dame accepts his re-enrollment (which is expected) and he maintains a healthy GPA over the summer. He can visit campus and talk with coaches but can't be part of the team as the Irish open spring ball Monday.
Daniels could have taken spring classes at Chicago-based Roosevelt College, but if he got less than a B in a class, the threat of a lengthy in-season suspension loomed, Daniels said.
Daniels, a sociology major, consulted with family and coaches before opting to take four months off, time he's using to add eight pounds of muscle.
"This is the best I've felt since I got to Notre Dame," said Daniels, who says he's noticeably stronger.
One problem with his decision: He's got too much time to ponder what's been a brutal period in his life.
From hot, to hurt, to gone
Not many receivers started the season hotter than Daniels, whose 17 catches for 299 yards and four touchdowns through three games underscored the enormous potential Notre Dame saw in the 2010 recruit out of Vernon Hills, Ill.
The production plummeted on the field -- and in the classroom -- in October. Daniels' next seven games featured 18 catches, 235 yards and one score. Daniels was hesitant to tell the team about the injuries -- which flared up around Week 4 against Michigan State -- because he didn't want to make excuses when taking the field, he said. The turf toe and plantar fasciitis on the left foot had him limping out of the apartment every morning.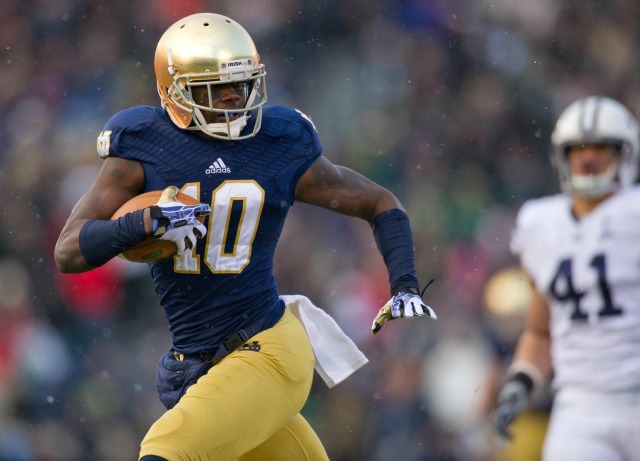 Thousand-yard receiver T.J. Jones was the focal point of the passing offense and Daniels' targets per game fluctuated. He responded late in the year with a combined 187 yards and two touchdowns against BYU and Stanford.
Daniels found a way to manage his pain on the field but never managed his schedule off it. He wondered if he did enough to get by and never told academic advisors about his time management struggles.
He heard from an advisor, all right -- via phone as he boarded the team plane for the Pinstripe Bowl.
He was out. Play the game, go home.
"It was all just an uncomfortable time," he said. "Awful feeling."
Daniels was silent and confused on the plane. Eventually he told running back Amir Carlisle. He caught three passes for 25 yards in the Dec. 28 win over Rutgers but felt lucky to get that -- his mind was galaxies from Yankee Stadium that day.
He broke down in the locker room.
"You knew it was over for a while," Daniels said. "I'm not going to know what's going on over there, what they might be doing differently with game plans or in the locker room -- it sucks."
Coach Brian Kelly assured him: You're our guy, our top returning receiver, so don't do anything crazy and learn from this.
The message from his dad, former 15-year NFL defensive lineman Phillip Daniels, raised his spirit from the locker room floor.
You'll be remembered for how you come out of this, not how you got into it.
The decision
Oh, Daniels thought about entering this year's NFL draft. Almost did, too.
The NFL combine broadcast playing on one of EFT's televisions reminded Daniels how he'd flourish in that setting. Athleticism has never been his issue. Apparently EFT recorded Daniels with a 42-inch vertical and a 4.4-second 40 out of high school.
But Daniels thought about teammates he'd leave behind. He thought about Golson, who could use an old friend to throw to upon his return in the fall.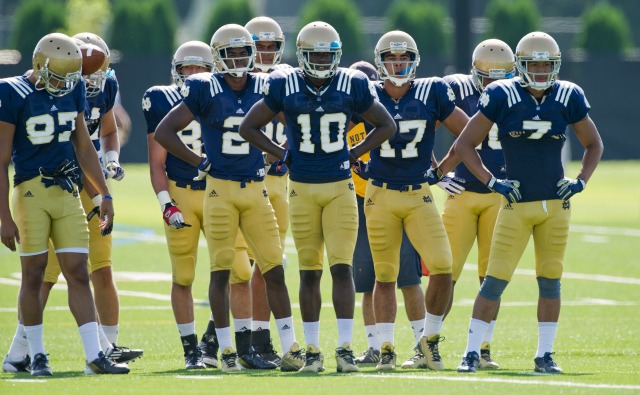 "Come back, become one of the top receivers in the nation and see how it goes after that," Daniels said.
Golson and Daniels will need each other for that to happen. They already need each other. Golson and Daniels haven't worked out together much recently but often discuss offense and "visualize plays" together, Daniels said. The two have also talked about coping with public dishonor (Rules No. 1-5: Stay off Twitter).
Daniels stayed with Golson in South Bend last weekend. The absence of Golson, who told Sports Illustrated he missed fall semester for cheating, thrust backup Tommy Rees into the huddle for a 9-4 season -- a hangover of sorts from the 2012-13 title game run. With Jones and tight end Troy Niklas gone, Daniels will be Golson's primary option.
Classroom comeback?
In a broader context, Daniels is a talented athlete asked to pass classes at a prestigious top-20 college while playing football.
This happens all over the country. That doesn't mean the transition is seamless for a guy who admits Notre Dame "is definitely tougher for me."
"We all know Notre Dame is a hard school, especially for an athlete," Daniels said.
Daniels isn't categorizing all athletes as academic slacks; He's saying deep class loads and deep playbooks require deep breaths.
The role of scholarship athletes is a national story thanks to Northwestern players looking to unionize. Former Wildcats quarterback Kain Colter told a National Labor Relations Board last week playing college football is a job that requires 50-to-60 hours per week.
Daniels wants his sociology degree and can graduate by next spring. But he knows firsthand: Notre Dame isn't propping top athletes with questionable grades.
He understands when athletes get overwhelmed. It happened to him.
"It's definitely something you never get used to because (the schedule) changes every year depending on your situation," Daniels said. "They are definitely strict about all that stuff."
But it can be done.
"You can't really let up at any time. That's what makes Notre Dame special," Daniels said. "It definitely teaches you values that I don't think you would get anywhere else."
Daniels wants to embrace those values. He says he's been "laissez-faire" with off-field behavior for too long.
He also wants to be a team leader again, which he believes will happen, some day.
"Because of the way I'm going to come out of this," Daniels said. "I'm going to come back bigger, better, faster, stronger than I was before."
Trust the Process as Tom Fornelli leads you toward his best bets for Week 13 of the season

This edition of the sport's greatest rivalry will go down in history as one of the most im...

Dennis Dodd makes his prognostications for the last and most important week of the regular...
Kelly is presently deciding whether to start anew with the Gators or Bruins

There are a handful of conference championship games still to be determined

SportsLine's top college football expert, on a 30-18 run, locks in his top picks for a loaded...