Cotton Bowl CEO looking forward to 'opportunities' in new playoff
Six current bowls will rotate the semifinals in the new four-team playoff, bowls like the Cotton and Capital One prepare to make pitches.
• 1 min read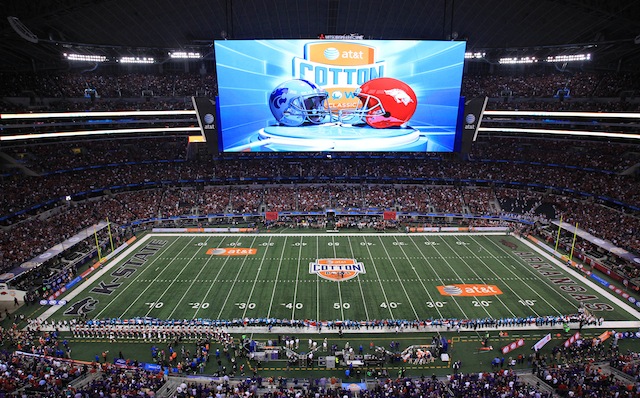 College football has the playoff fans have been asking for, but there are still plenty of big decisions left to determine how this new model will look after the 2014 season. Among them is the selection of the six existing bowls that will serve as rotating hosts for the national semifinals.

It is likely that four of those bowls will be the existing BCS bowls: Orange, Sugar, Rose, Fiesta. But that still leaves two spots in the the group of semifinals bowls, and you can bet the Cotton Bowl -- currently No. 2 Big 12 selection against the No. 3 or No. 4 SEC selection -- is interested in getting a piece of the action.

"It's a great day for college football. We congratulate the conference commissioners and presidents for their diligent work to enhance the post season," said Rick Baker, Cotton Bowl CEO. "We look forward to learning more about the opportunities that will be created by today's announcement. With partners like AT&T and Cowboys Stadium, we believe we have a great story to tell."

That official statement, released Tuesday evening, was the first of what many expect to be many public and private pitches to claim semifinal hosting responsibilities. On Tuesday, Orlando, Orange County Mayors approved renovations to Florida Citrus Stadium -- currently the host of both the Capital One and Russell Athletic bowls. You can bet Orlando has significant interest in "opportunities" created by the new playoff as well.

Yahoo! Sports' Dan Wetzel pointed out in his column that the Cotton Bowl CEO has had a change of heart regarding the postseason in the last two years.

"A playoff system would ruin the AT&T Cotton Bowl Classic," Baker said in 2010.

There are open seats at the big-boy bowl table, and any city with a shot will be taking action and making their pitch. Why? Probably because the pie -- Sporting News reporting Tuesday the television rights could be sold for as much as $500 million per year -- has gotten much bigger.


Young was injured during Miami's Orange Bowl loss to Wisconsin

The movie will zero in on former Penn State coach Joe Paterno during the Jerry Sandusky sc...

Bidding for Salaam's trophy, which the auction house says was obtained legally, ends Satur...
Locksley has been the offensive coordinator at Illinois and Maryland during his coaching c...

Many NFL-eligible juniors ignore advice provided by the league and risk going undrafted each...

Snyder died in Manhattan, Kansas, on Wednesday