Cotton Bowl: In the shadow of one QB's rise, another's last ride
The Cotton Bowl spotlight is on two quarterbacks who are on opposite ends of hyped careers.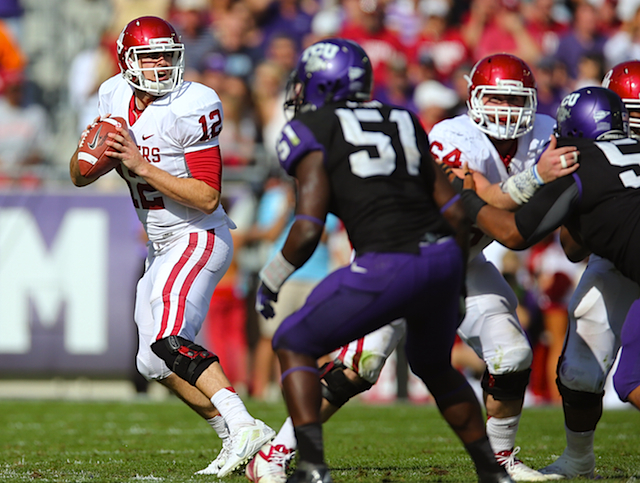 Landry Jones has passed for more yards and touchdowns than any active college quarterback. (US Presswire)
Landry Jones has started 47 consecutive games at Oklahoma, led more victories than any other OU quarterback and obliterated every school passing record. Nationally, he has passed for more yards and more touchdowns than any other active passer, by gaping margins. In four years as the perpetually scruffy face of one of the most scrutinized programs in the sport, Jones has grown up, graduated and gotten married under the microscope.
In fact, there is arguably more evidence on which to judge Jones as a player than almost anyone else who played college football in 2012. And yet: As kickoff approaches in Jones' last game -- on the same field where he appeared in his first, as an anonymous redshirt freshman coming off the bench for injured headliner Sam Bradford in the 2009 season opener -- the final verdict depends as much as ever on the eye of the beholder.
Few college quarterbacks are in the spotlight long enough to leave anything resembling a true legacy. But despite his prolific longevity, there has been a palpable sense for much of this season that Jones' tenure, like his counterpart Matt Barkley's at USC, will be defined at least as much by the few peaks that he didn't ascend as the ones that he did, and especially by the scattered valleys in between. That's carried over to Dallas, where Jones and his coaches were forced to counter the notion that his career is somehow incomplete.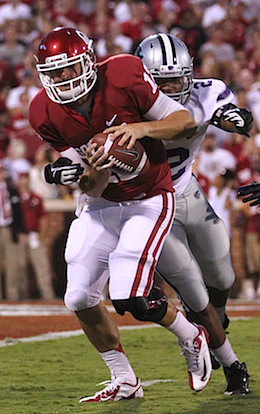 Oklahoma missed out on a BCS game due to an early loss to Kansas State. (US Presswire)
"I think he has a fabulous legacy," said co-offensive coordinator Jay Norvell. "Oklahoma has had great players and quarterbacks. Sometimes Landry may get forgotten when you compare him to Sam Bradford and Jason White, guys who in our recent past have won Heisman Trophies and been in national championships. The bar is set very high at Oklahoma.
"I don't think Landry Jones has to take a back seat to anybody. Some who have received big awards would love to have his resume to what he has done as an offensive player. "
Defending their quarterback's track record is a familiar role for OU coaches. Over the summer, coach Bob Stoops deflected the blame for Jones' dismal finish to the 2011 season to the offense as a whole. In August, just before the season, Stoops called Jones' critics "ignorant" and "insane." The explanation for an opening-night scare at UTEP fell largely on youth and inexperience on the offensive line and at wide receiver.
A few weeks later, Stoops had to fend off calls to bench Jones following the Sooners' first loss of the season, a 24-19 upset at the hands of Kansas State, in which Jones described his own performance as "terrible." After their second loss, a 30-13 upset at the hands of Notre Dame, Stoops dismissed critics again as "not very intelligent about football," assuring them in the wake of a 356-yard night for Jones that "without Landry, we're not in that game." Even down the stretch, a certain segment of the fan base held out hope for an expanded role for backup Blake Bell, or for the "Belldozer" to replace Jones outright.
In that sense, perhaps no individual player aside from Barkley is more emblematic of both his team's success and its ultimate failure to break through. In 2011, Oklahoma opened at the top of the preseason polls, with Jones at the top of Heisman Trophy lists for most of the season. They ended with three losses, including a 44-10 flop at Oklahoma State that stands as the worst night of Jones' career, and limped into one of the most disappointing finishes of any preseason frontrunner in more than 50 years. Jones finished with six interceptions to a single touchdown in OU's final four games and failed to earn even an "honorable mention" nod from opposing coaches on the All-Big 12 team.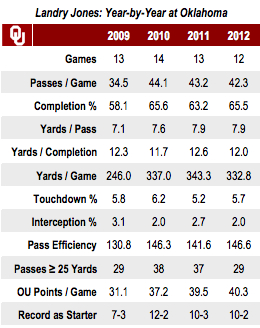 This year, the Sooners won a share of the Big 12 championship but as minority stakeholders due to the head-to-head loss against Kansas State. They won 10 games but none against a team ranked in the final Associated Press Poll entering the bowl season and the last four of which were all decided by a touchdown or less. Two of those were come-from-behind, skin-of-the-teeth affairs that required Oklahoma touchdowns in the final 30 seconds of regulation to beat West Virginia and Oklahoma State, the latter in overtime. They were left out of a BCS bowl in favor of a MAC team with a lower ranking in the polls, marking the first time in Stoops' 14-year tenure Oklahoma has fallen short of a big-money game two years in a row. In the first 12 years of that tenure, the Sooners lost one home game on their home field; in the last two years, they've lost three. Jones, once considered a certain first-rounder, now appears to be headed for the second or third round.
Jones won games and set records. He also oversaw eight losses as a starter in games in which his team was favored, the last four by double digits. In the full flush of the spread era, he's a sign of the times: A prolific quarterback at a traditional powerhouse for whom all the yards in the world, in this offense, are only a minimum requirement.
"We both have extremely high standards," Jones said. "For our fans, it is either national championship or we wait for next year to start playing again. That is the typical feel around here, but that's OK. You would rather have that than say, 'OK, if we win five games we're happy.' "
Jones' last ride couldn't stand in sharper contrast to the trajectory of his counterpart in Friday night's Cotton Bowl, Johnny Manziel, a shooting star of such immediate magnitude that the rest of his career will inevitably be measured against it. That standard involves numbers: As a redshirt freshman, Manziel led the nation in total offense and set SEC records for total offense in a game (twice) and in a season. But what really set him apart from the mold of one-dimensional slingers and scramblers was an unquantifiable, intangible spark, a freewheeling creativity that made Manziel look like he was on the playground even when he was on the road against the No. 1 team in the nation. The Heisman Trophy that Jones was projected to win as a fourth-year junior Manziel already has.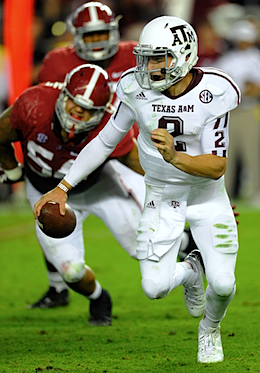 A&M's Nov. 10 upset at Alabama made Manziel the most famous player in college football. (US Presswire)
"His ability to make plays," Stoops said this week, describing what impresses him most about the opposing quarterback. "If you do not cover guys, he puts the ball where it needs to be. If you do cover him, uh, oh, there you go, he's running. He just has a knack for making something happen even when you have played well. It is hard to explain; he just has a way to make plays."
But the bowl game also marks a new milestone for Manziel: The first big game of his career in which his personal star as the Most Outstanding Player in College Football transcends the stage, with all the outsized expectations that implies. An integral part of Manziel's success story is that it came from nowhere, with no expectations whatsoever even from his own fan base. Before the season, he'd never taken a college snap and was pegged by everyone who followed Texas A&M's spring practice sessions for a backup role on a team projected to finish in fifth place in its new division. He was not a household name when the Aggies were shut out in the second half of a 20-17 loss to Florida in the season opener, or even two months later, when he was hounded into three interceptions in a 24-19 loss against LSU. That's what top-shelf defenses do to young quarterbacks, even the best of them.
With his breakout afternoon at Alabama late in the season, though, Manziel set a new bar, and a new burden. After a month of Heisman hype, the Cotton Bowl is the first game in which it's possible for Manziel to disappoint on a national scale, even if he plays relatively well. He is no longer being defined through the lens of a scrappy freshman underdog: Now, and for the rest of his career, he's the star of the show. Like starting quarterbacks at Oklahoma, Heisman Trophy winners do not get mulligans.
That's a reality that Jones has borne well despite the critics. Manziel's meteoric rise has barely given the critics a chance to learn his name, but he will meet them soon enough -- if not against Oklahoma in his first bowl game, then at many other occasions over his next two or three years on campus as expectations rise for player and team alike. For most Heisman winners, the subsequent bowl game is a swan song. For Johnny Football, it's still only the beginning.
The Tide, as usual, are dominating everything already

Jim McElwain won't rule out Luke Del Rio, Feleipe Franks or Malik Zaire as the starter

The three rule changes for 2017 are focused on player safety
There are new names to learn every season, and here are five to keep an eye on from the Big...

Can the Big Ten produce a champion capable of scoring points in the College Football Playoff...

Taking a close, detailed and opinionated look at the Big Ten a week before the start of the...