What did we learn in Week 13?
We have to at least start considering the possibility of the SEC missing the playoff.
It starts with the premise there are no great teams in college football. Not when the Heisman front-runner (Marcus Mariota) is backed by Oregon's 93rd-ranked defense. Not when Missouri could win a division over a team that shut it out (Georgia). Not when Ohio State struggles with Indiana and loses to Virginia Tech.
Certainly not when the SEC West is on the brink of cannibalizing itself.
Do we even have to go there with Florida State?
The possibility of SEC Armageddon starts with the eventual Southeastern Conference champion having at least two losses. That possibility will go to the final day of the season (Dec. 6) because either Georgia or Missouri -- both 9-2 -- will win the East Division.
From there, all it takes is the Tigers or Bulldogs winning in Atlanta. If Auburn beats Alabama in the Iron Bowl and Ole Miss defeats Mississippi State in the Egg Bowl then the league champion can finish no better than 11-2.
Decision time, then, for the College Football Playoff selection committee. Does a two-loss SEC champion deserve a spot in the top four over, say, conference champs Oregon, Ohio State, Florida State and Baylor -- all with one or no losses?
The math already doesn't work. There are four spots (at most) in the playoff for five power conferences.
Even more controversial: Mississippi State at 11-1 -- having not won its division -- being the highest-ranked SEC team remaining. The Bulldogs could conceivably be in competition for a top-four spot with other champions of the Power 5 conferences. Yes, that would include the champion of its own conference.
The specific language that deals with that possibility can be seen here in the CFP committee's protocol.
A non-champion would be selected only if it is "unequivocally one of the four best teams in the country."
Your response is: Define unequivocally. That's up to the CFP committee. It would be reasonable to conclude from that language conference champions will be favored.
In this season where no team is great, extending the suspense seems about right.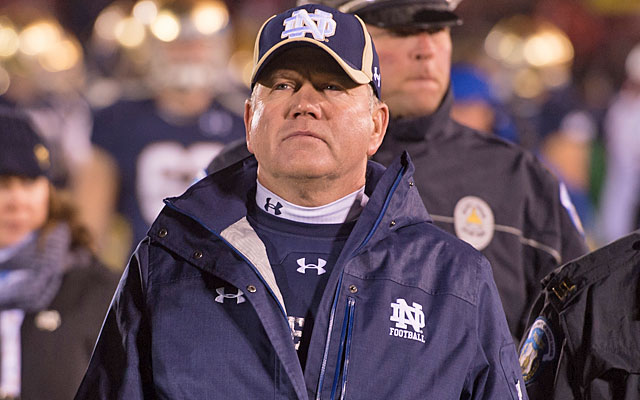 Who's going to end up at Florida, Michigan?
Some of the best coaching candidates for the best openings -- rightly or wrongly -- have baggage.
• Brian Kelly would be a fine replacement for Will Muschamp at Florida. He got Notre Dame to a 12-win season and the BCS championship game two years ago. He's an excellent play caller. He's NFL-quality. We know that because Kelly got to the interview stage with the Eagles.
Think what Kelly could do with access to that Florida talent without the strictures of Notre Dames academics.
The other side: Florida AD Jeremy Foley would have to consider the death of Declan Sullivan that occurred on Kelly's watch.
Everett Golson's wildly inconsistent season has to be a concern. Lately, the Irish have faded quickly, losing three in a row for the first time since Kelly's first season in 2010. It also marks the first three-game losing streak this late in the season since Charlie Weis' last season in 2009.
If the Irish lose to Southern California this week it will mark the longest losing streak of the Kelly era.
• Mike Gundy's name keeps coming up at Florida, but Oklahoma State is now 23-14 since winning the Big 12 in 2011. The Cowboys are only 5-8 in their past 13 after being blown out by Baylor.
Don't forget they are also in line for possible NCAA sanctions, no matter what the school and association will jointly tell you.
Is that the kind of look Foley wants in his new coach?
• Meanwhile, Colorado State's Jim McElwain has two championship rings from Alabama and has guided the Rams to their best season in 20 years. McElwain is 52 and an offensive coach but probably isn't the home run that Foley needs/wants.
If McElwain is truly the guy, a $7.5 million buyout shouldn't be a hindrance.
• Michigan should hire either Jerry Kill or David Cutcliffe right now, but probably won't. Cutcliffe, 60, has tutored Super Bowl quarterbacks, been a national coach of the year and won 10 at Duke . Ten at Duke!
Karma is king for Minnesota's Kill, 53. If there is a guy who deserves his current situation, it's him. His history of health problems is, well, history. Kill is coming off his signature win in his fourth season with the Gophers, having beating Nebraska. He has been a program rebuilder every place he has been.
Suddenly, the huggable, cuddly Gophers are playing (at Wisconsin) for a shot at their first conference title since 1960. Minnesota has won eight games in consecutive seasons for only the second time since 1961.
They're not flashy, they're just ball coaches.
Another side to SEC greatness
In losing to Arkansas, Ole Miss became the fourth top-10 team to be upset by an unranked conference opponent. The others: Florida over No. 8 Georgia, Mississippi State over No. 8 LSU, Texas A&M over No. 3 Auburn.
Missouri already has clinched an SEC East tie despite:
Quarterback Maty Mauk completing 47 percent of his passes in conference play.
Being tied for 116th in penalties with 87 penalties this season.
Being tied for 86th, making only two-thirds of its field goals.
Extra points
• Are we witnessing a whole Hog turnaround before our eyes? The same Arkansas team that lost 17 consecutive SEC games has now scored 47 consecutive points in the SEC West.
• Sure, it's the Year of the Running Back. Sure, we're on track for the highest-scoring season in history. Sure, another quarterback is on track to win a Heisman.
But where have all the defenders gone? Ole Miss was leading the country in scoring defense -- until it gave up 30 at Arkansas. Among the five finalists for the Nagurski Award (best defender) are three defensive backs.
When was the last time a defensive back controlled a game? Or maybe that's the point. Where are all the linebackers?
Thank goodness one of those finalists is Arizona's Scooby Wright III. The former walk-on is tied for fourth nationally in tackles and second in tackles for loss.
• One hundred and twenty seven years of football, eight national championships, 79 All-Americans, 485 NFL draft choices and Notre Dame can't find a holder?