Countdown to Auburn at Alabama: Opening salvos
The Eye On College Football will update who's got a leg up in the biggest rivalries in the country every week. Here's a Week 2 look at Auburn at Alabama.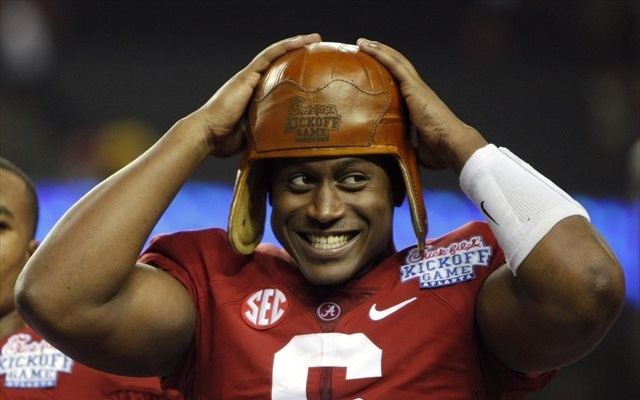 The 79th Iron Bowl between Auburn and Alabama will be played in Tuscaloosa's Bryant-Denny Stadium Nov. 29. Alabama leads the all-time series 42-35-1, with the teams splitting the last 24 meetings exactly 12-12. As the two programs progress toward Rivalry Week, we'll take a look each Wednesday at current trends -- and the current state of hostilities -- between the Tigers and Tide.
Days until game: 88
Auburn last week: The Tigers scored three touchdowns in three possessions behind backup quarterback Jeremy Johnson to take a 21-7 first-half lead, only to watch 21-point underdogs Arkansas battle back to even the game 21-21 at halftime. From there Nick Marshall entered and it was all Auburn, Marshall's touchdown run and Jermaine Whitehead's pick-six fueling a 24-0 whitewash of the Hogs after halftime. Auburn's offense averaged an impressive 8.5 yards per-play, more than Arkansas allowed in any game but one last season.
Alabama last week: Senior Blake Sims was a-OK in his first start as Alabama quarterback, hitting a solid-if-not-spectacular 24-of-33 for 250 yards and guiding the Tide on a six-play, 70-yard mid-third quarter touchdown drive that put his team in charge for good. Tide diehards will grumble about a pass defense that sometimes seemed confused by Dana Holgorsen's spread and the offense's inability to finish drives -- Adam Griffith went an impressive 4-for-4 in his full-time kicking debut -- but Nick Saban was quick to defend new offensive coordinator Lane Kiffin after Sims and Co. racked up 538 total yards.
2014 Auburn-Alabama Power Index: 1. Auburn 2. Alabama. Why, in a sentence: Auburn defeated a (probably) tougher opponent than did Alabama, and in the end did so more soundly.
Auburn this week: vs. San Jose State (+31), 7 p.m. ET Saturday (ESPN2) 
Alabama this week: vs. FAU (+40), 12 p.m. ET Saturday (SEC Network)
Auburn storyline: Against Arkansas the Tigers were, in many ways, pretty much the same Tigers they've been ever since Gus Malzahn arrived as Gene Chizik's offensive coordinator in 2009 (give or take a 2012): thrilling offense, suspect defense. The catch is that with Duke Williams added to an already potent receiving corps and the freshly Greg Robinson-less offensive line looking as solid as ever -- the Tigers averaged 6.3 yards per-rush without a run longer than 32 yards -- the 2014 edition looks capable of matching 2010's as the best offense Malzahn has fielded yet. The other catch, though, is that plenty of offenses remaining on the schedule won't roll over and die in the second half the way Arkansas's did.
Alabama storyline: On the one hand, Alabama's win over West Virginia really wasn't as close as the score indicated. The Tide outgained the Mountaineers 538-393 overall, 6.6-5.7 per-play, and watched T.J. Yeldon and Derrick Henry combine for 245 yards at 6.1 a pop. For 99 percent of FBS teams, this was a fine performance. On the other hand: Alabama's in that other 1 percent, the rarefied air where Nick Saban hadn't failed to cover the spread in his last seven regular season games vs. nonconference Power 5 schools (a streak going back to 2007), and had never failed to cover a season opener. In some ways, this was the same old 'Bama. In some ways, it's hard to shake the feeling -- particularly in the wake of the Sugar Bowl loss to Oklahoma -- that something may be different.
Moment in Hatestory: August 15, 1947.
It's not every college football rivalry that becomes bitter enough to be canceled for 41 years over per diems, officiating squabbles, and scheduling disputes, but the Iron Bowl is -- obviously -- not every rivalry.
Which is how a few years of tension boiled over in 1908, when the two teams could not agree on a game contract and then (per the accounts of the day summarized by the book Braggin' Rights) couldn't agree on a date to play once the contract details had been agreed upon. Despite a few false starts, the series was still as dead as ever when, naturally, the Alabama State Legislature -- finally! -- sprung into action.
The Legislature passed a resolution August 15, 1947, all but begging the two schools to resume the series: 
Whereas, for many years there has been a lapse in athletic relations between the University of Alabama and Alabama Polytechnic Institute; and Whereas, in the opinion of the majority of the members of the Alabama Legislature it is to the best interest of the two schools and of the people of Alabama that such athletic relations be resumed.

Now Therefore, be it resolved by the House of Representatives, the Senate concurring, that the respective Boards of Trustees of the University of Alabama and Alabama Polytechnic Institute are hereby respectfully requested to make possible the inauguration of a full athletic program between the two schools, and

Be It Further Resolved that such action be taken by the said Boards of Trustees at the earliest practicable date. And not later than May 1949.
Though the resolution wasn't binding, the schools didn't wait around to see what the legislature would come up with for a follow-up. They agreed to play at Birmingham's Legion Field on Dec. 4, 1948: 
The Tide rolled to a 55-0 victory that day, still the largest margin of victory in the history of the series. (You get one guess as to whether that's ever mentioned as a badge of honor when Iron Bowl history is discussed.)  But Auburn can't complain too badly -- the rivalry was back, and since the legislature's intervention it's gone on to become, or become again ... well, the sort of rivalry that makes people understand why the Alabama legislature bothered to intervene in the first place.
This week in Hate tweets:
@DanielleAlexisM #RollTide pic.twitter.com/eNqi7VM63g

— Jake Scoggins (@KELLOGGFAN88) September 3, 2014
Mahan on the intensity of the Ryder Cup: "there's nothing else like it in golf. It's almost like an Auburn/Alabama game."

— Taylor Zarzour (@TaylorZRadio) September 2, 2014
This lady got on a auburn hat with an Alabama shirt she done lost her damn mind

— AUG 27 Buddy Love (@1JMastermind) September 3, 2014
The rivalry even extends to high school rivals (sort of):
Will Herring, TJ Jackson, Corey Grant, Stephen Roberts, and Jakell Mitchell's Opelika 20, Rashaan Evans and Reuben Foster's Auburn 17.

— WarBlogle.com (@WarBlogle) August 30, 2014
Locksley joined Alabama's staff in 2016

Saban reportedly wants to hire Freeze, but there may be things keeping that from happening

Florida State-Miami will be on Oct. 6, and the Seminoles will play Clemson on Oct. 27
Weis Jr. was an offensive assistant for the Atlanta Falcons in 2017

Lott is joined by three current athletic directors and will serve a three-year term

These are the top guys every school is still chasing