Countdown to Florida at Florida State: Repeats and hot seats
CBS Sports will give an update on the biggest rivalries in the country every week. Looking at who has a leg up leading up to the Florida-Florida State game on Nov. 29.
• 2 min read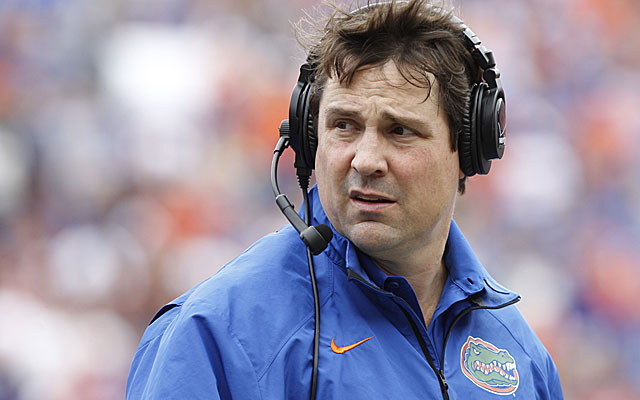 The 59th meeting between Florida and Florida State will take place on Nov. 29. (Florida leads the series, 34-22-2, but Florida State has won three of the last four meetings). As the two programs progress towards rivalry week, we'll take a weekly look at current trends, and the current state of hostilities, between the Gators and the Seminoles.
Days until game: 95
2014 Florida-FSU power index: 1. Florida State 2. Florida
Florida this week: vs. Idaho, Saturday, 7:00 p.m., (Florida -36.5)
Florida State this week: vs. Oklahoma State, Saturday, 8:00 p.m., (FSU -17.5)
Florida storyline: After accepting full responsibility for last season's 4-8 finish, Will Muschamp will be under the microscope (and on the edge of the hot seat) all season as the Gators try to flip that record against a difficult schedule. A win against Idaho is expected, so most fans will take the game as an opportunity to critique the new offense, now led by former Duke offensive coordinator Kurt Roper.
Florida State storyline: Jimbo Fisher is looking for an "attitude of dominance" in 2014, and the Seminoles would love nothing more than to exhibit that against an Oklahoma State roster that is rebuilding from its conference title-contending ways. With Winston under center behind five senior lineman, anything other than a double-digit win will raise eyebrows for the defending champs.
Moment in hatestory: November 29, 2003
The ultimate disrespect in a rivalry game is stomp on the opposing logo after a win in their house. Florida State did just that after Chris Rix hit P.K. Sam for a 52-yard touchdown to seal a 38-34 comeback win in The Swamp. As Bobby Bowden and Ron Zook met to shake hands, the players starting throwing punches and swinging helmets. It would turn out to be the last win for Bowden against the Gators, as Florida enjoyed a six-year run -- one Zook win, five under Urban Meyer -- in the rivalry until Jimbo Fisher became head coach in 2010. (apologies for the quality of video, fightin' starts around 2:00 or so)
Hate tweets
I wonder if #uf fans sometimes don't see the irony in them calling us #criminoles. Last I recall ol Urby was quite the disciplinarian. #fsu

— Omar Javaid (@OJavaid) August 27, 2014
Last time we played in doak.... pic.twitter.com/Oy3dQLsVma

— #RevengeTourUF (@ItsGreatUF) August 27, 2014
Give us your thoughts on the Florida/Florida State rivalry below, or on Twitter via @EyeOnCFB. If your tweet is selected for "Countdown to Florida at Florida State" next week, you'll likely hear it from the opposing fan base, or at least #FSUTwitter. 
MORE RIVALRIES: Alabama-Auburn | Michigan-Ohio State | Notre Dame-USC
The movie will zero in on former Penn State coach Joe Paterno during the Jerry Sandusky sc...

Bidding for Salaam's trophy, which the auction house says was obtained legally, ends Satur...

Locksley has been the offensive coordinator at Illinois and Maryland during his coaching c...
Many NFL-eligible juniors ignore advice provided by the league and risk going undrafted each...

Snyder died in Manhattan, Kansas, on Wednesday

Locksley joined Alabama's staff in 2016