Countdown to Michigan at Ohio State: Feel the hate
Eye On College Football will give an update on the biggest rivalries in the country every week. Looking at who has a leg up leading up to the Michigan-Ohio State game on Nov. 29.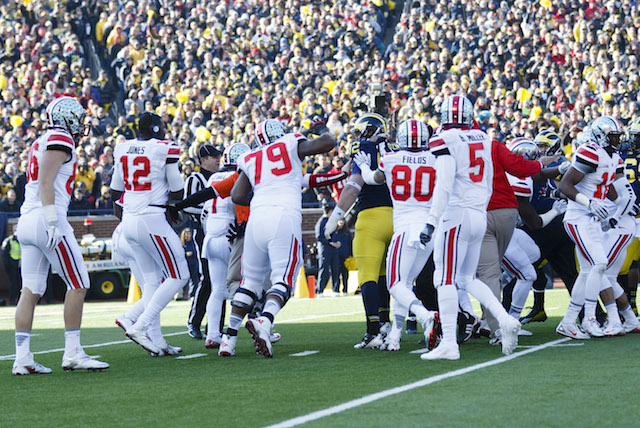 The 110th meeting between Michigan and Ohio State will take place November 29 (Michigan leads the series, 58-45-6, but has lost 10 of the last 12). As the two programs progress toward rivalry week, we'll take a weekly look at current trends, and the current state of hostilities, between the Wolverines and Buckeyes.
Days until game: 95
2014 Michigan-Ohio State power index: 1. Ohio State 2. Michigan
Michigan this week: vs. Appalachian State, Saturday, Noon (Michigan -34.5)
Ohio State this week: vs. Navy (in Baltimore), Saturday, Noon (Ohio State -16)
Michigan storyline: The 2014 season is a big one for both the Wolverines and Brady Hoke, but first things first, the Wolverines want revenge. We all remember Appalachian State's incredible upset in the Big House in 2007, and to a degree it feels as if Michigan's never recovered from it. The Wolverines would finish 2007 9-4, fire Lloyd Carr and then proceed to go 41-39 over the last six seasons. It's time to exorcise some demons in Ann Arbor.
Ohio State storyline: How are the Buckeyes going to get past the loss of Braxton Miller? Sure, they've done it before, but never have they had to try to replace their Heisman contender and superstar for an entire season. Redshirt freshman J.T. Barrett will get the first shot, and his performance this season could be the difference between a Big Ten title and playoff berth, or disappointment in Columbus.
Moment in hatestory: November 30, 2013
We don't travel very far back in time for this one, as we look back to last year's game. While the game itself was one of the more exciting matches in the long history of the schools, the tone was set early by a scrap between the teams in the second quarter. Ohio State's Dontre Wilson and Marcus Hall and Michigan's Royce Jenkins-Stone were all ejected, but the lingering memory was the way Marcus Hall made his exit from the field.
The double-bird!
Oh, and Ohio State won 42-41 to finish another regular season 12-0.
Hate tweets:
Braxton miller should do the ice bucket challenge, it would help ice his shoulder #GoBlue

— RJ (@rajeev_laung) August 21, 2014
Braxton Miller loved to talk trash over twitter. How does that karma feel, bud? There goes your draft stock. Suck it, ohio. #GoBlue

— michael james allen (@realmikeallen) August 20, 2014
Mwahahahahahahhaha Braxton Miller #ScumBagUrbanMeyer #GoBlue

— Reverend Raxter (@Spengay) August 20, 2014
So he's kind of like Brady Hoke now, with the primary difference being he coaches football well. RT @MarktheNomad: Urban Meyer got fat.

— Steve (@kaczynski) August 26, 2014
Brady Hoke sounds like fat Bill Clinton.

— Mike Wilbo (@M_wilbo) August 22, 2014
Less than one week remaining until #Buckeye football kicks off, and Michigan still sucks!! #GoBucks

— Jessica Burge (@osuburge51) August 23, 2014
Give us your thoughts on the Michigan/Ohio State rivalry below, or @EyeonCFB. If your tweet is selected for "Countdown to Michigan at Ohio State" next week, you will definitely make people on the internet mad at you, and that's what being on the internet is all about.
MORE RIVALRIES: Alabama-Auburn | Florida-FSU | Notre Dame-USC
Florida's roster got a boost on Tuesday with the return of several key members of the prog...

Tom Hutton joins the ranks of former Aussie rules footballers joining the college football...

The freshman is already on Heisman lists after throwing the walk-off score in the national...
These seven teams should make the most noise down the homestretch towards signing day

Air Force was forced to cancel 11 athletic events because of the 69-hour government shutdo...

Olson has a lot of the tools offensive coordinators want in a quarterback