Crist reflects on watching ND's dream season from a distance
Dayne Crist spent four years at Notre Dame but transferred out right before the Irish went 12-0. The former blue-chip QB recruit talks about his feelings on watching ND's dream season from a distance.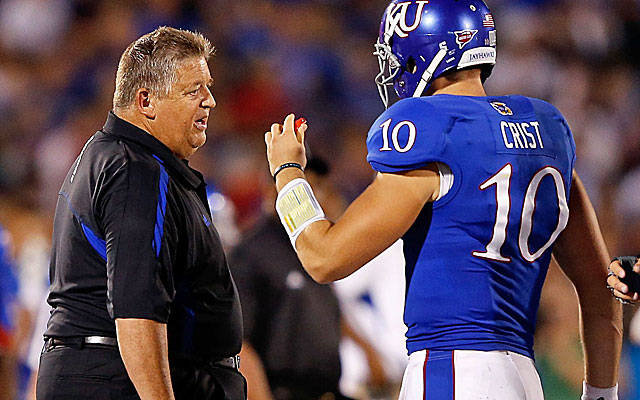 As a grad student with a season of eligibility left Dayne Crist was able to rejoin Charlie Weis at Kansas. (Getty Images)

On January 7, the night when Notre Dame tries to win its first national title in a generation, the guy who many figured could be the one to lead the Irish back to glory, will be some 2200 miles away, watching -- and rooting -- his old buddies on to finish off a perfect season from Tucson, Arizona while he prepares for the Casino Del Sol College All-Star Game.

No question it is an interesting juxtaposition. Dayne Crist spent four years in South Bend and in that time he . . .


Met his long-time girlfriend.
Began two seasons as the starting quarterback for the Fighting Irish. 
Made many of his best friends.
Suffered two season-ending knee injuries.
Received more online death threats than he cares to count up.
Graduated with a 3.2 GPA and a Business degree.
Crist could've been in South Florida wearing the famed Notre Dame Golden helmet playing for the BCS title with so many of his closest friends -- guys he lived with for four years, guys he calls his brothers. Actually, if the story played out the way many would've thought, Crist -- the strapping 6-4, 235-pound former five-star California-bred quarterback -- would've already sparked the Irish back to being a national powerhouse and be an NFL rookie right now. Instead, Crist transferred out of Notre Dame after getting his Business degree and ended up following former ND coach Charlie Weis to Kansas, where the Jayhawks went 1-11 while the 12-0 Fighting Irish are hoping to knock off mighty Alabama and win their first national title in almost 25 years.

Crist, though, is not second-guessing his decision to have transferred out as a grad student for the 2012 season. "I live my life with no regrets," Crist said over lunch last week at a Southern California restaurant. "I really have had so many blessings in my life."


Even after overcoming a torn ACL midway through 2009, Crist's career at ND still looked very promising. He displayed both a strong arm and good athleticism emerging as one of the country's more impressive young QBs in 2010, Brian Kelly's first season taking over the program after Weis was fired in South Bend. Crist, a player Irish teammates used to joke could be President someday, seemed like one of the building blocks of Kelly's rebuilding efforts. Crist accounted for 19 touchdowns (15 passing and four rushing) and threw just seven INTs, averaging over 250 passing yards a game while completing over 59 percent of his passes in the first two months of his sophomore season. However, almost exactly one year to the day after blowing out the ACL in his right knee, Crist suffered a ruptured patella tendon in his left knee.

He sustained the injury at the end of a 29-yard run on Notre Dame's second possession against Tulsa. Crist thought he'd run out of bounds. The Tulsa defender apparently thinking otherwise, teed off.

The Irish lost that game to Tulsa, but Crist's understudy, Tommy Rees led the Irish to wins in their final four games of the season. Crist rehabbed his knee and won back his starting job in fall camp, but then struggled in the first half of the ND 2011 opener against USF in sloppy conditions of a weather-delayed game. Crist was benched when the second half resumed and didn't start another game the rest of 2011.

After the 8-5 season, the Irish quarterback situation was murky. Kelly had Rees, a QB who came to South Bend in the coach's first recruiting class and had thrown 20 TDs and 14 INTs in 2011, along with the more agile Andrew Hendrix and Everett Golson, a freshman who redshirted in 2011. Crist opted not to stay at ND for the 2012 season and examined his transfer options.

Kelly ultimately decided to go with Golson, who by the second half of the season has emerged as a gifted dual-threat quarterback for an Irish team that is relying on its ferocious defense and a veteran offensive line.

Asked if had thoughts about competing the starting QB job for what would've been his senior season at Notre Dame, Crist's answer is measured.

"It was evaluated," he says. "There wasn't an opportunity."

As a grad student with a season of eligibility remaining Crist was able to transfer to an FBS program and play right away. He picked Kansas over Wisconsin after Badgers offensive coordinator Paul Chryst left for the head coaching job at Pitt.

At Kansas, Crist, who was selected as a team captain, was joined by other former Weis recruits from Notre Dame, tight end Mike Ragone and linebacker Anthony McDonald for a program coming off a 2-10 season.

Things in Lawrence for Weis and Company, were even tougher. By midseason, KU was 1-5. Weis benched a struggling Crist in favor of redshirt freshman Michael Cummings and the former blue-chipper from California played sparingly the rest of the season. Crist's stats for 2012: a 48 percent completion percentage; four touchdown passes and nine interceptions.

Exactly what went wrong with a QB prospect who once appeared about as close to a can't miss as any quarterback prospect can be? One pro scout said he thought Crist regressed over his college career, surmising that injuries might've had something to do with it or a lack of confidence. Maybe both. "He's definitely got some good physical tools and I know he's very bright, but he struggled with his accuracy and looked less and less comfortable out there," said the scout.

Crist still is optimistic he can play in the NFL. He's never been one to lament things or dwell on the negative, he says. "In retrospect, you can always ask, 'What if?' but I'm a firm believer that everything happens for a reason.

"Injuries are part of the game. Injuries don't discriminate. And it's like everything else in life, it's how you adapt to what comes at you."

He has continued to work on his skills, trying to hone his accuracy and his footwork. He says he takes great pride in his preparation in terms of his film study and work ethic. "I truly believe the adversity I've faced gives me great perspective," he says, "and the system I've been in translates to the NFL." On January 6, he will head to Arizona for the Casino Del Sol College All-Star Game that will be played on Jan. 11 in Tucson.

While at KU, Crist has maintained a 4.0 GPA and is nine credits shy of getting his Masters in Sports Management. He still speaks to his buddies at Notre Dame literally every day and couldn't be happier for the way things are going for Braxton Cave, John Goodman, Mike Golic Jr. and the rest of his brothers who also signed with ND back in 2008, when the Irish were coming off their worst season in school history.

"I love seeing those guys succeeding, and Notre Dame will always hold a special place in my heart," Crist says. "I've gotten so many positives from going there."
Florida's roster got a boost on Tuesday with the return of several key members of the prog...

Tom Hutton joins the ranks of former Aussie rules footballers joining the college football...

The freshman is already on Heisman lists after throwing the walk-off score in the national...
These seven teams should make the most noise down the homestretch towards signing day

Air Force was forced to cancel 11 athletic events because of the 69-hour government shutdo...

Olson has a lot of the tools offensive coordinators want in a quarterback