Dabo Swinney: 'Players of any faith or no faith at all are welcome'
Dabo Swinney has issued a formal statement responding to a recent complaint concerning the role of Christianity in Clemson's football program.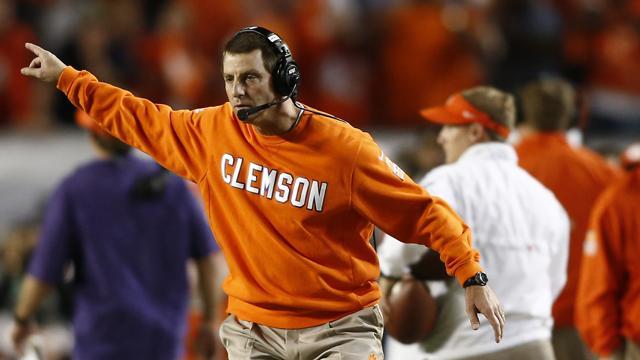 More Clemson: Stoudt named starting QB | Paw painted on Gamecocks' field
A letter of complaint filed with Clemson by the Freedom From Religion Foundation has sparked plenty of conversation concerning the prominent role of Christianity in the Tiger football program -- and sparked debate if, as the FFRF contends, Dabo Swinney has violated his players' constitutional rights at the publicly funded school.
But Clemson administrators have consistently backed Swinney since the letter was made public, and Swinney echoed their comments in a statement Wednesday that said no Tiger player has been treated differently over his religious beliefs. 
"I have recruited and coached players of many different faiths," Swinney said in the statement, published by TV station WYFF and elsewhere. "Players of any faith or no faith at all are welcome in our program. All we require in the recruitment of any player is that he must be a great player at his position, meet the academic requirements, and have good character."
Clemson spokesperson Cathy Sams also issued a statement saying the university "believe[s] the practices of the football staff regarding religion are compliant with the Constitution and appropriately accommodate differing religious views."
"Participation in religious activities is purely voluntary, and there are no repercussions for students who decline to do so," she said. "We are not aware of any complaints from current or former student-athletes about feeling pressured or forced to participate in religious activities ... We will evaluate the complaints raised in the letter and will respond directly to the organization, but we believe FFRF is mistaken in its assessment."
The FRFF cited concerns with several aspects of Swinney's use of faith within the Tiger program, including the distribution of Bibles, the organization of devotionals and other religious activities, and the role of team chaplain James Trapp. Swinney's willingness to express his faith within the confines of the team first made headlines in 2012, when a photo of receiver DeAndre Hopkins' baptism at a Tigers practice -- in his full practice gear -- went viral.
But Swinney says that no players' rights have been violated, and that his faith is an inextricable part of his role as a leader.
"Recruiting is very personal. Recruits and their families want – and deserve – to know who you are as a person, not just what kind of coach you are," he said. "I try to be a good example to others, and I work hard to live my life according to my faith. I am proud of the great success we have had in developing good players and good men at Clemson. We win at the highest level and we graduate players who excel on the field and in life because of their time in Death Valley.
"I want to thank Clemson University and all the people who have reached out to offer their support and encouragement over the past few weeks."
It was always unlikely Swinney was forced to change his approach in any meaningful way, given the lack of player complaints, the difficulty in proving any constitutional violations, and the public support from the administration. (In some ways, the FFRF's complaint is a win-win situation for both sides; the FFRF gets its name in the public eye and brings attention to what it views as an important issue, and Swinney gets to show recruits and their families -- for whom his faith is without a doubt a far bigger selling point than a detraction -- how seriously his program takes its religion.) After another pointed statement of innocence and the full backing of the school, those changes now seem even less likely than before. 
There are a handful of conference championship games still to be determined

SportsLine's top college football expert, on a 30-18 run, locks in his top picks for a loaded...

Haynes was 14-45 in five years with the Golden Flashes
True romance isn't dead yet

The Egg bowl will be a Thanksgiving night treat for the college football world

Mayfield disappointed a lot of people with is most recent antics, NFL scouts among them