Dabo Swinney takes shot at South Carolina after Orange Bowl
'We're the first team from South Carolina to ever win a BCS game.'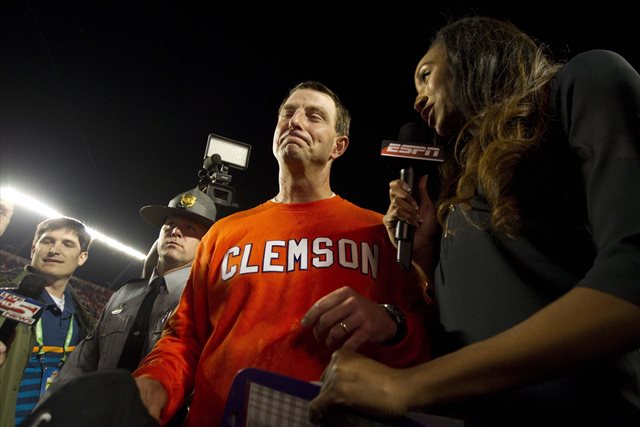 Dabo Swinney and Steve Spurrier first started lobbing verbal bombs at each other in December 2011, and despite South Carolina's dominance of their rivalry with Swinney's Tigers (they've won five straight), neither coach has exactly backed down since -- up to and including Spurrier's "state championship" barb in the wake of Wednesday's Outback Bowl. 
But if he who laughs last laughs best, advantage in the war of words (for now), belongs to Swinney. Via CBSSports.com's own Chip Patterson, in the wake of Friday's 40-35 Orange Bowl victory over Ohio State:
Dabo: "We're the first team from South Carolina to ever win a BCS game"

— Chip Patterson (@Chip_Patterson) January 4, 2014
The phrase that springs immediately to mind is: Oh snap!
But of course, even as his team accomplishes things like recording its second straight major bowl victory as an underdog over a high-profile opponent, the response from South Carolina fans is easy; we mentioned the five straight wins in the series, right?
So as much success as he's enjoying off the field in the Palmetto State rivalry, we'd nonetheless advise Mr. Swinney to turn things around on it as well -- not that after beating the Buckeyes, he or any other Clemson supporter has to worry about it right this second.
Anderson had been under investigation for an incident at a bar in Cleveland County, Oklaho...

Between Arizona State and Tennessee, no one would have guessed how this coaching cycle turned...

The Ducks and Broncos tee it up at 3:30 p.m. ET
SportsLine's top college football experts pick a 5-team parlay that pays 20/1

Nobis won a national title as a linebacker at Texas in 1963

The reaction to this commitment was priceless