Dana Holgorsen issues statement on his lying to recruits comment
West Virginia coach Dana Holgorsen issued a statement clarifying his comment that 'you lie in recruiting a bunch.'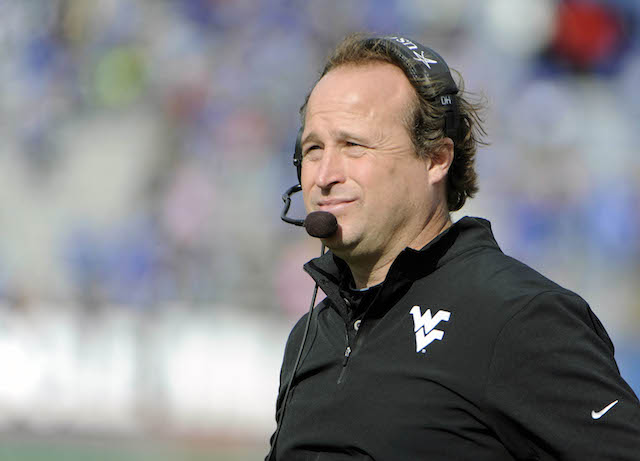 On Monday West Virginia coach Dana Holgorsen raised some eyebrows when he said "you lie in recruiting a bunch" during a press conference. Not because the idea that coaches lie to recruits is anything new, but because you generally don't hear coaches admitting it publicly.
And, as you'd expect, Holgorsen caught some heat for the comments, because, well, I don't know. People need to get angry about things I guess. Anger keeps the world from tilting off its axis. 
On Wednesday Holgorsen felt the need to issue a statement clarifying his comment.
"At my press conference on Monday, I was speaking with a group of our beat reporters, and the subject of the NCAA legislation concerning unlimited meals and its impact on recruiting was brought up," said Holgorsen. "In a lighthearted moment, I made a comment in jest that was meant to imply that the unlimited meals will be an important selling point with recruits and that all coaches will have to be salesmen on this matter. I further implied that the best way for recruits to understand what really is occurring on a campus is by having them talk to the current student-athletes. I used a poor choice of words in explaining this position."
Makes sense, right? But here's my question...
HOW DO WE KNOW HOLGORSEN ISN'T LYING TO US RIGHT NOW? He's already admitted he does it! 
Another question is why should any of us really care? No matter what Holgorsen said, or what he meant, it wasn't exactly a big deal. Coaches lie to recruits. Recruits lie to coaches. It's the circle of life.
In fact, when you started reading this post you saw that it was written by Tom Fornelli, but the truth is my real name is George. I've been lying to you this whole time!
Many NFL-eligible juniors ignore advice provided by the league and risk going undrafted each...

Snyder died in Manhattan, Kansas, on Wednesday

Locksley joined Alabama's staff in 2016
Saban reportedly wants to hire Freeze, but there may be things keeping that from happening

Florida State-Miami will be on Oct. 6, and the Seminoles will play Clemson on Oct. 27

Weis Jr. was an offensive assistant for the Atlanta Falcons in 2017