Da'Rick Rogers suspended indefinitely, future at Tennessee 'yet to be determined'
Several incidents involving Rogers were so troubling to some staffers that they felt head coach Derek Dooley was risking the locker room dynamic by allowing Rogers to remain in the program.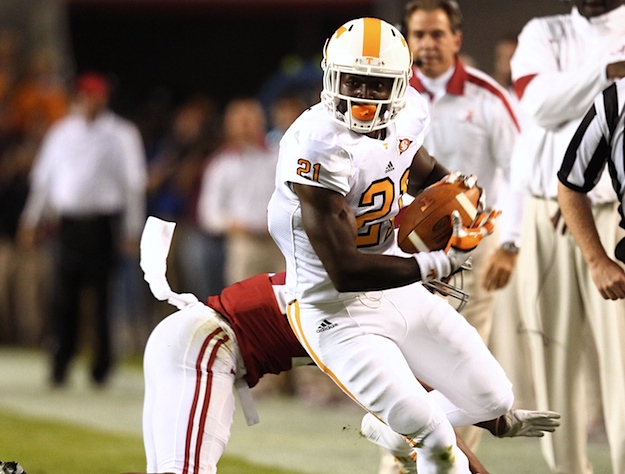 Raise your hands, Tennessee fans, if you saw this one coming: According to an official team statement, All-SEC wide receiver Da'Rick Rogers has been suspended indefinitely due to an undisclosed violation of team rules, and may not see the field again as a Volunteer. So let's see, that's one, two… yep, that's all of you. You may put your hands down.
The announcement coincides with the release of Tennessee's first preseason depth chart, which projects starting nods for junior receivers Justin Hunter and Cordarrelle Patterson, a touted junior college transfer, but omits Rogers' name altogether. Per the release: "Junior wide receiver Da'Rick Rogers does not appear on the depth chart for the N.C. State game, as he has been suspended indefinitely because of a violation of team rules. His status for the remainder of the season is yet to be determined." Later, coach Derek Dooley told reporters he doesn't expect Rogers to play this season.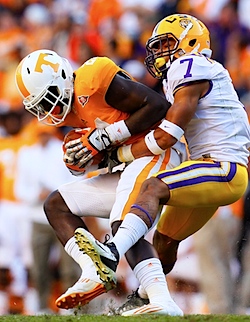 Rogers has been on the bubble almost from the moment he defected from his home-state school, Georgia, to sign with Tennessee in 2010, making him the undisputed headliner of a recruiting class that nearly fell apart after coach Lane Kiffin's abrupt departure for USC a few weeks before. By the time he stepped on the field for the first time as a freshman, Rogers had already been arrested for his role in a brawl involving multiple UT players and roundly mocked for an ill-advised photo or two on the web.
Last year, multiple sources told CBS colleague Bruce Feldman that there were several incidents in which Rogers crossed the line with Vol coaches and staff, including a "complete meltdown" during UT's season-ending loss at Kentucky and another episode in the team weight room. The incidents were so troubling to some staffers that they felt Dooley was risking the locker room dynamic by allowing Rogers to remain in the program. Rumors of his pending dismissal, suspension or transfer have been too numerous to count.
That reputation, along with the team's dismal record, may have obscured the fact that Rogers was one of the most productive deep threats in the SEC in 2011, hauling in a league-best 67 passes for 1,040 yards, nine touchdowns and a second-team all-conference nod for SEC coaches. Rogers and Hunter are both projected as potential first-round picks; with quarterback Tyler Bray entering his third year as a starter, Hunter fully recovered from the ACL injury that cost him nearly the entire season and Cordarrelle Patterson joining the fold, Tennessee's downfield passing game set up as the most dangerous in the league.
If Rogers doesn't return to Knoxville, he could conceivably transfer to another FBS school (pending his eligibility under NCAA rules) and play in 2013 after sitting out the upcoming season, or transfer to an FCS or Division II school and play right away. Either way, he will be eligible for the 2013 NFL Draft next spring. But at this point any hopes he once held for a big payday are long gone.
The movie will zero in on former Penn State coach Joe Paterno during the Jerry Sandusky sc...

Bidding for Salaam's trophy, which the auction house says was obtained legally, ends Satur...

Locksley has been the offensive coordinator at Illinois and Maryland during his coaching c...
Many NFL-eligible juniors ignore advice provided by the league and risk going undrafted each...

Snyder died in Manhattan, Kansas, on Wednesday

Locksley joined Alabama's staff in 2016