Da'Shawn Hand discusses 'craziest' thing to happen since No. 1 ranking
Da'Shawn Hand, the nation's No. 1 football recruit, is a busy young man these days. In this Q&A, the defensive lineman from Virginia says no matter how crazy recruiting's gotten, he's still got it all under control, and don't expect any hat game at his announcement.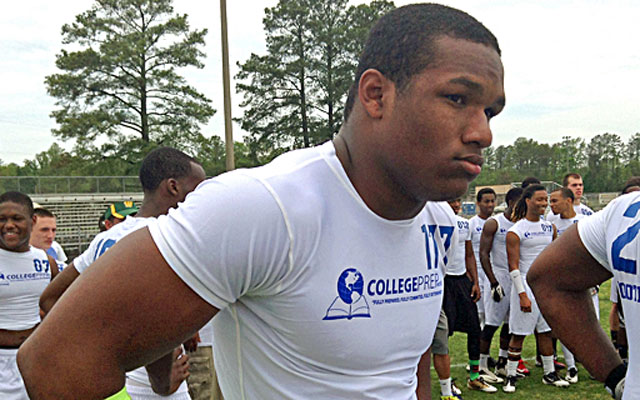 Da'Shawn Hand of Woodbridge, Va., is the nation's No. 1 ranked recruit. Over the weekend, the defensive lineman took an unofficial visit to Ohio State while he was in Columbus to compete at the Nike Football Training Camp. I chatted with Hand for a little bit where myself and one other writer talked to the blue-chipper about the speculation over what his favorite colleges are; how he's going to handle his eventual announcement and about the craziest thing that has happened to him since being named the nation's top recruit.
Q: How do you feel like you did (at the camp)?
Hand: I felt good. The past couple of weeks I've been training hard and I was talking to my coach and to my dad and saying that I feel like I'm in game shape now. I feel better than I have before. I'm just ready to go.
During last season, I was 240, 245 (pounds) and I played nose guard and finished up with 110 (tackles), 40 for loss and 16 sacks. I'm at 262 today with 10 percent body fat!
Q: How do you feel about the comparisons to the other (recent) No. 1 overall players the past few years, Jadeveon Clowney and Robert Nkemdiche?
Hand: It doesn't get to me. I'm my own person. That's what I want to be known as, Da'Shawn. Not mimic Jadeveon Clowney or Robert Nkemdiche. Those two are great players and all, but I just want to have my own stuff.
Q: What is the craziest thing that has happened to you since you've been named the nation's No. 1 recruit?
Hand: Well, I ain't gonna say any names, but one coach told me that since I'm the No. 1 player, I'm gonna get to meet Michael Jackson. I said, "Isn't he already dead?" The coach goes, "Well, all right, you can meet Tito." I was like, all right. OK, I'm done.
It was crazy, but it is what it is.
Q: How has the recruiting process gone so far?
Hand: I stay in control. I take calls if I want to, and I don't take them if I don't want to. And if they leave me a message, and I want to get back to them, I will.
I'm just keeping it under control. If you let it get to your head, and you start thinking about, "OK, who's watching me? What about this coach?" you'll go crazy. You're just one person. You're just one kid and there's hundreds of universities out there trying to get in touch with me. You gotta go with your own pace.
Q: Are you still enjoying it?
Hand: Honestly, yeah, I'm enjoying it. I keep it under control. Nobody really knows what's going on in my mind. I'm not stressing over it. I'm just having fun being a kid.
Q: How was your Ohio State visit?
Hand: I came here before and that wasn't a good visit. They kind of made up for it (Saturday). I'm not going to put them on my list or anything, and I told them that. We had a discussion about that and cleared up the air. It was them showing me that Ohio State is a good place. I'm not going to get anybody's hopes up and that's what I told them.
Q: Why wasn't your first visit a good visit?
Hand: It was just a bad vibe and it was too chaotic. That was about it.
Q: How was talking to Urban Meyer?
Hand: It was more laid back. You got to know the coaches more, their philosophies. What they do here. What type of system they run. It was cool.
Q: Everybody says Michigan and Virginia Tech are you leaders. What do you say to that?
Hand: Haha. I got nothing to say. They can think what they want to think. Everybody makes predictions. It's their job to do that. I just let them have fun and I do me.
Q: Do you like keeping people in suspense?
Hand: Yeah. My dad told me, "Never deal your full hand."
I don't want to be like everybody else and be all flashy and do this and play around with people. For my commitment day, I just want to have it at my school. I'm not going to have three hats. I'm going to have one hat. I'm gonna call the coaches the night before. Tell them what school I'm going to and that's it.
South Florida and UCF played the most entertaining game of the 2017 season

Bielema completed his fifth season with the Razorbacks on Friday

Friday's upset to Pittsburgh was bad, but it's not a season-ender for Miami
Pittsburgh pulled the upset of the weekend with a 24-14 win on Friday afternoon

Lock beat out some big-time names with 41 touchdown passes (and counting)

You can remove Patterson's name from your coaching wish lists