DaVaris Daniels in Notre Dame academic case: I write my own papers
Notre Dame has interviewed DaVaris Daniels as part of its investigation into potential academic fraud. Daniels has told those close to him he does his own work.
• 1 min read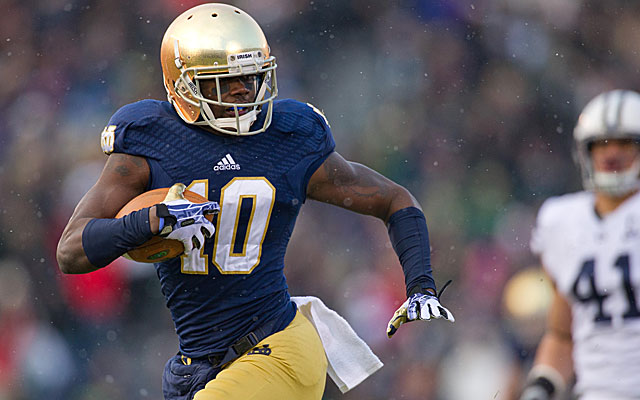 More college football: Dennis Dodd | Jeremy Fowler | Jon Solomon | Latest news
Notre Dame wide receiver DaVaris Daniels has maintained he writes his own papers and likely relayed that message to Notre Dame officials in an interview this week, a source close to Daniels told CBSSports.com.
Daniels, the team's leading returning receiver, is one of four Irish players in the center of an academic investigation conducted by the school. Cornerback KeiVarae Russell, defensive end Ishaq Williams and linebacker Kendall Moore are the others.
"He said he wrote all his papers," the source said. "They asked him about some emails and papers that he wrote. He told them what he knew."
The school says it found evidence students submitted papers and homework that had been written for them. The compliance office in athletics learned of the detection on July 29, the school says.
Notre Dame is conducting a thorough investigation to see where it leads, athletic director Jack Swarbrick said at a Friday night press conference in South Bend. Should the investigation validate the claims, Notre Dame is prepared to vacate wins in which the players participated. The source said emails involving a mutual friend of the players are believed to be a part of the investigation, possibly with correspondence over editing help. Daniels will likely make the case he sought editing help for punctuation but wrote the work himself.
Daniels is sensitive to academics after he was suspended for the spring semester for failing to maintain a proper grade-point average, the source said. Daniels detailed his suspension to CBSSports.com in February.
Daniels registered 49 catches for 745 yards and seven touchdowns last season. He was expected to be quarterback Everett Golson's top target in 2014.
Many NFL-eligible juniors ignore advice provided by the league and risk going undrafted each...

Snyder died in Manhattan, Kansas, on Wednesday

Locksley joined Alabama's staff in 2016
Saban reportedly wants to hire Freeze, but there may be things keeping that from happening

Florida State-Miami will be on Oct. 6, and the Seminoles will play Clemson on Oct. 27

Weis Jr. was an offensive assistant for the Atlanta Falcons in 2017