David Cutcliffe, Philip Fulmer take issue with Arian Foster claims
Two of Tennessee's former coaches have said they don't believe the details offered by former Volunteer Arian Foster in an interview.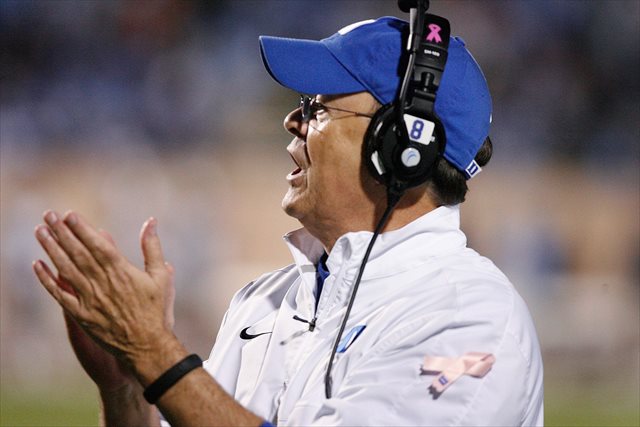 Former Tennessee running back Arian Foster said in an interview for an upcoming documentary film that he received "money on the side" during his time in Knoxville, money he said he needed to pay for food and rent. 
But Foster's former head coach and offensive coordinator at Tennessee have both expressed skepticism over his claims, with David Cutcliffe -- a Vol assistant in both 2006 and 2007 -- being particularly critical Tuesday.
"That may have been as weak of interview as I've heard," the current Duke coach said of Foster's statements, per the News and Observer. "Arian never looked hungry.
"Yes, [a football scholarship] pays for food and rent. On gameday, when you go back to your dorm, you usually got $15 in meal money, and you could buy, I don't know, 10 tacos maybe."
Cutcliffe's reference to tacos comes in response to Foster's claim that an unnamed Volunteer coach bought Foster and other players "like 50 tacos" after a game.
Foster's head coach at Tennessee, Philip Fulmer, didn't respond as directly to Foster's comments. But a statement issued to the Associated Press on Sunday left little doubt where he stood.
"As the head coach at Tennessee for 17 years, I took great pride in having a program that was NCAA compliant, as did our staff and administration," Fulmer said. "If we knew of a violation, big or small, we reported it."
Between Foster's remarks and the weekend "APU" protest, Cutcliffe was given the opportunity to say plenty more to say about paying college athletes and full cost of attendance scholarships, little of it sympathetic to sharing more of college football's profits with the players. ("Nobody is really getting rich off of this, we're operating an athletics department off of all this ... Nobody is stealing from them, you understand what I'm saying?")
But his skepticism regarding the need to provide players with more spending money doesn't invalidate his account of Foster's time in Knoxville -- and would seem to make the already-slim odds that anything NCAA-related comes of Foster's claims even slimmer.
Our computer model simulated every Week 5 college football game 10,000 times with surprising...

Conferences have been out to the West Coast to speak with Google, Amazon, Facebook and oth...

Rimington takes of the athletic department after Shawn Eichorst was fired
The Penn State running back was unstoppable in a win over Iowa

The Bottom 25 ranks the 25 worst teams in college football every week

LSU at Florida has been picked as the SEC on CBS Game of the Week