David Sills leads team to New Level 7-on-7 National Championship
A hot and humid Sunday afternoon on the outskirts of the city was the setting for the New Level 7-on-7 National Championship and after upsets and tough battles, heavy favorite team 'Flash Training' wound up taking home the trophy thanks in large part to Elkton (Md.) quarterback David Sills.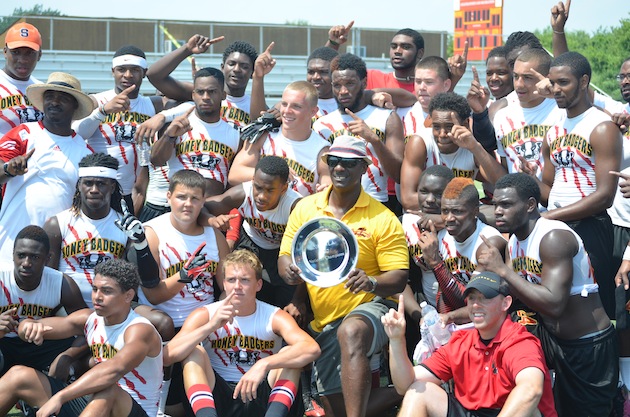 BROOKLYN, N.Y. -- A hot and humid Sunday afternoon on the outskirts of the city was the setting for the New Level 7-on-7 National Championship and after upsets and tough battles, heavy favorite team 'Flash Training' wound up taking home the trophy thanks in large part to Elkton (Md.) quarterback David Sills.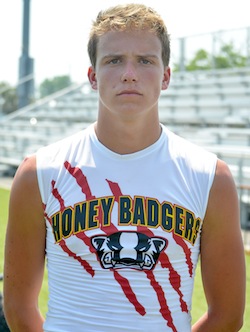 "All the championships are something special to me," Sills said. "It let's us know that all the hard work paid off. That's all we're doing everyday, working hard. It's why we do it, to get these championships."

The 2015 signal-caller gained plenty of notoriety for committing to USC as a middle school but it's clear he has the talent to be one of the top players in the country once rankings for his class come out. Sills outplayed all but Virginia Beach (Va.) quarterback Corwin Cutler over the weekend and displayed superior footwork, solid arm strength, good anticipation and a nice understanding of where to pick apart the defense. There were times where Sills flew open, tried to short arm passes or simply launched a wobbly football but there was a precision attack going for Flash Training more often than not.

The team has travelled all over the Northeast and other parts of the country this spring and summer features commitments from USC, Syracuse, Connecticut, Auburn and others. Most impressive, they have only dropped a handful of games (out of hundreds) all year long but one of them occurred during yesterday's pool play. The opposing Team Delaware was able to pull off an upset on Saturday but couldn't go for the clean sweep a day after Sills and company responded to the loss by coming back with an impressive win to reach the championship game.

"We came out today with some intensity. Yesterday the offense kind of stooped down to a bad level during that game so we had to step it up today," he said. "I think we responded to the challenge."

Sills' team is made of almost exclusively of his teammates at Eastern Christian Academy, his new high school. Featuring others such as 2013 five-star Kenny Bigelow, who played tight end, the 6-foot-3, 180-pound quarterback may have been one of the youngest on the team but filled the role of a leader by operating the offense at the right tempo and making sure guys were doing everything right.

"This team is just one big family to me," Sills said. "Everybody's equal, whether it is the guy going to USC or the guy cheering the other team on, we are all the same and treat each other equally."

Bigelow and Sills share the distinction of being Trojan commits but don't have to talk about the school too much with each other because each has visited the program several times and are excited for the brief window their time in Los Angeles should overlap. Bigelow recently returned from the USC Rising Stars Camp and it's clear his enthusiasm the past week rubbed off on his teammates.

"He said it was really good and felt the love," Sills said. "He liked everything about the trip and is excited about going out there."

Sills is himself no stranger to Los Angeles, taking private quarterback lessons in the city for the past several years. Either before or after workouts the talented rising sophomore manages to stop by the coaches offices and talk with Lane Kiffin and his staff.

"I've been out there for a good amount of time this year," he said. "I talk to the coaches every time I go out there.

"Their quarterbacks are ready for the NFL and do well all the time. They run a pro-style offense and are just the perfect place for me."

The 7-on-7 season wraps up for Sills and company with the New Level national title but the work has really just begun for most of the squad because Eastern Christian Academy faces one of the toughest schedules in the country with numerous games against ranked and out-of-state foes.

"I think we can be number one in the country," said Sills. "We have a chance to play some games, we should have a hard schedule coming up so we'll see how it goes.

"We're just going to have to keep going. The best competition will make us the best for college. It's going to be a battle every week with us so we're going to fight through it."

For at least a little bit - a week according to their coach - Sills and his teammates will get to enjoy the ultimate prize of holding up the trophy and relaxing as champions for the final time this offseason.

Fuller fights to be the best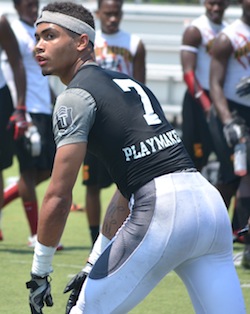 Although the event was loaded with defensive back talent, Philadelphia (Pa.) wide receiver William Fuller didn't seem to care much about the opposition. After a satisfying start to the tournament, the Penn State commit turned out to be one of the breakout players on the second day and at time willed his team to victories with tough catch after tough catch. Still, his team went home without the trophy and despite the impressive showing that was all that mattered to him.

"We could have done better," Fuller said. "I always want to win these things and we haven't won one yet, we keep coming up short. I still feel I could do better."

The 6-foot-1, 170-pounder showed good burst off the line and was able to run routes that found him getting open with relative ease. Fuller made the hard catches look just like the easy ones as he set out to improve his game and take it to the next level this weekend.

"Reading coverages," he said of what he wanted to improve on the most. "Knowing how they line up and what I can do (against them). I'm just getting better and helping my overall game."

Committing a little over a month ago to the Nittany Lions, Fuller's recruitment hasn't been as hectic as it once was. While the phone calls and letters haven't dried up completely, there's still a few programs interested in wrestling his signature away by Signing Day but for the most part he has seen it come to a light drizzle.

"I've heard less," he added. "Some of the schools that were recruiting me heavy, they slowed down once I committed."

Fuller made his pledge in early June and hasn't looked at others since then. The program always seemed to be one of his favorites and once the Pennsylvania native earned an offer, his recruitment was an easy one to end at that point.

"We have a good recruiting class coming along. I went to a Junior Day and I loved the coaching staff. I wanted to go there so I worked hard and got the offer," he said. "I was excited about it and I took it.

"The big thing was the coaches. I know Coach (Bill) O'Brien has NFL experience and coached one of the best teams in the NFL. So I think he can help me. The wide receivers coach, he has a lot of experience and coached at LSU, Georgia Tech and coached in the NFL a little bit. I just think I can learn a lot from them."

Penn State is up to 14 members for the 2013 class and several of the commits, like Fuller, are on the offensive side of the ball. The talented wideout has gotten to know a few of his fellow pledges over the past few weeks and it certainly seems like the group is becoming pretty tight knit.

"I talk to Christian (Hackenberg) on Twitter, I talk to Adam (Breneman) and text him. I talk to Ross (Douglas) and was up at the camp when I went so we were going at it. Right now I'm trying to talk to (running back) David Williams," Fuller said. "I heard something about Tyler Boyd, I know one of the coaches and heard something about him thinking about playing at Penn State. Hopefully Alex (Anzalone), I know he's up there (on an unofficial visit) right now. Hopefully we can get all these commits.

"I think we can do big things. My goal is always to win the national championship and I think that's all we want to do. I think we can do it."

Blanding roams all over the field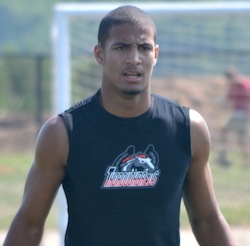 The New Level tournament drew one of the deepest groups of defensive backs than any other tournament before it and the talent was especially evident among the 2014 campers who showed up. The biggest ball hawk of the group was undoubtedly Virginia Beach (Va.) safety Quin Blanding, who made play after play as his team went deep into the tournament.

"I'm just into it right now. I want to play everything and be the leader of my team and to help my team," Blanding said. "I want to try and win it all. The best part is we communicate. We're just one big family and we work out together, we chill together, we hang together. It's a big communication part that plays a role in that and our whole team, that's what makes us good."

It's been a busy summer for the likely top 100 recruit. While it is rare for underclassmen to be invited to major events across the country, Blanding's schedule has been filled with them the past few months and he's used the opportunity to play against older elite competition to his advantage.

"It's been great so far. Last week (at the Rivals Challenge) going up against the best of the best then coming up this week against another best of the best, it's a wonderful feeling." he said. "It shows that all the handwork from everybody is starting to pay off."

Holding close to 25 offers from programs such as Alabama, Florida and Ohio State, Blanding has a big choice ahead in where he wants to go to school. He's taking things slowly and as they come along, preferring to put most of the questions about recruiting off until the future.

"I'm just letting it go by right now," he said. "Maybe toward the middle of my junior season I'll start really breaking it down and see what I really want in a college. Then I'll go from there.

"Nobody's standing out, they're all recruiting me big. I just keep trying to build a relationship with them and that's a good thing right now."

The 6-foot-2, 200-pounder is planning on taking few visits here and there when he can. While it is a local one, Blanding has already penciled in a trip to see one of the schools that have already offered later this month.

"I have one coming up on the 14th, going to Virginia Tech. I have The Opening and Gridiron Kings to fit into my schedule so it will be tough to schedule others," he said. "I just want to get up there to see the facilities and really talk with the coaches to see how they feel about me and what role I play in there. What kind of defense and all that stuff, I'm looking forward to seeing."

Based on his play at the New Level 7-on-7, it seems pretty clear that Blanding could fit into just about every defense in the country.

Notes

- One would be surprised to see defensive tackle/end Kenny Bigelow putting his hand in the ground as an offensive player but he's a pretty good tight end. As you can expect, he's not the fastest guy on the field but he has some surprisingly soft hands and made a few nice catches in traffic, especially near the goal line.

- The top quarterback at the event was Virginia commit Corwin Cutler, who outplayed Sills with a sharply thrown ball that found his receivers hands quickly and accurately. He can really spin the ball and every single pass was a perfectly thrown spiral that shot out of his hand. It helped that he had the most talent on the field, including Norfolk (Va.) wide receiver Jamil Kamara. Another 2014 recruit out of a state that has plenty of them, Kamara was one of the tournament's most buzzed about players. He's got great size at 6-foot-2, 190-pounds right now and seemed to catch everything thrown his way after getting behind the defense.

- Need an under the radar commit that might see bigger colleges come circling? Look no further than Sills' top target and Elkton (Md.) wideout Dhameer Bradley. He was terrific on both days and really showed off his speed and quickness. He really could catch the ball and bolt to the end zone and turned a few short passes into big plays down the field all day long. He's not huge but he's a solid slot receiver that should see others come around with a nice senior campaign.

- Other quarterbacks who stood out were 2015 recruit Michael O'Connor, who already holds an offer from Michigan State and is moving from Canada to Chattanooga, Tenn. at the end of the summer. Physically he looks like an older prospect and is still growing into a big body pro-style passer.

- The most impressive performance might be from Michigan Elite quarterback Tyler Wiegers. The 2014 recruit from the Detroit area at one point completed over 25 straight passes and help lead an average team deep in the tournament.


The movie will zero in on former Penn State coach Joe Paterno during the Jerry Sandusky sc...

Bidding for Salaam's trophy, which the auction house says was obtained legally, ends Satur...

Locksley has been the offensive coordinator at Illinois and Maryland during his coaching c...
Many NFL-eligible juniors ignore advice provided by the league and risk going undrafted each...

Snyder died in Manhattan, Kansas, on Wednesday

Locksley joined Alabama's staff in 2016