Day One shows how much the Elite 11 has evolved
Like counselor Devin Gardner, the Elite 11 has changed quite a bit since the Michigan starter attended the camp six years ago.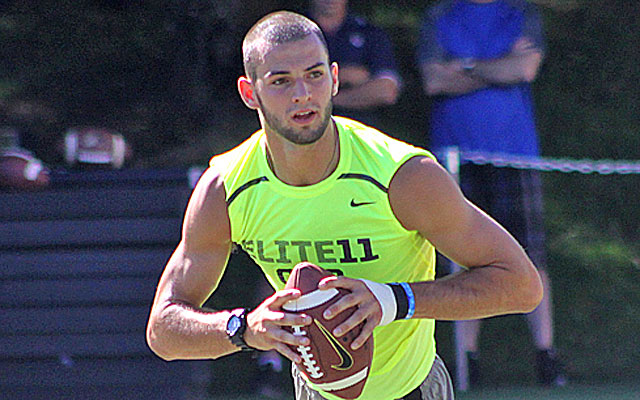 PORTLAND, Ore. -- Devin Gardner sits alone in a sixth-floor hotel boardroom studying a binder full of some 200 plays at 9:20 a.m. on Friday morning. The room has been turned into a classroom setting with five rows of seats, a projector screen up front and a big whiteboard to the right. The chiseled 6-foot-4, 215-pound Michigan quarterback is seated in the first row of desks. He's 40 minutes early.
Gardner is determined to always try to be the first one to show up for meetings, and this time, he is. The group gathering in the hotel is here for the first staff meeting of the 2013 Elite 11.
Six years ago, Gardner -- some 30 pounds lighter in those days -- was a ballboy at the "campetition." Back then it was held at a tiny college in Southern California. There were only a couple of coaches who ran the program and it was led by a veteran local high school coach, Bob Johnson. Not only has Gardner made quite a metamorphosis since those days, so has the Elite 11.
For starters, the event has brought out 18 top high school QB prospects, instead of 11. The organizers overhauled the process, so that now by week's end, a top 11 is determined based on the quarterbacks performance in a very, very wide variety of opportunities and situations.
Most of the week's activity will be held at the jaw-dropping Nike campus in nearby Beaverton. A dozen-plus QB coaches from eight different states help run the event now.  Many of them are former NFL QBs, who have gone into the private quarterback coaching business and have come together as part of the season-long Elite 11 process that bounces all over the country trying to ID elite high school prospects. The event's "head coach" and leader is long-time former NFL QB Trent Dilfer, who also runs TDFB, a new national venture that the former Fresno State star calls a "holistic coaching ecosystem" uniting coaches and expanding their influence.
Gardner is one of two former Elite 11 alums helping the event as counselors who flew in early enough to attend the morning meeting. Clemson standout Tajh Boyd is the other.
Oh, and there is that thick,blue binder full of plays. That didn't exist in the old Elite 11 days. They did some Xs and Os on the chalkboard, but it wasn't anything like this. Dilfer put together the playbook from what he says is a West Coast system with Norv Turner-inspired vertical passing elements. Gardner, who is playing in a revamped offensive scheme this year at Michigan, recognizes many of the concepts. It's just that Michigan's may use a one-word name for them as opposed to the longer names that are in the Elite 11 playbook.
At 10 a.m., the room is pack with coaches and also an eight-person camera crew that is documenting the week.
"I'm a big 30,000 feet guy," Dilfer begins by telling his staff.
Dilfer and the folks from Student Sports, who have run the Elite 11 since its inception, have been consumed to try to find ways to give the young QBs every edge and opportunity imaginable to grow.
On staff is a "high-performance psychology" coach, Dr. Michael Gervais, who last summer trained six Olympic gold medalists. The players also will get to use a high-tech, brain-training system, AXON, that'll help them, among other things, process coverages faster. Another group in attendance that Dilfer has brought in is debuting a cutting-edge camera (smaller than a fingernail) built into a helmet that'll give the QBs -- and the coaches a full perspective of what the quarterback is seeing or "Ground Truth," as Dilfer puts it.
The Super Bowl-winning QB tells his staff exactly what he's looking for from them and for the kids. Dilfer is passionate, moving around, punching key points. His big voice booms through the cramped room. He speaks to his coaches like you imagine he probably spoke his teams. Each of the morning's speakers that he calls on hit on elements to illuminate an environment that Dilfer says has the kids who won invitations here feeling like, "I get to go to QB heaven."
One of Dilfer's top assistants, Jordan Palmer who first got connected to the Elite 11 as a ball boy over a decade ago and has been an NFL QB since 2007, talks about a couple he brought in from a children's foundation he's gotten involved with. Palmer began working with it on his Tuesdays (that's players off-day in the NFL) by visiting hospitals and helping sick children.
"If we're going to teach them how they should keep their elbow up or read defenses, we'd be crazy if we didn't also try and teach 'em how to become a better man," Palmer tells the coaches.
One thing that hasn't changed about the Elite 11 is the sense of fraternity among the QBs.
Gardner later explains he came out to Oregon this week to compete with the other counselors as they get to take part in all the drills. (This year, it's a star-studded group with Boyd; Texas A&M's Johnny Manziel, the Heisman Trophy winner; Louisville's Teddy Brigewater, a guy some are projecting as the first overall pick in the 2014 NFL draft; San Jose State's David Fales and Georgia Tech's Vad Lee.)
"I'm also here because I really want to help the kids get better," Gardner says. "When I was at the Elite 11 in high school (then counselor and UTEP QB) Jordan Palmer helped me so much." Gardner said he really threw a flat ball and Palmer tweaked his footwork and delivery.
By early afternoon, the Elite 11 hotel seems to be overrun with QBs, both young and old. The group reconvenes later in the afternoon on the sprawling Nike campus in the Bo Jackson Building for the event's first official activity: Dynamic Athletic Yoga in a hot room. Along with the high schoolers a couple of the coaches join in. In fact, the first one whose mat is pooling big puddles of sweat is former Green Bay Packer Craig Nall, a Dallas-area QB coach. Meanwhile, Gardner, Boyd and Manziel find the complex's rock-climbing wall, where the Michigan and A&M QBs prove adept at scaling heights.
By 4:45 QBs, counselors and coaches have assembled on the football field in the middle of the Nike campus. Every person in attendance stands up and introduces themselves and talks what they're hoping to get out of the week before the Golden Gun competition begins as QBs -- and counselors -- hustle all over the field trying to fire a football through stationary targets in a variety of scenarios while the coaches study virtually every move each quarterback makes.
"There is no defense for a perfect thrower," Dilfer's voice shouts out several times over two eight-minute sessions that must seem like 20-minutes periods as each players shirt is soaked with sweat.
Texas A&M commit Kyle Allen, considered by many to be the top pure passer in the country, wins the gold shirt for the day. Sean White, a QB from Fort Lauderdale, takes second although the uncommitted 6-1, 195-pounder might've overtaken Allen save for an inch or two on about four or five of his throws that rattled around the metal targets but didn't go through. Other QBs who stood out in either how they handled the dynamic yoga or the field work: Florida commit Will Grier; Cal commit Luke Rubenzer; Texas commit Jerrod Heard; Vandy commit K.J. Carta-Samuels, Virginia Tech commit Andrew Ford and Clemson commit DeShaun Watson, who impressed coaches with how he went from near the bottom of the rankings after the first round of the Golden Gun competition to rallying to finish third battling through fatigue.
Day One of the Elite 11 ends, perhaps fittingly, with a curveball.
For as much thought had gone into scripting every hour of the week, a power outage, forces Dilfer to do some audibilizing. Instead of meetings in the air conditioned rooms of the hotel, the group ends up in the roundabout outside.
Stuff happens, right? Or something like that.
No matter. Dilfer brings up Palmer who talks in more detail about the "impact" and then introduces the evening's main speaking Erik Rees, the CEO of NEGU, a charity inspired by his daughter Jessie Rees, a 12-year-old girl who battled a brain tumor for 10 months before passing away in 2012. Despite her ominous prognosis, she was always concerned with why some kids in the hospital didn't have visitors and wanted to focus on spreading joy to other kids fighting. Her attitude and efforts inspired a movement, Rees says. His daughter knew having cancer made people feel lonely and secluded so she decided to spread love to them through her JoyJars, a care package of sorts.
Later, Palmer tells the campers that one of the Elite 11 QBs from the 2012 group, Johnny Stanton, now a Nebraska Cornhusker, is committed to being the NEGU ambassador in Lincoln, spurring the movement to help kids and families there. Palmer then makes a parallel that seems to register with many of the kids looking up at him.
"Think about Jessie's stats: Working with 240 hospitals and reaching 55,000 children," Palmer tells the young QBs sitting with their legs crossed on the pavement in front of him. "Now think about your stats -- yards, touchdown passes -- pretty insignificant, right? This isn't really just about NEGU, it's about your opportunity."
Many of the campers heads nod. It's been a long day. Many have flown across the country to get here. They've met a lot of new people in the past 12 hours. Had a bunch of things thrown at them. And now they have finished the night on a very emotional turn. They each are given a flashlight as they file back into the hotel. Turns out, the power won't come back on for another hour.
Saturday will bring new challenges. Starting at 4:30 a.m. Dilfer has them beginning the day by climbing a mountain.
Add these to the list of things Mayfield will have to apologize for this year

Miami got punched in the face but reacted like any undefeated team would

Another week, another win for Wisconsin
NCAA football scoreboard, highlights and updates from the biggest Week 12 games

The Bulldogs look to regain their footing when they host the Wildcats in the SEC on CBS

Because sushi is easier to eat than gold, right?