DB Cody Riggs says transfer from Florida for grad school
After starting 26 games for Florida, Cody Riggs says his decision to transfer out is due to his need to attend graduate business school elsewhere.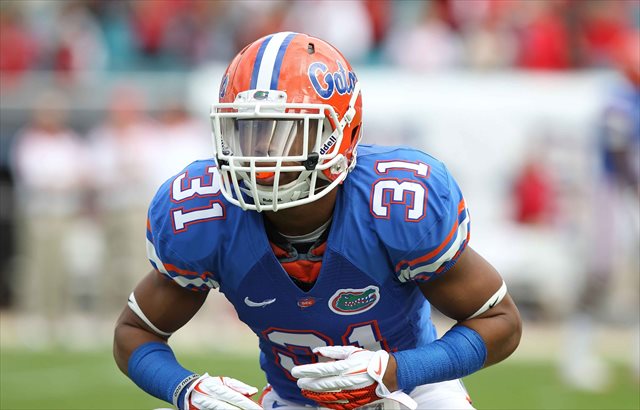 Another key member of a Florida secondary that ranked among the nation's best in 2013 won't be returning to Gainesville in 2014. But he says it has nothing to do with the football program he's leaving and everything to do with his academic career.
Gator redshirt junior defensive back Cody Riggs told SI.com in a Thursday interview that his decision to transfer was related exclusively to his search for a graduate school where he would earn his MBA or master's in science in business.
"This was the hardest decision I ever had to make," Riggs said. "I love my teammates and the fans here. I really feel awful about leaving my teammates, especially a young secondary. This was something that I needed to do."
Riggs started 26 games for Florida over the course of three seasons, playing both cornerback and safety, and was a critical member of secondaries that finished second in FBS opponent's passer rating allowed in 2012 and eighth in 2013. He started all 12 games in 2013.
Riggs said he informed Will Muschamp of his decision shortly after the end of the Gators' bitterly disappointing 4-8 season, but allowed the Gators to announce his departure at whatever time happened to be most convenient (which proved to be on Signing Day). He stressed that his decision was unrelated to either his relationship with the Gator coaches or his shift from corner to safety in 2013.
"Muschamp is the best coach I've ever had," Riggs said.
Riggs' departure leaves the Gators without three members of their 2013 starting secondary, with corner Loucheiz Purifoy entering the draft and senior safety Jaylen Watkins exhausting his eligibility.
MetLife Stadium is about 10 miles away from where the World Trade Center buildings once st...

The Terps will wear these against Indiana on Oct. 28.

The coach of the Eagles isn't here for no science talk
These are the teams that are getting too much -- or too little -- love before the season

The Crimson Tide start atop the AP Top 25 poll for the second straight season

Taking a close, detailed and opinionated look at the ACC a week before the start of the 2017...