De facto start of college football, SEC media days, fueled by questions
SEC media days, CFB's unofficial start, usually trumpets stars. Now? All questions. Is Nick Marshall legit, or Auburn for real? Can Bama rally? How does the SEC fit in the playoff?
Dodd: No more mythical titles | Writers: Dodd | Fowler | Solomon | Palm
A back staircase at the Wynfrey Hotel has hidden the stealthy and secretive for years now at the SEC media days.
It is reserved only for the Justin Biebers of the Strength Everyone Conference. The gold-plated football celebutants. Think Tebow, Manziel, Clowney. Then think of the security concerns of them being exposed to fawning fan masses in the now-infamous Wynfrey lobby.
That staircase is secure and special -- an anonymous cement red carpet. Even Nick Saban takes the Granddaddy of all media days head on. Bama's coach annually wades through that adoration-choked lobby.
For others, there has to be an efficient method to get the conference's most talented and celebrated labor force in and out of the building. The SEC preseason shindig that begins Monday is that big, that important.
It becomes bigger this year in Hoover, Ala., expanding to four days. That might have a teenie bit to do with the ongoing, smothering promotion of the SEC Network. But aren't we used to ongoing and smothering in all things SEC? The conference has ruled the game, if not our lives.
Beginning Monday, we will experience something akin to the Super Bowl media day only longer, wilder and with better barbeque.
Thing is, that staircase may be a bit lonely. The biggest star of the de facto opening of the season could be a big, ol' Question Mark.
• What is the SEC's place in the world in this new playoff era? Recent history tells you two -- or more -- conference teams could make the top four each season. But simple math tells us there are only four slots, so at least one of the Big Five conferences will not be represented in that playoff.
• What if the first such bracket is SEC-less? It doesn't seem likely. In 13 of the 16 years of the BCS, at least one SEC team finished in the top four. The league won nine championships.
Even if its teams are regular participants, think of the rigors of having to play two playoff games following the SEC championship game.
• Who is the next "it" player? Manziel, Clowney, Tre Mason and Mike Evans are gone. So is Missouri's Michael Sam, known chiefly as the SEC's defensive player of the year until an inspirational revelation.
Tebow returns, but as the next former NFL quarterback transitioning to (what else?) TV analyst. The gaggle of imposing 2013 quarterbacks -- five of the nation's top 12 in pass efficiency -- has been reduced. Only three starters return to teams with winning records, only six overall.
One of those returners, Auburn's Nick Marshall, may be the next face of the conference, despite a recent reported citation for marijuana possession. For the Tigers to repeat, though, he's going to have to improve his passing numbers.
Alabama's T.J. Yeldon is on his way to becoming the next great one at Tuscaloosa, following Mark Ingram and Trent Richardson at running back.
Following a 2013 season when SEC defenses were in retreat, perhaps we should concentrate on Alabama's Amari Cooper and Auburn's Sammie Coates. They could break the 1,000-yard barrier. As receivers.
• For Auburn, was last season a momentary spike from 0-8 to league champion? Preferably, the only prayers at Jordan-Hare this season will be uttered in the pregame, not thrown in desperation. The Tigers probably must prove they can win in a more conventional fashion.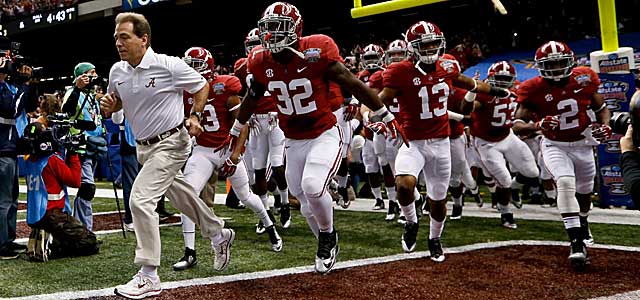 • What are we to make of Alabama? Did those season-ending losses to Auburn and Oklahoma reveal cracks in the foundation? The last two times Saban lost his final two games of a season -- 2002 at LSU and 2008 at Alabama -- he came back to win a national championship.
• Who knew that at age 69, Steve Spurrier would be at the top of his game? Three straight 11-win seasons have Gamecocks everywhere wondering whether a national championship is possible. In the past three seasons only Saban and Jimbo Fisher have a higher winning percentage.
• Who's the Cinderella? We usually don't speak of such things in the SEC. But after Phil Steele's preseason sixth-place team in the West (Auburn) met the fifth-place team in the East (Missouri) in the league championship game it's a worthy question.
An informal weekend Twitter poll (by me) revealed Arkansas to be the favorite to surprise. However, all 14 teams were mentioned.
• What's the over/under on the number of ESPN sets erected on the second floor of the Wynfrey? Ongoing and smothering, remember? With 1,100 credentialed media mixing with all those fans and all those expectations, there's not going to be much room.
Almost makes you wish for a back staircase.
Freeman will not play in the New Mexico Bowl on Saturday

SportsLine simulated every bowl game 10,000 times for pick'em leagues and confidence pools

Grier will return to West Virginia for the 2018 season instead of entering the NFL Draft
The Chick-fil-A Peach Bowl just got spicy

Anderson had been under investigation for an incident at a bar in Cleveland County, Oklaho...

Between Arizona State and Tennessee, no one would have guessed how this coaching cycle turned...